10 Best Free FTP Clients for Desktop
When it comes to transferring large files over the internet, FTP/SFTP is what almost everyone prefers. Although there are a lot of paid FTP (File Transfer Protocol) applications that are highly reliable and do the job, it is always a good idea to keep a couple of free FTP services as an option.
In this post, I would like tho share with you some best free FTP apps, as well as some alternative methods that you can use to transfer files via FTP, even without any application.
15 Websites to Send Big Files Online
15 Websites to Send Big Files Online
To send big files online, especially those with extremely large file sizes, these are the websites and services... Read more
FileZilla is my favorite open-source FTP client that supports FTP, FTP over SSL/TLS (FTPS) and SSH File Transfer Protocol (SFTP). It comes with a tabbed user interface, letting you connect to and view multiple connections along with the ongoing file transfers and their statuses. Interestingly, it supports IPv6 and file transfers greater than 4GB.
What impressed me more about FileZilla is that it supports remote file editing, and also SOCKS5 and FTP-Proxy. It includes drag and drop support for uploading/downloading files easy way.
Moreover, you can search files remotely, access the client in multiple languages, and configure speed limit on file transfers to avoid it degrading your browsing experience.
Download FileZilla for:
Cyberduck can connect to multiple protocols like FTP, SFTP, etc., and also supports third-party providers using Amazon S3 and OpenStack Swift. What interests me about this tool is, it has drag-and-drop support and lets you edit any file in external editor.
Cyberduck gives you easy access to browse files, launch downloads and uploads, and pause and resume them as required. You can even limit the number of concurrent transfers and filter files using a regular expression. Another interesting thing is, it can also encrypt files, and connect to cloud storage services like Google Drive and Dropbox too.
Download Cyberduck for:
GoAnywhere MFT enables automated file transfers via an intuitive browser-based interface. What interested me is its support to monitor or scan FTP sites (unlike other tools) and an option to schedule transfers by the minute, hour, day, week or month. It has total support for all file transfer options, and you can even execute custom commands.
GoAnywhere MFT can autodetect file modes, supports files of unlimited sizes, and numerous more features. Another surprising feature is, you can automate file transfers using various variables and send alerts via email or text messages. Moreover, it supports HTTP and SOCKS proxy, and it can also change file permissions if authorized.
Download GoAnywhere MFT for:
CrossFTP is a free client that can batch transfer files in one go. The client can connect to many sites inside a single window, thanks to its tabbed interface. It lets you compress, extract, and browse archives directly from its interface. Interestingly, it supports internationally encoded files and allows searching for files directly.
I found it is to be super easy to use. And that is not all, CrossFTP supports Amazon S3, Google Cloud Storage, and Amazon Glacier as well as the ability to secure your sites' passwords by encrypting them.
Download CrossFTP for:
NcFTP is an alternative to the other FTP clients that gives you ease and flexibility of a command-line client. Unlike above tools, it is not a graphical client and is mainly designed to work with high-traffic sites, enabling you to work with multiple connections at a time.
NcFTP enables you to exchange data with other programs too. Surprising for a command line program, NcFTP displays progress meters for file uploads/downloads, and supports background processing, resuming downloads, bookmarking and caching files and directory listings. There is more, it also supports firewalls and proxies, and brings more features.
Download NcFTP Client for:
FTP Voyager supports FTP, FTPS, and SFTP (SSH) protocols in its user-friendly interface. Some of its features include automated file management and folder synchronization. What I like about this client is its configurable post-transfer actions, which lets you send emails, run programs, and do various other tasks after the transfer queue is finished.
I am more surprised by its file-transfer scheduler that helps you to schedule files and forget about forgetting to upload or download remote files. FTP Voyager even supports transferring files using scheduler scripts, which give more power than its automated scheduler.
Download FTP Voyager for:
WinSCP is another open-source FTP client that also supports WebDAV and SCP, but it is available only for Windows, unlike FileZilla. Thanks to its powerful features, you can automate tasks using its command line tool and batch file scripting. It allows to synchronize a directory in semi and fully automatic ways and share site settings with PuTTY.
WinSCP is a multilingual tool, which can protect site info using a password and can also be used as a portable FTP client. This FTP client includes an integrated text editor that can be used to edit local as well as remote files. What I like is, its integration with PuTTY authentication client (Pageant) brings support for public key authentication with SSH.
Download WinSCP for: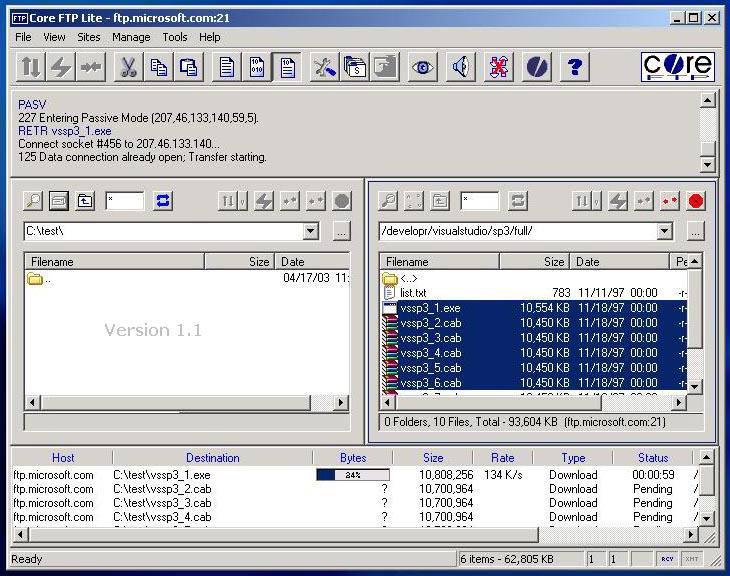 CoreFTP has got an incredible support for various protocols including FTP, SFTP, and FTPS. Along with support for fast and safe file transfers, it also supports Mode Z compression and site-to-site file transfers. It comes with an easy to access interface along with drag and drop support, and also enables you to pause, resume, and stop transfers.
Interestingly, it supports transfer bandwidth control, remote file search, and editing .htaccess and .htpasswd files. In comparison to other such tools, CoreFTP has powerful features like S/Key support, command line support, and support for FTP/HTTP and Socks 4 & 5 proxy. Moreover, I am also impressed by its ability to encrypt and decrypt files.
Download Core FTP for:
SmartFTP is an FTP, SFTP, FTPS, SSH, WebDAV, Google Drive, OneDrive, Amazon S3 as well as Terminal client. I must say it is much more than a simple file transfer client. It helps you easily do file transfers and even lets you backup and synchronize local with remote files. However, all these features are not part of the free edition, sadly.
SmartFTP comes with an integrated editor which is capable of editing local and remote files, like WinSCP. What impressed me is its modern interface that supports 20+ languages. Additionally, the client supports IPv6 protocol and Mode Z compression like CoreFTP, and also supports SOCKS5, SOCKS4, SOCKS4A, and HTTP proxy.
Download SmartFTP for:
FTP Manager Lite is one of the fastest FTP clients that help you transfer files securely between your PC and the server. It comes with an intuitive tab-styled interface that lets you connect, view and controls the connections in a single window. Like other clients, this client is compatible with most file transfer protocols like FTP, FTPS, etc.
You can drag and drop files for making quick transfers. Not only this, FTP Manager supports automatic encoding selection along with active and passive transfer modes. It auto-connects at file transfer failures and lets you pause and resume transfers anytime.
Download FTP Manager Lite for:
Bonus: Other alternative methods to connect
If you are a light user, or don't want to install any specific FTP app, here are some ways you can leverage using your existing operating system or apps to transfer files via FTP.
A Firefox plugin that does the FTP files transfer within your browser tab.
Windows Explorer
You can use windows explorer as FTP tool. Just insert the details according to the following format: ftp://username:password@ftp.server.com/
DOS Command Lines
Window's Command Prompt supporst FTP. It doesn't comes with a nice GUI but still does the job. Here's how you get connected to FTP via Window's DOS Command Prompt:
Click Start on Desktop and select Run.
Type in cmd and hit Encmdter.
In Command Prompt, type FTP.
Connect to your site with: open ftp.server.com
Enter username and password.
FTP transfer via Command Prompt is fairly easy. But if you are unfamiliar with the commands or having difficulties transfering files, type HELP and hit enter to learn more about the commands, or you can check out this list of commands.