10 Best VPN Service Providers for 2023
Everything is being tracked nowadays, from your activities on the internet to your phone and computer. Each click, and each website you visit, are all being tracked. And there are also services that are only available in specific regions, like Netflix – which is a bummer if you want to watch something but can't.
Good thing there are Virtual Private Networks (VPNs) that deal exactly with this problem. The simplest way of understanding VPNs is that they redirect your internet traffic to a secured location, obfuscate it, and send it out to the wild — and when the requested information is sent back to your device, it is first sent back to a secured server before it reaches you again.
These locations could be anywhere in the world, so no one knows your actual location, who you are, and which data it is you sent out and received. This simply means that no one will ever know what your internet activities are.
Now that you get some idea of how VPNs work, I am going to list some of the best VPN services for ensuring secure online activities. Let's go.
Surfshark VPN protects its users' privacy online on all devices and operating systems. You may use unlimited devices for just one subscription, which is a great deal when compared to other VPN services. It blocks ads and cyber attacks with CleanWeb. Additionally, it can be configured to work on Smart TV and game consoles.
You may even escape restriction through Surfshark as you can still keep your digital freedom while traveling to Internet-restricted countries.
It has 3200+ server locations in 65 countries. All servers are P2P friendly with a strict no logs policy and private DNS on each server. The average speed of Surfshark is 85 Mbps download and 60 Mbps upload speed.
Surfshark's price plans:
Monthly Plan – $12.95/month.
6-Months Plan – $38.94 ($6.49/month).
2-Years Plan – $59.76 ($2.49/month).
What we like:
It has good review among other users.
Works well with most movie streaming services.
Outages are rare.
What we don't like:
Not working very well in China.
Surf Privately with Surfshark VPN
ExpressVPN is a VPN service provided by ExpressVPN International Ltd, a corporation based in the British Virgin Islands. The software is touted as a privacy and security tool that encrypts and conceals users' IP addresses.
The tools uses Advanced mathematics in AES-256, the standard used by security experts throughout the world, to protect your data.
ExpressVPN has an average speed of 135 Mbps download and 79.84 upload. It has 160 server locations in 94 countries. There is also a 24/7 live chat support to help you set up and troubleshoot if needed. ExpressVPN also does not log data, DNS queries or anything that could be used to identify you.
ExpressVPN's price plans:
Monthly Plan – $12.95/month.
6-months Plan – $59.95 ($9.99/month).
12-Months Plan – $99.95 ($8.32/month).
What we like:
Works in China.
Customer support is responsive.
What we don't like:
It's not exactly one of the cheapest out there.
Surf Privately with ExpressVPN
Private Internet Access VPN or PIA VPN is an excellent VPN service that is recommended by many. It has a well-designed app, users can secure up to 10 devices (which is a lot compared to other VPN providers), and for the price, that's quite cheap. It is also among the top 5 VPNs in terms of reviews and testing.
PIA VPN has 3335 server locations in 33 countries spread around the globe. It also has a No Logging policy with 128-bit AES (default), OpenVPN, and more. It has an average of 80 Mbps download and 30 Mbps upload speed.
Private Internet Access VPN's price plans:
Monthly Plan – $9.95/month.
1 Year Plan – $39.95 ($3.33/month).
3-Years Plan – $79 ($2.19/month).
What we like:
It has good reviews.
Customer service is good.
Works on most devices and operating systems.
What we don't like:
Have minor issues with Mac and iOS.
Surf Privately with Private Internet Acces
CyberGhost VPN offers NoSpy servers, their servers are specially tuned servers at a high-security server facility in CyberGhost's home country of Romania. CyberGhost claims to offer malware and ad filtering in addition to VPN protection.
CyberGhost VPN offers a 45-day money-back guarantee to allow you to test the applications and determine if it is perfect for you.
It has an average download speed of 110 Mbps and an upload speed of 35mpbs. It currently has 6,933 servers, 109 locations, and 86 countries in the world.
CyberGhost's price plans:
Monthly Plan – $12.99.
1 Year Plan – $47.88 ($3.99/month).
2-Years Plan – $83.76 ($3.49/month).
3-Years Plan – $87.75 ($2.25/month).
What we like:
Customer service is responsive.
It has a nice interface.
What we don't like:
Connecting issues according to some online reviews.
Surf Privately with CyberGhost VPN
According to a third-party audit, IVPN does not log any user behavior related to the use of the VPN service. It has a privacy service, so when you join up, they will never collect or store any personal information, including your email address.
They accept cash and Bitcoin as well. All servers that manage the IVPN service, including email and live chat, are self-hosted and maintained by IVPN.
Its network is made up of 77 servers spread over 45 locations. OpenVPN and L2TP/IPSec are the protocols they offer, and they use 256-bit AES and 4096-bit RSA encryption.
The client's default protocol is UDP, but you can switch to TCP if necessary. They also don't provide proxy services, instead opting for secured VPN connections. The average tested speed is 59 Mbps.
IVPN's price plans:
IVPN's Price Plans is a little complex as they have different pricing tiers based on different tiers.
IVPN Standard:
Weekly – $2.
Monthly – $6.
Yearly – $60.
2 Years – $100.
3 Years – $140.
IVPN Pro:
Weekly – $4.
Monthly – $10.
Yearly – $100.
2 Years – $160.
3 Years – $220.
What we like:
The connection speed is, on average, fast.
Accepts cryptocurrencies like Bitcoin, Monero, for payment.
What we don't like:
May not work to bypass region-restrictions content on Netflix
A bit on the pricier end compared to other VPN services.
Low number of servers.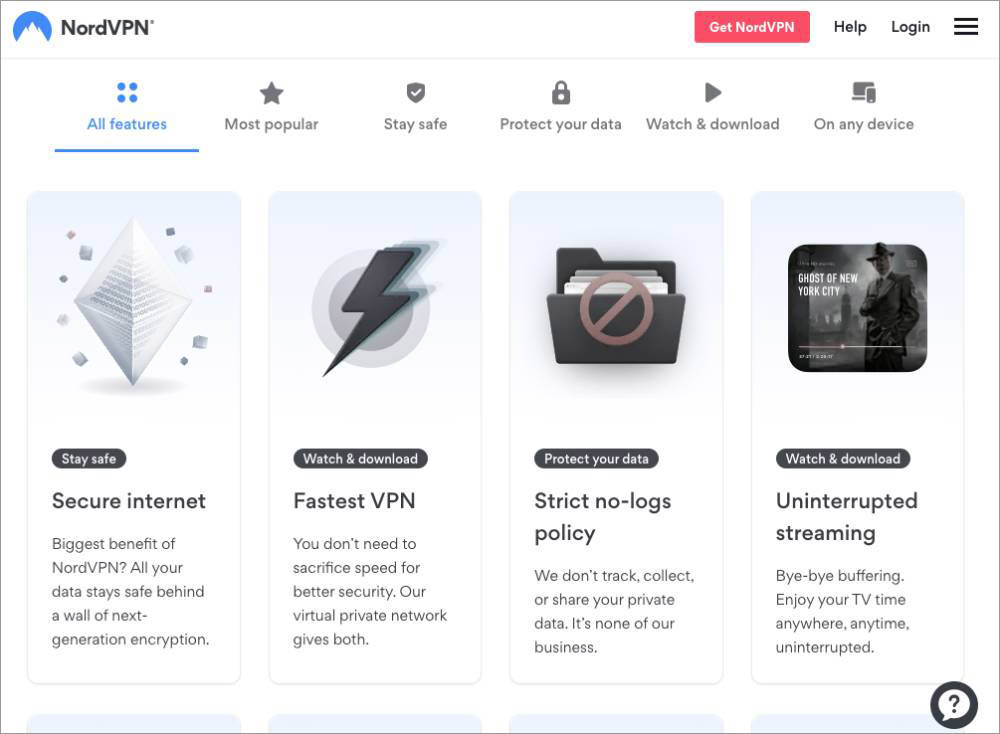 NordVPN is a service that provides a safe and secure online experience both for individuals and professionals by securing and encrypting the flow of online traffic – to and from the user's device and out onto the internet.
It is available on all devices – iOS, Android, macOS, Windows, and Linux and integrates with popular browsers. NordVPN has a No Log Policy, meaning your data is secured even if there's a security breach — because there are no logs, to begin with.
NordVPN promises a safe, fast, and stable connection wherever you are in the world. It is available in 60 countries, with 5,307 servers all around. Users can freely change their connection to any of these servers. On average, it has a speed of 115 Mbps.
NordVPN price plans:
Monthly Plan – $11.95/month.
1-Year Plan – $59.04 ($4.92/month).
2-Years Plan – $88.08 ($3.67/month). Comes with extra 2 months free.
What we like:
What we don't like:
Problems with iOS, gets logged out or disconnected sometimes.
ProtonVPN has a proven track record when it comes to fighting for online security and privacy. The VPN is devoted to staying on the front lines, whether it's confronting governments, educating the public, or training journalists.
It was made by a group of engineers, developers, and scientists who are passionate about the Internet's future.
No data logging is to be expected. ProtonVPN's no-logs policy is backed up by annual transparency reports. They pose themselves as a VPN that offers limitless bandwidth and dedicated P2P servers.
Also, with download speeds of over 60 Mbps and no IP address blacklisting, Netflix and other streaming websites work smoothly. They have 1,287 servers in 55 countries.
ProtonVPN's price plans:
Free
Basic Plan – $48/yea ($4/month).
Plus Plan– $96/year ($8/month).
Visionary Plan – $288/year ($24/month).
What we like:
It is open-source.
It has a free plan.
What we don't like:
At times, the customer service appears to be responding slow.
Mullvad VPN is another VPN service that is steadily on the top 5 of testings and reviews for several years now. It has a total of 764 servers around the world, which, when compared to other services that have at least 4,000 servers, really pales in comparison.
But that shouldn't dissuade you from trying it out, since they offer really good features and privacy and security is top-notch. Its average upload and download speed is 89 Mbps
Mullvad's price plans:
Mullvad VPN offers a monthly flat rate of around $5.90/month or €5 no matter how long you want to subscribe.
What we like:
Has good server distribution across the globe.
Doesn't need an email to register / get started.
What we don't like:
Limited amount of servers.
Surf Privately with Mullvad VPN
VyprVPN is a security and privacy-focused VPN provider with over 2 million users worldwide. It supports all devices and operating systems. Users can cycle through 70 countries, with over 300,000 IP addresses to use to obfuscate the users' location.
In total, it has over 700 servers across North and South America, Asia, Africa, Oceana, and Europe. VyprVPN also deals well with overloading servers by automatically switching people around during peak times, without bothering its users too much. On average, its upload and download speed is at 44 Mbps.
VyprVPN's Price Plan:
2-Months – $12.95 ($6.47/month).
18-Months – $45 ($2.50/month).
36-Months – $60 ($1.67/month).
What we like:
One of the cheapest VPN providers out there.
Good for streaming services like Netflix.
What we don't like:
Self-help troubleshooting documents don't seem to be very effective.
Comparison Chart
Here's a table to help you visualize things faster. Check out our list of cheapest VPN providers.
 
$/month
Avg. Speed
Servers/Country
Extensions
Surfshark VPN
$11.95
115 Mbps
5307/60

Chrome extension

Firefox add-on

ExpressVPN
$4.00
60 Mbps
1287/55
Private Internet Access VPN
$12.95
135 Mbps
160/94

Chrome extension

Firefox add-on

Microsoft Edge add-on

CyberGhost VPN
$9.95
80 Mbps
3335/33

Chrome extension

Firefox add-on

Opera add-on

IVPN
$12.95
85 Mbps
3200*/65

Chrome extension

Firefox add-on

NordVPN
$12.99
110 Mbps
6933/86

Chrome extension

Firefox add-on

ProtonVPN
$4.00
59 Mbps
77/45
Mullvad VPN
$5.90
89 Mbps
764/37
VyprVPN
$6.47
125 Mbps
700/70
Summary
Securing your network is becoming more and more important as the days go by, not because you are hiding something, but because you want your information to be safe. You need to take great care of your privacy, especially when browsing unknown websites or if you're connected to private WiFi.
Attacks and leaks can happen anytime, and you might not lose anything from it. But why risk it, right? Also, for entertainment or work, you can bypass certain restrictions through VPNs — for a more open and secure world wide web. :)