8 Best Free Tools to Monitor Website Changes
Let's talk about website monitoring tools, the kind of tools that help you monitor changes on your website or just any websites out there on the Internet.
In today's continuously evolving digital landscape, where web pages usually change every second or even multiple times per second, web page monitoring tools are the name of the game. Web page change monitoring tools alert you of changes on a given web page according to your configured settings.
If you are a savvy online shopper, web page monitoring tools are built for you. You can get notified of bargain offers and price drops for in-demand products without sitting for the whole day hitting the refresh button on your system. As a journalist, you can monitor major news sites and social media profiles.
These tools provide bigger and better benefits to businesses. For instance, these help you monitor competitors' social media pages and perform market research that allows you to adjust your pricing competitively. You can also monitor brand mentions as well as customer feedback on your social media pages.
Webmasters use page monitoring tools to track their websites for quality assurance and defacement security. These tools help businesses stay on top of any accidental or non-approved changes to their sites — all automatically.
Whatever you are looking for to achieve with these web page monitoring tools, I have got you covered. I am going to show you some of the best tools (and bonus tools) that help you monitor changes on all kinds of websites.
Visualping is among the best web page monitoring platforms available, which offers intuitive features fitted for both beginners as well as advanced users. What I liked the most about Visualping is it shows its monitoring form interface right on its homepage, allowing you to effortlessly start monitoring web pages.
Visualping claims it is used by more than 1.5 million users worldwide, performing 5 billion checks. Its features include performing checks from every 5 minutes to every week, checking for documents like PDFs, choosing screen configurations, configuring proxy settings, and alert options. Also, these features are all packed under a clean and neat interface, making it super easy to monitor changes.
Visualping's Price:
Visualping's individual plans start at $14/month for 25 checks per day or 1000 checks per month. And it also offers Pay Per Use options.
Business plans start at $105/month for 5000 checks per month. Business features include up to 5 invitations for colleagues to each workspace, bulk imports, schedule reports, job exports, advance notifications, team collaboration tools, centralized billing, and user management, onboarding and training, 1-year retention, integrations, and API use.
Visualping offers a 30% discount on all personal and business plans when paid annually and reimburses all unused months.
What we like:
Generous free plan for individuals — 2 checks per day or 65 checks per month while the business plans get double of this quota.
Monitor visual page elements with Visual-compare, and get alerts with easy-to-read screenshots along with highlighted changes.
Many proxy options including basic, country-wise IP address, residential (activated on demand), and a static random IP address for you.
Allows performing actions like logging in to password-protected pages, alerting for specific keywords, and enabling/disabling JavaScript.
Extra benefits on business plans like advanced features, demos and training for staff, phone support, and a dedicated account manager.
What we don't like:
Free plan is not as generous as some of its competitors listed below.
No plan allows unlimited team members, unlike the plans by Versionista.
Wachete has a lot more to offer than other content monitoring tools on this list. What makes it stand out is its ability to monitor password-protected pages as well as dynamic and JavaScript pages.
Moreover, you can track changes on pages that require a click or an input and monitor configured pages from different locations and more.
Surprisingly, you can also monitor specific parts of a web page or a site with sub-pages. Wachete sends instant or summary notifications (per your preference) over email and notifies about changes via its mobile app too.
It collects and stores web content along with change history for up to six months, allowing you to track old pages or changes when required.
You can freely monitor five pages, which suffices everyday users who wish to track product prices and job offers. You can also track the availability of a site, and download all the data as a spreadsheet.
What I like most is its set of REST APIs as well as its feature to create an RSS feed from the content of a page, like a feed of your wishlist products.
Check out our review on Wachete's Web Monitoring Tool.
As straightforward as its name, SiteChecker is a simple yet feature-rich website crawler for conducting SEO audits on your website. It allows individual site owners' and business websites to resolve issues with their website's SEO performance and enables digital agencies to speed up the SEO audit and bug fixing of their client's websites.
What's interesting about the SiteChecker tool is that it takes only a few minutes to give you a comprehensive report on the site's technical SEO. Moreover, you can set a customized crawling criteria and measure the health of your website on the basis of the website score.
SiteChecker also sends you email regarding critical issues, warnings, and notices about your website's technical SEO so you can work on these issues accordingly. Plus, you get useful instructions on fixing specific issues.
SiteChecker's Price:
SiteChecker pricing started from Basic $14/month, Startup $83/month, Growing $166/month, and Enterprise package tailored to your needs.
What we like:
Simple to use and easy to navigate
Centralized platform that monitor site health and tracks keywords and backlink
Comprehensive reports on-site health and SEO issues
What we don't like:
The how-to guides can be a bit overwhelming for newbies
Pricing plans not very ideal for small businesses
Learn more about SiteChecker Website Monitoring
Versionista is a simple yet powerful tool for monitoring web pages of static and dynamic websites. You can monitor web pages and documents like PDFs, like Visualping. What sets it apart is you can set filters to skip irrelevant content changes and manage and track changes in SEO to stay competitive in SERPs.
While creating a monitor, you can customize frequency, JavaScript support, proxy address, and more. I like that it shows color code comparison to highlight changes and supports sending change alerts and detailed emails. Moreover, Versionista supports team collaboration, allowing admins to manage users and users to collaborate between them to support team projects.
Versionista's Price:
Versionista's plans start from $19/month for checking 20 URLs and performing 1860 browser crawls (checks) per month. If you need to add team members and require customizable reports, Versionista's plans start from $139/month.
What we like:
Free plan allows checking 5 URLs and performing 465 browser crawls (checks) per month for individuals as well as businesses.
Dashboard shows site-wide URLs for every checked URL, allowing you to quickly add monitors for other pages on the same website.
Enterprise Managed Services offers custom engineering, process and product integration, analyst-curated intelligence reports, etc.
What we don't like:
Free plan is very limited — no support for advanced filters like page area selectors and regular expressions, unlike others like Visualping.
No separate set of business plans, unlike Visualping. Offers Gold and Enterprise plans with unlimited users starting at $139/month.
Interface is a bit less intuitive than some others such as Visualping.
PageCrawl.io is another robust tool for monitoring web page changes. What I find interesting is PageCrawl.io supports tracking multiple elements on a page. You can share a tracked page with friends or team members, visualize results as charts, send notifications to email or Slack, export data, and do a lot more.
PageCrawl.io's Price:
PageCrawl.io's plans start from $8/month for tracking 100 pages or URLs with a 15-minute tracking ability. If you are looking for an enterprise plan, it starts from $30/month for tracking 500 pages with a 5-minute page tracking ability.
What we like:
Most generous free plan, allowing tracking 16 pages (or URLs) with one check per page per day, which equals 480 free checks per month.
Google Sheets integration lets you check your monitors in Sheets.
Zapier integration allows connecting to other apps and automating your monitoring workflow — a missing feature in both of the above tools.
Offers one of the cheapest premium plans among its competitors.
What we don't like:
Performed a bit slower than others in my tests, unlike Versionista.
Distill.io is a featureful tool for monitoring web page changes. Unlike the above tools, unlike the above tools, what makes it unique is its support for cloud and local monitors. Also, it supports automating steps like logging in, exporting data, using custom proxies, tracking changes in documents like PDF, and managing versions.
Distill.io's Price:
Distill.io's plans start from $15/month for individual users with a 10-minute tracking interval in the cloud. If you are seeking an advanced plan, the Flexi plan starts from $80/month with a 2-minute tracking interval and flexible limits.
What we like:
Generous free plan, allowing you to run five monitors in the cloud and 20 monitors in the local with a 6-hour interval and 1000 checks/month.
Compound conditions allow clubbing multiple conditions together for setting up advanced filtering to get alerts without false positives.
Offers unlimited phone push notifications, unlike others (paid plans).
What we don't like:
No support for collaborating in teams, unlike Visualping and Versionista.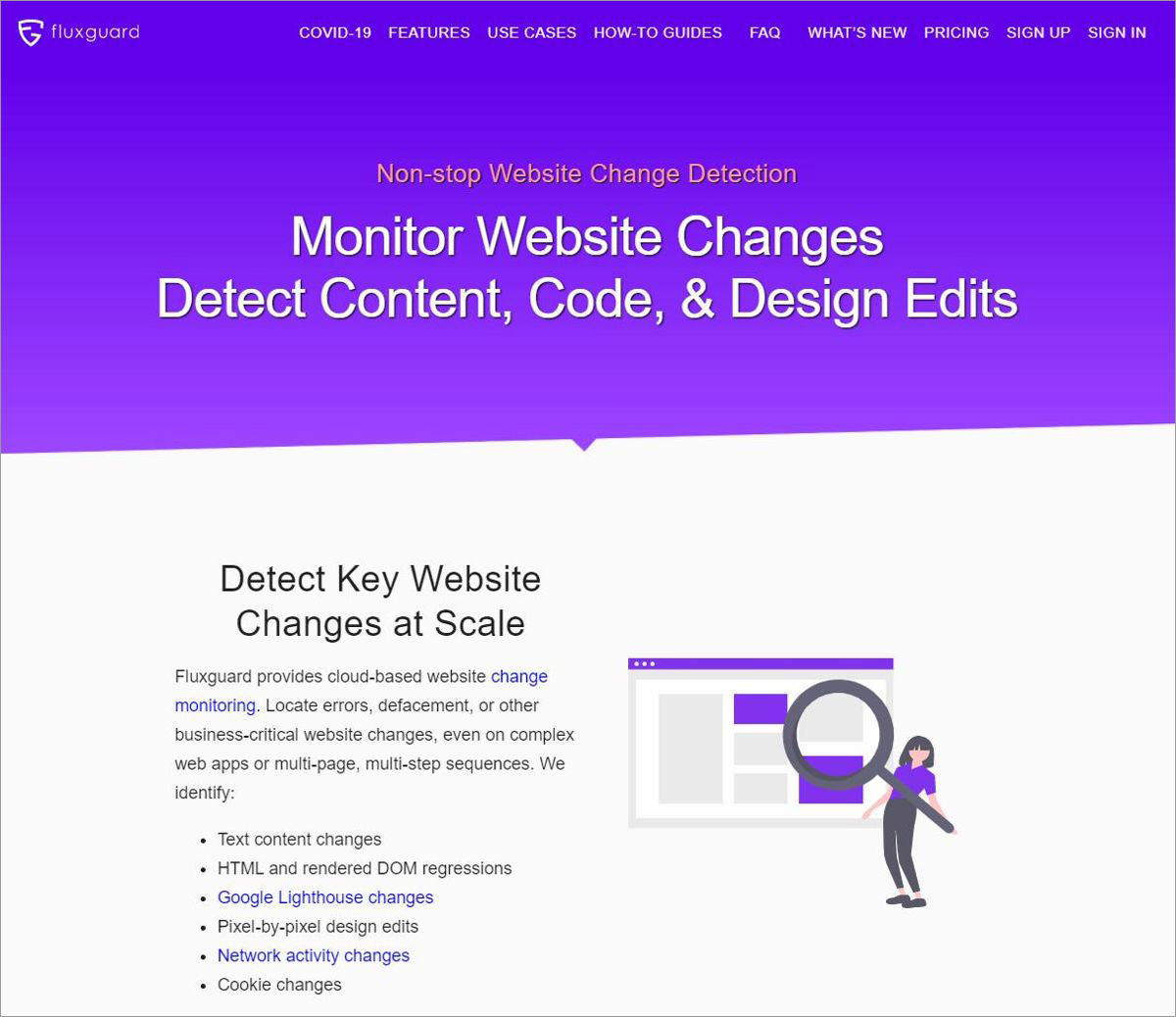 Fluxguard is another featureful tool for monitoring web page changes. One of its unique features is Google Lighthouse Audits, allowing you to check your site's SEO. You can automate steps like submitting forms, adding filters for alerts, use proxy networks, and receiving alerts through Slack and webhooks.
Fluxguard's Price:
Fluxguard's plans start from $99/month, allowing you to monitor 10,000 pages per month at a 5-minute interval. If you are looking to add team members, its plan starts from $199/month, offering 25,000 pages and unlimited members.
What we like:
Generous free plan, allowing you to monitor 50 pages per month with support for three versions per page and instant or daily alerts.
Network Blocks feature supports blocking ads or configured domains for skipping loading resources from those domains for better monitoring.
Kaleidoscope — its enterprise plan — offers unlimited archives, concierge onboarding, compliance support, pre-screened results, and more.
What we don't like:
Interface is less intuitive than its competitors such as Visualping.
A reliable website monitoring tool, Linko is an all-in-one solution to track the health and performance of your website. It checks your website content for broken links without affecting its performance or slowing it down.
It is an advanced tool that keeps a check on your website's SSL certificate health, regularly monitors your site's availability in different regions of the world, and notifies you two weeks before your domain expires.
In addition to that, Linko monitors the redirect status of your website to make sure its homepage redirect chain isn't too long. You also get regular reports on any unsecured content on your website. However, you will not get any SPAM emails.
Linko's Price:
You can subscribe to Linko with €5 (starting price) with pay-as-you-go payment plan.
What we like:
Regular monitoring of broken links, domain, and SSL certificate.
Servers in many location all over the globe.
Efficient crawlers with different crawling speeds.
Intuitive UI and no useless functions.
What we don't like:
Free trial offers limited features not enough to properly test the tool.
No demo or user guide available for beginners.
More Related Tools:
If you want to track an exact information, OnWebChange can do it as simply as possible. Though it is not as powerful as Wachete but some of its features even outstands the latter.
What got me stuck is its public tracker feature that lets you place a button on your site that helps your visitors track any page on your website.
Additionally, you use its 'Change Report' feature to share a public tracker with friends and coworkers and help you track changes conjointly. OnWebChange tracks change for various types of content like images, documents, PDFs, etc.
Another surprising feature is it creates an RSS feed to help you track the changes, unlike that of Wachete.
It allows three trackers for free and features multi-language support and powerful change detection system with lots of customizable options. It can send mobile or email notifications in single or digested form per your preference. Moreover, it sends emails to multiple persons, creates an email distribution list, and even notifies URL 'Callback', surprisingly.
Using ChangeTower, you can monitor three addresses for free. It is a cloud-based, easily accessible tool that is capable of monitoring visual changes. You can track code updates, keywords and code changes, and visual changes made on a webpage.
That said, it helps automate your research work.
What I like is that one can also check a site's availability and receive alerts on configured conditions. ChangeTower can notify you, or your team using real-time email notifications and allows you to see notifications stream and check out detections.
Also, you can check the changed data of three months in for free, and even export it to a spreadsheet.
Another interesting feature is it sends you detailed report of content, snapshot, and HTML changes, helping you to easily understand the changes.
Some of its use cases include monitoring key compliance requirements, legal and corporate compliance info, or content (like product prices) on any website including that of your competitors.
Sken.io is one of the robust platforms out there for monitoring changes. It boasts of offering a perfect rendering engine for web pages, allowing better change detection and webpage screenshots. It features a popup blocker, time scheduler, and a chart preview tool for visualizing changes visually.
DeepWebMonitor is a web page change monitoring tool, which boasts of helping you to "monitor what others can't". Though it focuses on different terminology named deep web, it does similar to other tools. You can track changes, check at fixed intervals, receive notifications for detected changes, and more.
Pagescreen is another web page change monitoring tool with heaps of handy features. It allows you to capture and compare visual copies of web pages and receive alerts via email or Slack. It also supports collaboration among team members and integration with popular apps like Dropbox and Zapier.
Another web page change tracking solution, Trackly lets you select pages and notifies you via email showing highlighted changes. Though it is affordable, it does not offer various features as provided by its various competitors.