Send Emails to Any Mobile Number With This Chrome Extension
Afraid of having your urgent email being lost in the recipient's email account? Why not send it directly to the recipient's phone number instead. CloudHQ has created an Chrome extension that lets you do just that directly from Gmail itself.
Aptly called Send "Your Email to SMS", this extension will add a mobile phone icon to your Gmail's inbox.
Clicking on the mobile phone icon while an e-mail is opened will open up a dialog box that allows you to fill in the recipient's phone number, as well as a short message to go along with it.
Read Also:  15 Chrome Extensions to Spice Up Blank New Tabs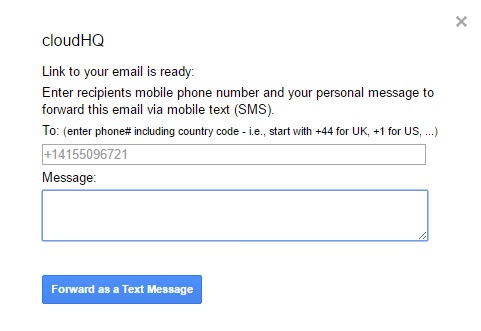 Once you've filled up the boxes, click the "Forward as Text Message" button. The message will arrive on the recipient's phone as an SMS, complete with the short message, a link to the email in question, and all attachments that comes with it.
If you're still skeptical about the extension, CloudHQ has uploaded a video of the extension that you can watch here:
Read Also:  Gmail Advanced Search (Ultimate Guide)