7 Facebook Desktop Applications You Should Try Out
Facebook, being one of the most popular social networking sites in the world, is probably also one of the most common medium of communication that we use to keep in contact with current friends, old aquaintances and family. If you have a constant urge to check your Facebook profile every five minutes for new status updates, links and posts, then you might want to consider getting the following desktop apps to make it easier for you to keep track of changes.
In this list we have 7 Facebook desktop applications, fitting for the avid facebooker who don't want to keep their browser window open all the time. These applications – some simple, some pretty sophisticated – will enable you to run Facebook, right from your desktop. There will also be another four apps listed, that can help you monitor not only Facebook but your other social networking profiles as well. Catch the full list, in no particular order, after the jump.
Recommended Reading: 40+ Apps & Tools To Customize Your Facebook Pages
Adobe Photo Uploader for Facebook is a dedicated desktop application for Facebook, which not only lets you upload pictures to your Facebook profile by simple drag-and-drop feature but also proves to be a robust desktop application with all essential Facebook features. Apart from uploading photos, you can update your status, see your news feed, share photos and chat with your friends. It is a free software that runs on any platform with Adobe AIR. It is a must-have for any diehard Facebook user.
Platform: Windows, Mac and Linux with Adobe AIR
InTouch
InTouch is one of the classiest looking Facebook Desktop application which is pretty much like having a tablet or a smartphone on your desktop. The coolest feature of InTouch is that it allows you to access your favourite and most used Facebook features by directional swiping instead of clicking. It is very simple to use and is very handy to post status updates, tag friends, share multiple images (drag in the folder to share all images inside at a go) and videos by simple drag-and-drop. It is available in OS X, Windows and Linux.
Platform: Windows, Mac and Linux
FBQuick
FBQuick is a simple yet useful desktop application that provides you with all Facebook notifications right on your desktop. You can receive all your profile notifications, stay connected with friends, pages and events, and monitor your entire Facebook activity right from your desktop without the use of a web browser.
Platform: Windows
Flip Toast
Once installed FlipToast will appear as a toolbar on your desktop giving you quick access to the icons that represent each Facebook feature you are interested in. The interface of this application is clean and efficiently implemented. Status updates, image uploading and facebook chats can now be managed from a simple toolbar. It also displays new feeds and updaets through small notification blurbs which disappear in seconds.
Platform: Windows and Mac
FMenu is a Mac only application that brings notifications and status updates from the most popular social networking site Facebook right into your desktop. After installing this app, you can click on the small notifications button to peek into your recent Facebook activity. You can even update your Facebook status anytime through a simple keyboard shortcut (Cmd+Alt+Ctrl+Space). It gives you complete control on your messages, events, pokes, friend requests, wall posts and photo comments.
Platform: Mac
Having Telerik FDeck on your desktop is like giving Facebook a new wardrobe change. Instead of white and blue, this interface features a slick white content over a black backdrop. The fonts used here are way bigger, you get all the regular perk that makes Facebook the place you want to hang out in, uploading photos is ultra easy and best of all, no pesky third-party app notifications or facebook ads!
Platform: Windows with Silverlight
Facebook Desktop is a lightweight desktop application for Windows and Mac. This app is most suitable for those who constantly have an urge to check Facebook updates every few minutes. Install this app and forget opening your browser. It will sit quietly in your system tray and will alert you whenever there is a new activity in your Facebook stream. The alerts are presented in the form of unobtrusive popups, that fade after seconds.
Platform: Windows and Mac with Adobe AIR
Bonus
If you have several other social networking sites that you want to monitor i.e. Twitter, Google Reader, RSS, alongside Facebok, here are a few suggestions.
Seesmic Ping Beta lets you post via the multiple Facebook Pages or Profiles, Twitter and LinkedIn accounts you own, all in the same time. It is available in the Windows and Mac platforms. It is also available as mobile and web applications and is a great app to help you stay connected with your professional and personal network anytime, anywhere.
Platform: Windows and Mac
TweetDeck is a powerful app that provides you with loads of features to increase your productivity. After you have clicked on the Facebook icon and given authorization, it will provide you with a full column of status updates of your friends every minute. TweetDeck is also an IM client, where you can click on any online friend's name and start chatting right within TweetDeck.
Platform: Windows and Mac
Yoonoo
Yoonoo is a simple and easy to use desktop application that lets you connect to all your social networking and instant messaging sites like Facebook, all in one place. You can get all your friends feed updates, update your own status and share cool stuffs with your friends. You can also chat with your friends who are online right now. It also serves as a standalone portable app that can be installed on any USB device.
Platform: Windows, Mac and Linux
Socialite is a revolutionary social networking application for Mac users, which seamlessly integrates not only Facebook, but also other social networking sites like Twitter, RSS, Google Reader, etc. The interface of this application is clean, beautiful and easy to use. Post your status, view what your friends are saying, news feeds, conversations and photos.
Platform: Mac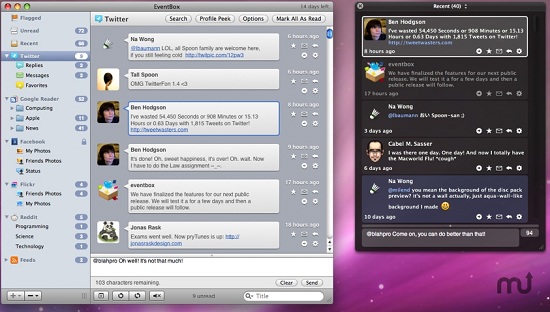 Editor's note: This list is, not by a long shot, an exhaustive one, so do share your suggestions for desktop applications you would recommend for use.