20 Creative Ads that Make You Want To Wait For The Elevator
Advertisements through mass media and banners are getting too mainstream that people have grown accustomed to ignoring these ads, and at times actively avoiding them. So much is spent on advertising that failure to grab bypasser's attention is simply a hint that the technique used is not good enough.
From billboards and buses, we now turn our attention to elevator advertisements. While buses move around town, elevators make their way up and down between floors and have moving doors that when creatively utilized can convey messages real well. But don't take our word for it, check these 20 creative ads out for yourself and see if you agree!
Coca-Cola
On a hot day of shopping a cold, refreshing drink will be able to freshen you up in no time. This cup plastered over the moving elevator is just the right reminder for you to grab a Coke to quench that thirst.
Source: Adbranch
Fear Factor
Holy moly, did they forget to put the bottom on this elevator? If claustrophobia is one of your worst fears, hopefully you are not crippled with fear when it comes to heights as well, or you will have to take the stairs to get where you want to go.
Source: Brad-Wilson
Swiss skydive
If you have a love for bird's eye view of cities then this is the elevator to take, provided you have full control of your acrophobia (fear of heights). Take this as a test run of what to expect if you were to go to parachute school.
Source: Creative Criminal
Be born again by Dr. Kim plastic surgeon
For many people cosmetic surgery gives them a new breath of life. If you were to take this elevator up to Dr Kim's, get the literal treatment of touching God's finger and being born again, courtesy of this Creation of Adam recreation.
Source: My Modern Met
Archilles Forklift
This forklift can do some pretty heavyduty lifting, "pushing" elevators up and down with great easy in Thailand.
Source: Adsoftheworld
Oreo
Oreo cookies and milk, the ultimate combo for a great midnight snack or a breakfast delight. Can you taste the cookie melting in your mouth yet? Let's dunk it by pushing the down button in the elevator again!
Source: Adsoftheworld
Witness against Torture
The advertisement was made during the campaign against the injustice in Guantanamo Bay. To increase the awareness, the advertiser used elevator doors to dramatize the plight of prisoners who were held in isolation and in violation of international laws.
Source: Adsoftheworld
Creative Public Awareness Ads, Vol. 1
Creative Public Awareness Ads, Vol. 1
Public awareness ads are powerful tools that can help to educate and inform people about important issues that... Read more
Gold's Gym
Yeah, if the elevator breaks down, and you are overweight, then you'd definitely have a harder time getting out. Can you tell this is an ad for a gym membership?
Source: Adsoftheworld
Thermometer Elevator: Climate Change Awareness
The side of the elevator is designed like a thermometer and the elevator itself represents the mercury column. The climate we are experiencing now changes as randomly as the elevator moves up and down the 'thermometer'. And what is controlling the temperature? Our fingers – when we push the floor buttons.
Source: Coloribus
Durex
Now how did those stilettos get stuck on the wall of the elevator? Since this is a Durex ad, that can give you a hint or two.
Source: Coloribus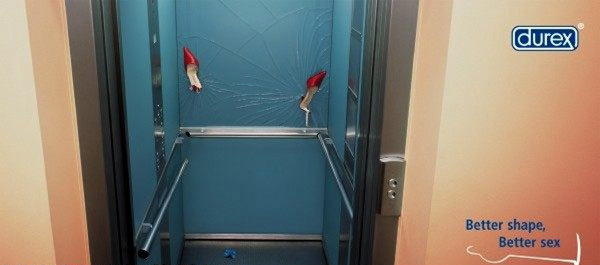 Close The Door To Deforestation
When we don't care, a whole forest may be leveled pretty quickly – now you see the rainforest, now you don't.
Source: Osocio
Shark Week Campaign: Discovery Channel
Now this elevator ride is a full 360 degree experience for a shark week promotion. While inside the elevator cum cage, you are fed live footage of actual cage drives and swimming sharks circlingi you. The icing on the cake? The theme music from Jaws — the perfect elevator jingle!
Source: Behance
Before You Lay Subfloor: DAP Elevator Floor Graphics
Watch where you step! And you thought flooring is beneath you.
Source: Themrsite
Morning Alarm
Oh gosh, if the morning coffee doesn't wake you, your first heart attack of the day will. Step forward if you dare!
Source:WPPEDCREAM
Eliane Indiani Fitness Center
Here's another fitness-centric ad, this time using the elevator doors to replicate muscle building exercise.
Source: Gute Werburg
IKEA's "PAX elevator closet"
IKEA has always prides itself to carry furniture and designs that are great space savers. This ad takes that claim home. Imagine living in a space the size of an elevator. The house chorse would be non-existente!
Source: Avertolog
Folliderm Hair Loss Remedy: Bald Man
Losing your hair could happen as quickly as an elevator door opening. Ok, so maybe not but you have to admit, this ad made you look.
Source: Funny Commercials World
Resident evil: Extinction
What's not to like? The elevator door that looks like a group of zombies are trying to get out, and at the back of the elevator, the reason for them to move as fast as they can out of that elevator!
Source: Creative Criminal
Superman, The Movie
The iconic act of ripping Clark Kent's work shirt to reveal Superman's costume underneath makes for a great elevator ambient for fans and elevator-takers alike.
Source: Adsoftheworld
Fiat Punto
A well-executed ad that shows you how a car parking sensor can really help "elevate" your parking skills, while keeping your car dent-free.
Source: Coloribus