40 Creative Street Billboard Ads You Can't Ignore
See how top brands use creativity to make their billboards stand out.
How often do you notice billboards while walking or driving? If you're like most people, not many billboards manage to grab your attention. But that's not your fault; it's up to the billboard to be captivating enough!
So, what makes a billboard truly unforgettable? What needs to be on that billboard to make drivers risk a glance while they're on the road? A great billboard should be visually striking, informative, engaging, and above all, creative.
Think it's a tall order? Not really. There are numerous examples of billboard ads that have nailed it. In this article, we'll showcase 40 billboard ads that are incredibly creative and sure to turn heads. These examples will demonstrate that creativity knows no bounds. Let's dive in!
Captivating Anando Milk: Superhuman Powers
Given that every child's world is filled with imagination, the concept here is to amplify the benefits of milk to the point where it almost grants the child superhuman abilities.
Australian Childhood Foundation: The Unseen
This innovative billboard aims to highlight the issue of child neglect. The message 'Thanks for seeing me' is also displayed, just in case someone removes the plastic model.
Seatbelt Importance: Belt Up
This impactful ad drives home the message that the back seat is not any safer and emphasizes the importance of wearing a seatbelt.
Bergey: The Illusion of Natural Colors
This billboard, created by JWT agency in India, employs optical illusions to effectively convey the message 'Natural Finish Colours'.
Bic Razor: A Clear Message
Sometimes, less is more. This billboard featuring a razor that appears to have 'shaved' the grass delivers a straightforward yet powerful message.
BMW: A Memorable Move
Whether you find it ethical or not, this ad for Santa Monica BMW is undeniably catchy and memorable.
Calgary International Film Festival: The Emotional Impact
Only the best campaigns make an impact. This billboard creatively uses water droplets to evoke emotion.
Coca-Cola: The Power of Simplicity
Who knew a ladder could make such a difference? This Coca-Cola billboard is a prime example of simple yet effective advertising.
Coca-Cola: Expanding the Idea
Building on the previous concept, this version extends the idea to adjacent billboards. It's a brilliant strategy that's sure to get people talking.
Colorado State Patrol: The Risks of Tailgating
This billboard makes it abundantly clear: tailgating is dangerous. The visual alone is enough to get the message across.
Dairy Milk: Irresistible Chocolate
Why use words to describe how delicious your chocolate is when a giant chocolate billboard can make everyone's mouth water?
DHL: The Right Way, Every Time
This 3D billboard features a red ball that travels from point A to B via the shortest route, over and over again. It's a clever way to show that DHL always takes the most efficient path.
Donatos Pizza: Double Take
This ingenious billboard uses another billboard for added impact. It's a memorable way to make Donatos Pizza stick in your mind.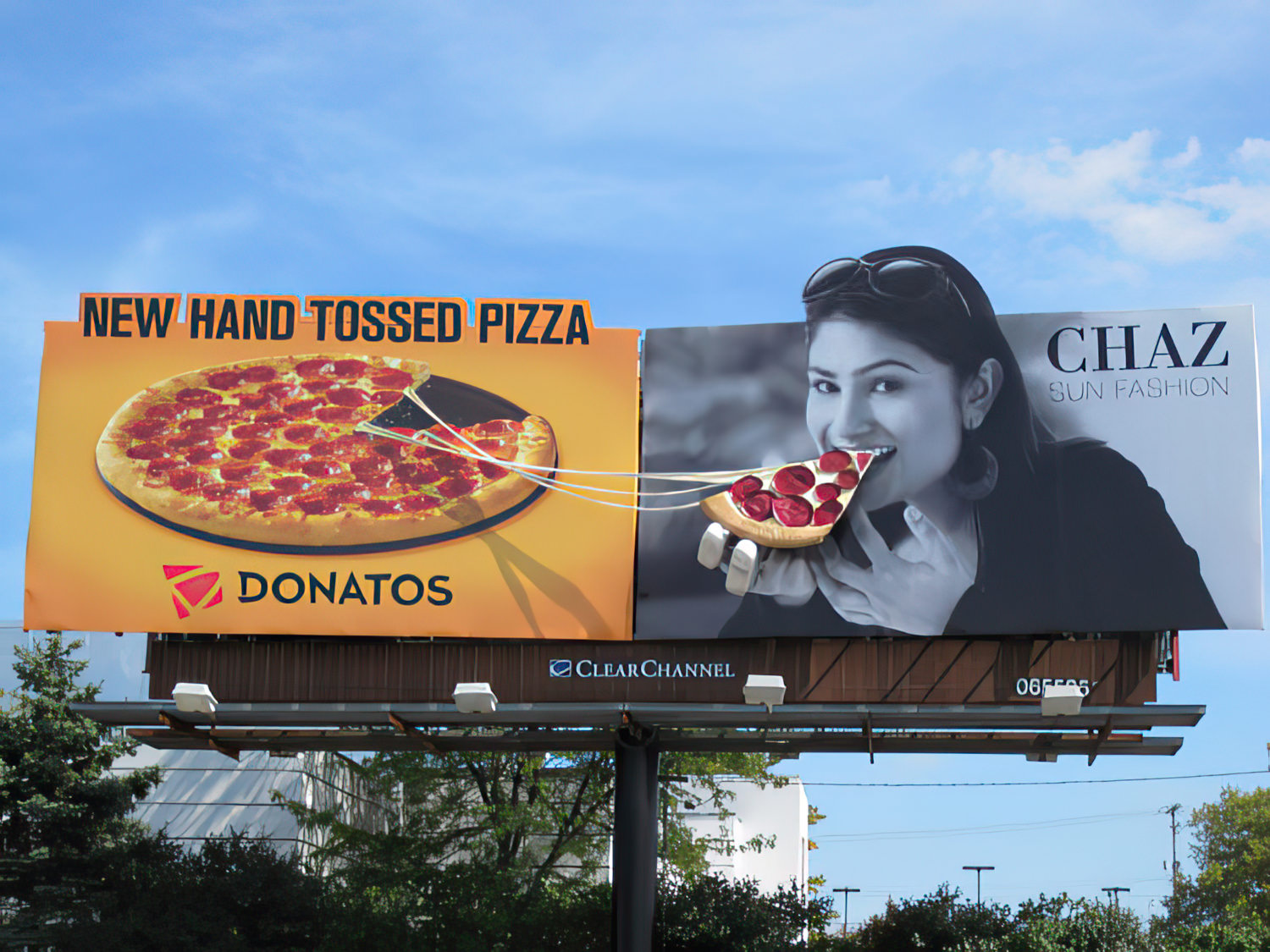 Elm Grove Police Department: Safety First
This creative—and perhaps scientific—billboard serves as a reminder that slower is safer. It even comes in different versions like 'Accident Bills' and 'Chance Of Crush' for added impact.
Ford Mustang: Smokin' Hot
This billboard was a showstopper at the Woodward Dream Cruise in Detroit. Equipped with a smoke machine, the rear wheel spins, emitting smoke for an unforgettable one-minute spectacle.
Ford Mustang: The Speed Effect
How do you convey speed in a static billboard? Ford nails it with this semi-transparent resin billboard that blurs the background, regardless of the weather or time of day.
Formula Toothcare: Strong Bite
Want teeth strong enough to tear through metal? This billboard for Formula Toothcare delivers that message in the most creative way possible.
Frontline: Flea Awareness in Malls
Frontline used massive 22 sq.meter stickers in three busy malls to highlight the issue of flea infestations in pets. The message? You may love your pet but be unaware of the fleas.
Heineken: The 3D Effect
Heineken's 3D billboard is a testament to how a touch of creativity can transform the entire impact of an ad.
Hotwheels: Keep Rolling
This billboard perfectly captures the essence of the Hotwheels brand—always in motion!
International Campaign: The Power of Amnesty
This billboard effectively uses contrast to raise awareness about the importance of amnesty. It juxtaposes images of a peaceful world with one that lacks amnesty.
Jobsintown.de: Choose the Right Career
This billboard is a stroke of genius, leaving us speechless with its message: Life's too short for the wrong job.
Kolestron Naturals: A Change in Color
Strategically positioned on a promenade, this billboard uses die-cut hair to showcase the color variations of Kolestron Naturals throughout the day and night.
Law And Order: Creative Illumination
A simple twist of creativity can make all the difference, as this Law and Order billboard brilliantly demonstrates.
Leica Binoculars: The Close-Up Bear
Experience closeness like never before with Leica's Ultravid binoculars.
Leica V-Lux 1: The Ivy Ad
Leica proves that the right agency can create the perfect ad. Simply stunning.
Maker's Mark: The Liquor Standout
Unquestionably the most unique billboard in the liquor advertising world.
Mars Chilled: The 3D Tongue
An innovative use of two billboards creates a 3D-like tongue that's never been seen before.
Martor: The Razor's Edge
A razor blade so sharp, it could even cut down a pigeon. Pure genius.
McDonald's: Timeless Sundial
Who knew an ancient concept could inspire such a creative billboard? Ideas are indeed everywhere.
Nestle: Sweet and Lovely
Both delicious and delightful, this Nestle billboard is a treat for the eyes.
Nike: Defying Nature
Nike's billboard exemplifies how breaking the laws of nature can create a compelling advertisement.
Penline Stationery: The Power of Tape
This billboard showcases a tape so strong, it can hold up the advertisement itself. Unbeatable.
Adidas: Towering Cech
Adidas celebrated the EuroCup 2008 with a 60m tall image of Petr Cech, making a grand statement at Vienna's main tourist attraction.
Quitplan: The Giant Reminder
This oversized cigarette aims to remind Minnesotans about quitting smoking in a way they can't ignore.
Real Hip Hop: Pure Energy
An electrifying billboard from an electrifying agency for an electrifying company. It's all energy here.
Red Cross: The Eye-Opening Illusion
This billboard is designed to be so realistic that it shocks passersby, raising awareness about amnesty in the process.
Environmental Awareness: The Pool Effect
This creatively placed ad gains impact from its environment, although its reach may be limited.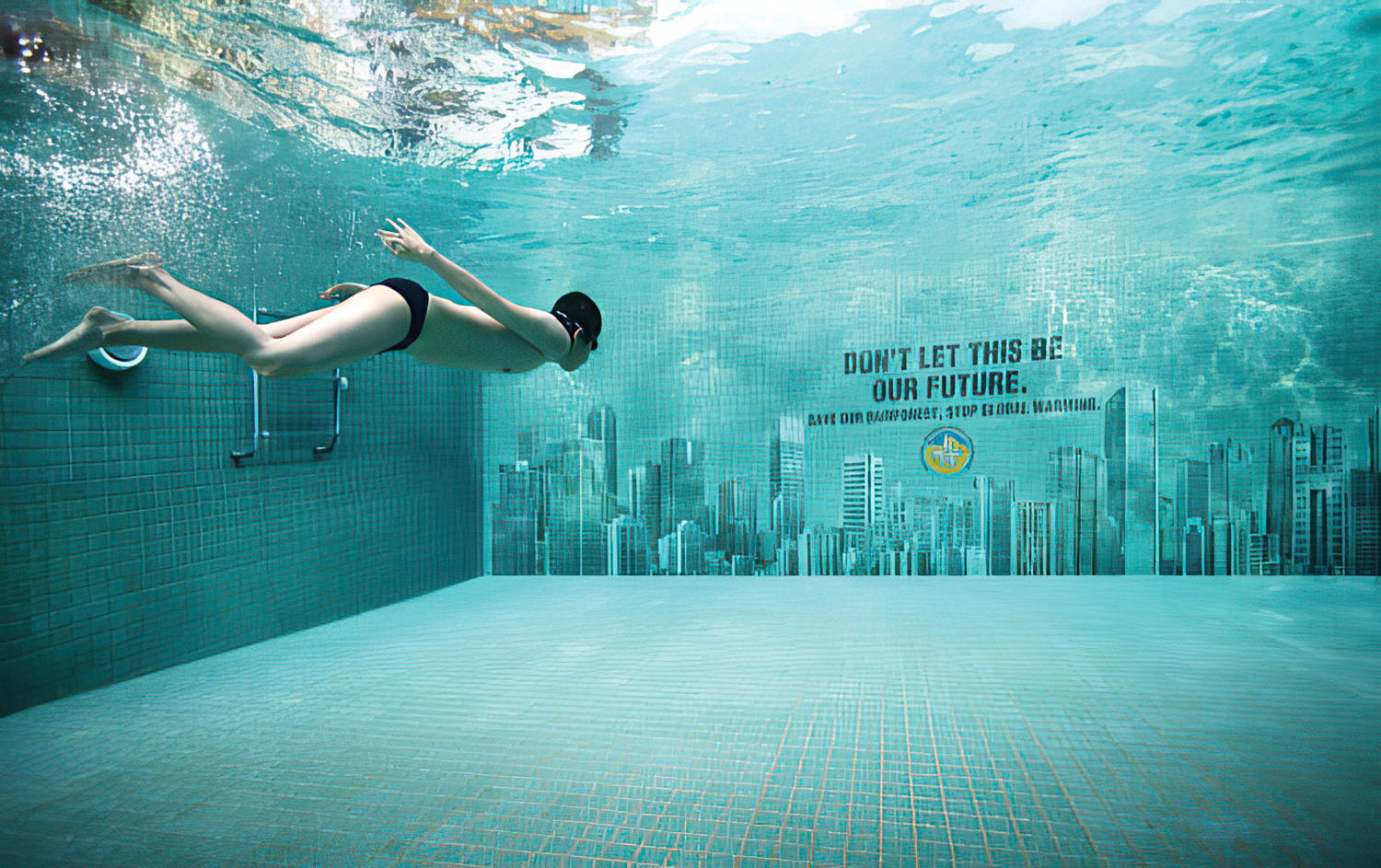 Serve: The Art of Escape
Though the perspective may be unconventional, the concept is brilliantly executed.
The Comedy Channel: Hypnotic Humor
Clothing at bus shelters and innovative typography were used to promote the TV series "The Power Of One," where hypnotist Peter Powers leads people into outrageous tasks.
Final Thoughts
Common techniques for crafting creative billboards often involve defying natural laws, like Nike's "Barge Resistance," or striving for realism through 3D designs or added elements like smoke. Humor is another recurring theme. Do you have any other tips for creating standout billboard ads?
These 40 examples are just the tip of the iceberg. The world is full of creative ads, both online and offline. If you come across any, we'd love to hear about them. After all, we're all in search of creativity and inspiration!