Top 10 Desktop Customization Tools for Cleaner Windows
Everyone loves a clean environment, but not everyone loves cleaning, especially when you hope your every minute could be dedicated to performing better and possibly earning more income in your daily jobs. But sometimes, cluttered desktop just overwhelms you and eventually brings you the doom when you try searching files. Trust me, I am the victim, and that's why I want to dedicate this post to helping you organize your desktop effectively.
In this particular post, I won't be giving spiritual tips on cultivating your organization's soul but showcase to you ten practical desktop customization tools, each with distinctive features and concepts to help organize your Windows desktop with two ultimate aims: to make your desktop cleaner, and to help your file searching much easier.
I guarantee that you will become passionate about a desktop organization with these customization tools, as in the end, these tools will get you to triumph for your cleaner and fabulous desktop, and every time you search for your files, you will thank yourself for using them. Happy organizing and customizing!
For certain software, if you're a Windows 7 user, you might need to right-click on the installation file and choose the option "Run as Administrator" in order to install the software.
Looking for more tools to gear up your Windows? We've picked up the best possible gears for you!
Have too many icons and shortcuts on the desktop but too lazy to organize them? That's the most common scenario for desktop users. Fear not, for Fences is developed to help you arrange the desktop icons in a far more intuitive, organized way.
Upon the first launch, the software will automatically help you organize existing icons into several dark transparent tabs, but you can organize them manually with flexible options, such as creating your own tab with a specific category name and put anything related into it. Best of all, if you're just too lazy to even click on the icon for organization, you can hide all of them with just a click away!
If you're a fan of Mac OS X's docking bar, ObjectDock allows you to have the dock with similar functions to the Mac's docking bar, even if you're using the free version! And it's possibly more beautiful than Mac's dock!
Just as how the Mac's docking bar functions, you can put application or folder shortcuts into your dock, display running applications on it, enable and adjust their zoom effects and sizes, and ultimately position your dock on any edge of the screen! These features will significantly saves up your desktop space, and you can also grab your applications and folders easily by just looking on the bar!
Similar to most desktop customization tools, you can obtain your favorite skins from the application's official theme site, but what I really love is the fact that it allows me to get the software or folder I want without searching in my desktop!
Now hear me out, RocketDock is very similar to the ObjectDock, but there are reasons that I feature it: It has extensive features to not only allow you to create a more organized docking bar, but also transform possibly every element of the dock into something sleek and potentially sexy as well!
Just like the ObjectDock, RocketDock also supports alpha-blended PNG and ICO icons with a more user-friendly settings panel, and that means you can download those extremely sleek icon packs and change them to please your eyes! Cleaner interface with appealing look is what we the Windows users ultimately seek for, right?
Tiles allows you to quickly view and manage your applications by simply looking at the edge of your screen, but it has more than it promotes.
With Tiles, you can drag any software, file or folder you use or open often into its Windows 8-styled sidebar. You can also click and swipe though the pages to view a different set of icons, or to navigate the software that you're using.
The Tiles doesn't have to be on the right side, you can customize its location, size and even its behavior like "Group windows from the same process together". Have fun on exploring it, and you will discover that a feature-rich sidebar is all you need to keep your desktop organized!
With Dexpot, every Windows user can finally embrace several virtual desktops for placing different set of applications. For example you can put all your designer's software and folders into one virtual desktop, while placing your developer's applications on another virtual desktop. This is extremely helpful if you have different types of jobs or projects running on.
What's really awesome is that the Dexpot provides you tons of flexible features and settings that you can even set multiple methods to switch between the virtual desktops, and also customize everything from simple transition effects to slightly complicated desktop elements. But keep this in mind, the software is developed in the way that it should be keeping your desktop organized, so don't ever mess up all of your virtual desktops!
You can't imagine that a 1.3 Megabytes software can change your desktop into something epic entirely, and it is Rainmeter.
Rainmeter is a full-fledged desktop customization tool that provides you the ability to customize almost every portion of the desktop along with its extra widgets as well. The software is very famous within the design community due to its flexibility, user-friendliness, and the epicness invoked from the user-created skins. With Rainmeter, you could adopt rich options of clean user interface, and even ends up getting rid of desktop icons, just because it is too beautiful to put the icons!
That said, besides its original skin, you can also search through the web to download the Rainmeter skins for more choices of appearance and widget, and if you invest more time on learning its advanced customization techniques, your only limitation will be your imagination!
If you can't organize your desktop, how about restricting the ability to put anything on the desktop? Emerge Desktop could be your discipline teacher.
Following the reboot, Emerge Desktop will hide any icon on the Desktop and take away the ability to place anything on it. With the trade you will get a full-fledged context menu with a right click, and it will be your best companion, since the menu allows you to access to possibly anywhere in your Windows.
Restricting the icon placement on desktop is just one of the many features included in this software, in fact it also comes with helpful applets, commands and themes to gear up your productivity, but what I really love is that I will not be able to do the worst thing on the desktop again – put icons everywhere.
Stick
Stick organizes your desktop with a fresh technique that utilizes the tab concept. It has generally 3 types of tabs: News Feed, Navigator and Notes.
News Feed and Notes are quite self-explanatory, but Navigator is pretty interesting: while it can be used to navigate your existing folders, it can also serve as a web browser!
The beauty of this software is that if you have finished reading or navigating the content, you can just click on the tab and it will hide the content without closing it, and the tab will stick on the top of your desktop. With this approach, you can view the tab any time you want, just click on it! Imagine the space you can save up by constructing a folder directory within the tab, or the time you can save from searching your content here and there in your computer!
Be creative. Eventually you're just too tired of moving the files and folders here and there in order to keep the desktop organized. Now, what if you can organize your file into folder directory with just 2 clicks away? MyFolders is the software to do it!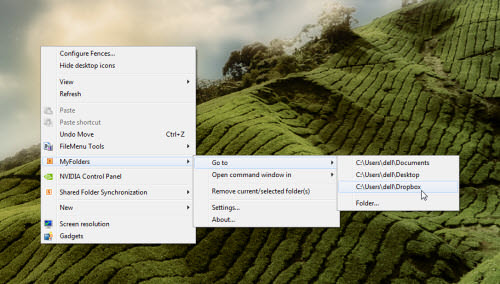 With MyFolders, you get to define folder destination in the context menu existed with a right click for easier future access. This could save a lot of desktop space since you could just place the folders you want to access into the menu.
Furthermore, if you want to move certain file to the defined folder, you can just right click on the file, hover to "MyFolders" > "Move To" > (Folder Name), then your job is done! No cluttered windows!
Besides the "Move To" ability, there's also a "Copy To" function in case you want to duplicate certain file into different folders, which is probably another great feature that could potentially speeding up your desktop organization process! Well, an extremely easy solution for the overwhelming issue!
It's not really a desktop organization/customization tool, really, but it guarantees you an instant access to anything you want in your Windows, especially when you gave up to organize your forever-artistically-cluttered-desktop! It's pretty easy and intuitive to use, but it's better for you to use it 30 or 60 minutes after installation, since it needs time to create the search catalog.
To use the Launchy, you can just press on ALT + SPACE to fire up the application, then type the name of the software, file, or folder you want to search, and the Launchy will display to you the possible results. And heck, if you're an advanced user, you can even use it to execute commands other than launching application!
Basically Launchy can search general executable files, but if it failed to do so you can add the file catalog manually by clicking on the gear-like icon on its interface, then access to "Catalog" and click on the "+" button to add a directory path, then press "Ok" and eventually "Rescan Catalog". You can also include other file types by tweaking the settings in the same settings window!
Now you can just put all your files and folders from desktop to the folders located anywhere in your Windows except desktop, and call them through Launchy anytime you need them!
Conclusion
While it is intelligent to choose multiple customization tools for a better desktop organization, it's essential for you to avoid embracing all of them. The act will not only burdens your Windows, but also making it crash easier since certain software might clash with others.
There's always a better software existed in this fast-paced software industry! If you have got a better desktop organization software, please don't mind to share with us! Also do share with us your secret tips on organizing your Windows desktop!