10 Tools for a More Organized and Efficient Windows Desktop
Keeping a tidy workspace is essential, but not everyone enjoys the process of cleaning. This is especially true when every minute counts in your busy workday. A cluttered desktop can be overwhelming and counterproductive, particularly when you're trying to locate files. I've been there, and that's why this post aims to help you streamline your desktop.
This article isn't about spiritual guidance for organizational skills. Instead, it focuses on ten practical tools designed to declutter and organize your Windows desktop. The goal is twofold: to create a cleaner desktop and to simplify the file-searching process.
With these tools, you'll not only enjoy a cleaner, more organized desktop, but you'll also find it easier to locate files. Trust me, you'll thank yourself later for making the effort to organize your workspace. Happy organizing!
If you're using Windows 7, some software may require you to right-click the installation file and select "Run as Administrator" for successful installation.
Interested in more tools to enhance your Windows experience? Check out these additional resources:
Struggling with a cluttered desktop full of icons and shortcuts? Fences is designed to help you sort your desktop icons in a more organized and intuitive manner.
Upon its first launch, Fences will automatically sort your existing icons into transparent tabs. You can also manually organize them, create custom tabs with specific category names, or even hide all icons with a single click!
If you admire the Mac OS X docking bar, ObjectDock offers a similar experience on Windows, even in its free version. It's possibly even more visually appealing than the Mac dock!
Like the Mac dock, ObjectDock allows you to add application or folder shortcuts, display running apps, and customize zoom effects and sizes. You can also position the dock anywhere on the screen, making it easier to access your apps and folders.
Customize your dock further with skins from the official theme site. It's a convenient way to access software or folders without searching through your desktop.
RocketDock is similar to ObjectDock but offers even more customization options. It allows you to transform every element of the dock to suit your aesthetic preferences.
RocketDock supports alpha-blended PNG and ICO icons and offers a user-friendly settings panel. This means you can download sleek icon packs to enhance its appearance. A cleaner, more attractive interface is what Windows users desire, right?
Tiles offers a quick way to view and manage your applications by simply glancing at the edge of your screen. But it offers much more than that.
With Tiles, you can drag frequently used software, files, or folders into its Windows 8-styled sidebar. Swipe through pages to view different sets of icons or navigate through your software. Customize its location, size, and behavior to make it your own. It's an all-in-one solution for a more organized desktop.
Dexpot allows Windows users to create multiple virtual desktops, each tailored for specific tasks. For instance, you can dedicate one desktop for design-related software and another for development tools. This is particularly useful for multitasking across different projects.
Dexpot offers a wealth of customization options, allowing you to switch between virtual desktops in various ways and fine-tune desktop elements. Just remember, the goal is to keep your desktop organized, so try not to clutter your virtual spaces!
Believe it or not, Rainmeter's tiny 1.3 MB size can completely revamp your desktop. It offers extensive customization options, allowing you to tweak almost every aspect of your desktop and add widgets.
Popular in the design community for its flexibility and user-friendly interface, Rainmeter lets you create a clean, icon-free desktop. You can also explore additional skins online to further personalize your desktop. With a bit of time and creativity, the sky's the limit!
If you struggle with desktop organization, Emerge Desktop might be the solution. It restricts your ability to clutter your desktop with icons.
After installation, Emerge Desktop hides all desktop icons and disables further placements. Instead, you'll use a comprehensive context menu accessible via right-click. This menu becomes your gateway to all Windows features. The software also includes applets, commands, and themes to boost your productivity.
Stick: Tab-Based Desktop Organization
Stick brings a unique tab-based approach to desktop organization. It offers three types of tabs: News Feed, Navigator, and Notes.
While News Feed and Notes are self-explanatory, Navigator serves a dual purpose: it can browse your folders or even act as a web browser. Once you're done using a tab, you can hide its content without closing it. The tab remains at the top of your desktop for easy access later, saving you both space and time.
Tired of constantly moving files and folders to keep your desktop organized? MyFolders allows you to organize your files into folders with just two clicks.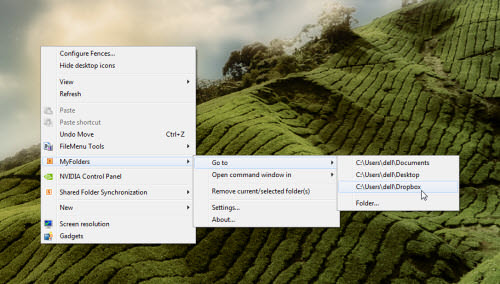 MyFolders lets you define folder destinations in the context menu, accessible with a right-click. This saves desktop space by allowing you to place frequently accessed folders directly in the menu.
To move a file, simply right-click on it, navigate to "MyFolders" > "Move To" > (Folder Name), and you're done! The software also offers a "Copy To" function for duplicating files, making desktop organization a breeze.
While not strictly a desktop organization tool, Launchy offers instant access to anything on your Windows system. It's particularly useful if your desktop is cluttered. Note that it takes about 30 to 60 minutes after installation to create its search catalog.
To use Launchy, press ALT + SPACE to open the application. Type the name of the item you're looking for, and Launchy will display possible matches. Advanced users can even use it to execute commands.
If Launchy fails to find a file, you can manually add it to the catalog. Simply click the gear icon, go to "Catalog", and add a directory path. You can also include other file types through the settings window.
With Launchy, you can move all your desktop files and folders to other locations and access them whenever you need.
Conclusion
While it's tempting to use multiple tools for desktop organization, it's crucial to avoid overloading your system. Using too many tools can lead to software conflicts and system crashes.
The software landscape is always evolving. If you've found a better desktop organization tool, feel free to share it with us! We'd also love to hear your tips for keeping your Windows desktop organized.