Top 20 Stylus for Artists & Designers: Apple Pencil Alternatives
A stylus is though a small accessory, but it can turn your smartphone and tablet into a notepad or a drawing board in a jiffy. It is also a pretty light and compact accessory that you can carry around anywhere.
There is a whole gamut of styluses out there serving different purposes. However, for this post, we have listed the most reliable and extraordinary stylus pens for designers and digital artists. From wide-grip ones to highly advanced digital pens, you'll find a lot of options in the list. So, let's jump right into it.
30 Cool Gifts Designers Would Love
30 Cool Gifts Designers Would Love
If you wonder what to gift that will impress that designer friend, this showcase of cool gifts for... Read more
Zagg Pro is a universal stylus with a dual tip – an active front tips for drawing or writing and a capacitive back tip. It can go on up to nine hours with full charge.
Here's an elegant-looking stylus by Adonit that works with all Android/ iOS devices. It has a good grip and a mesh tip that works wonderfully with the touch screens.
A digital pencil for iOS devices, Logitech Crayon has vivid colors and precise input that makes writing and drawing very smooth. It comes with palm-rejection technology and can go on for a day with a full charge.
Elago Hexa is a is a beautifully designed stylus with aluminum finish and a classic pencil shape. It works with iOS devices and comes with a replaceable tip.
Another one from Elago, this Rustic stylus has an aluminum, wood, and rubber body. The tip is replaceable and you get an extra tip with the package.
Wacon Bamboo Alpha is a quality stylus for Android and iOS. It features a minimal soft-touch finish and matte aluminum accents with an option to replace the tip.
Circle is a high-efficiency digital stylus with different levels of pressure sensitivity. It offers magnetic attachment and palm rejection function with 100 hours of playtime with 1-hour charging.
8. LezGo ($12.99)
Here is a bundle of universal styluses in different vivid colors and two different sizes of tips. You also get 20 replacement tips for both front and back tips.
Here is a universal stylus from MEKO precision series. It comes with a disc stylus in front and fiber mesh tip on the back. A pair of replaceable tips come with the box. There's also a protective cap and rubber grip for good hold.
Beautifully-designed with a minimal finish, this is a magnetic stylus with a cover cap and extra disc tips. You can unscrew the cap at the back of the stylus and use it to store an extra disc tip.
Here's a 3-in-1 stylus dubbed a hybrid pen. It gives you a capacitive fiber tip, fine point disc tip, and ball pen. You get one extra pen, 2 extra discs, and 2 replaceable fiber tips.
Elago Premium is a fat stylus with a wide grip that works with most capacitive touch screens. Though it's a bulky one but doesn't weigh much and it's also quite accurate.
Adonit Pro 4 is an intelligent stylus with a fine point precision disc that offers amazing stability with every line. It features a very chic design with a pencil clip and is compatible with all devices.
Adonit Pixel Pro is a smart stylus and pressure sensitivity pen for iPad. It offers shortcut buttons that you can program for increased productivity. It also has battery indicator lights and bluetooth connectivity.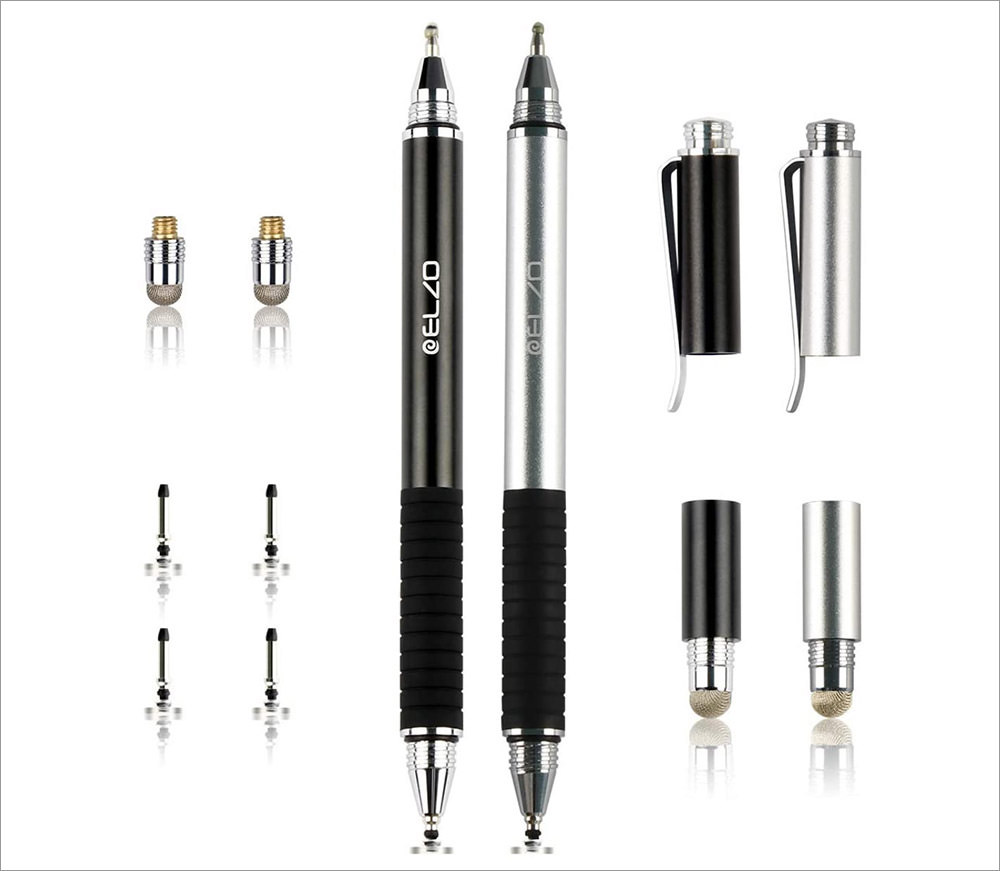 Here is a combination stylus that gives you a capacitive tip, a disc tip, and a get pen in one. You also get 2 replaceable fiber tips and 4 replaceable disc tips in the box.
A beautifully crafted digital pen, Adonit Note+ offers palm rejection, pressure sensitivity levels, tilt support, and shortcut buttons. A 10 minute charge gives you 10 hours of working time.
For digital artists, Nomad Flex is a paintbrush stylus. It offers precise response on digital art and comes in beautiful color options.
A stylus that looks and feels just like a pencil, Digiroot is a universal stylus with disc tip and a capacitive tip at the back. You also get 2 extra disc tips and 4 extra capacitive tips with the package.
Wacon Intuos Stylus 2 is a creative stylus that gives you natural smooth results on any touch screen. The intelligent tip offers 2048 pressure levels, shortcut buttons, and LED indicator lights.
Zspeed Active Stulus features an ultra fine (1.5 mm) tip. You can use it for drawing, sketching, and writing. With a full charge, the stylus can go up to 12 hours of work time and even has an automatic sleep-function.