50 Cool Gadgets For Your Holiday Wishlist
We are living in the midst of technical revolution. And maybe such huge events such as inventing of cell phone and internet, flight to the moon, and the discovery of penicillin have been made long ago, people are still working on improving everyday gadgets.
Have you ever imagined a umbrella which closes outside for more convenience? Or a gadget to cut the watermelon into equal parts? Or a smartcan which cleans the floor for you or a stick to make cocktailslike a real barman? All of these products are listed here in this showcase and many more. Find out how people improve our everyday things to make lives easier. Scroll down and see yourself that the future is already here.
The fluorescent transparent board on this clock allows you to leave notes or reminders for yourself or your family. It also features alarm, calendar, timer, and temperature display which makes this gadget an awesome bedside clock. [$20]
We don't clean our toothbrushes enough, yet we brush at least twice a day. You don't want to know what goes into your mouth via your toothbrush, right? With this cute sanitizer by Zapi, you can keep your toothbrushes hygienic with UV light (and without ever knowing). [£24.99]
Bolt is a unique gadget which will help you to throw keys out the door, for good. It lets you open any door with your phone. It also notifies you when someone unlocks your door, and you can even unlock your door even if you are not home. [Pre-order for $99]
Rechargeable batteries are a godsend, that is, if you remember to charge them. Now, if only there was a way to recharge batteries just as easily as recharging your smartphone. Oh wait, there is! These batteries can be charged via USB. [$17.40]
Now this might not look like much if you never got stuck with melon slicing duty. But if you love organizing parties at home, then this can help cut down on the time spent on slicing fruit to mere seconds. [£8.59]
Anyone who bakes knows how important it is to get the ingredient amounts just right, so this digital measuring spoon is a great time-saver. [£12.85]
Silicone Slip-On Pour Spout
This split-on pour spout allows you to slip liquids such as a watery mixture or hot soup without spilling a single precious drop. [$8.25]
It's a cutting slash serving board in the shape of a puzzle piece. Made by OOOMS this board can be used as a single piece or can be put together to create a huge workspace for cooking. Also, a wine glass perfectly fits in the hole on the board's side. [$19.95]
This awesome foldable sunglasses can be easily attached to (or more accurately, slapped onto) your wrist, bicycle hanger, forearm or ankle. It's available in four colors. [£19.99]
This is a self-watering planter. No more worries about your plants when you travel. It's also the perfect solution for people who always forget to water their plants. [$199]
Here's a classy-looking bottle opener, which also stashes your bottle caps. If you know of someone who likes to collect bottle caps, hey, looks like you found your office exchange gift for this year. It holds 30 bottle caps. [$9.45]
This automatic pet feeder would never "forget" to feed your pet dog or cat. Before leaving for work, just fill the gadget with food and set the proper feeding time. [$349.00]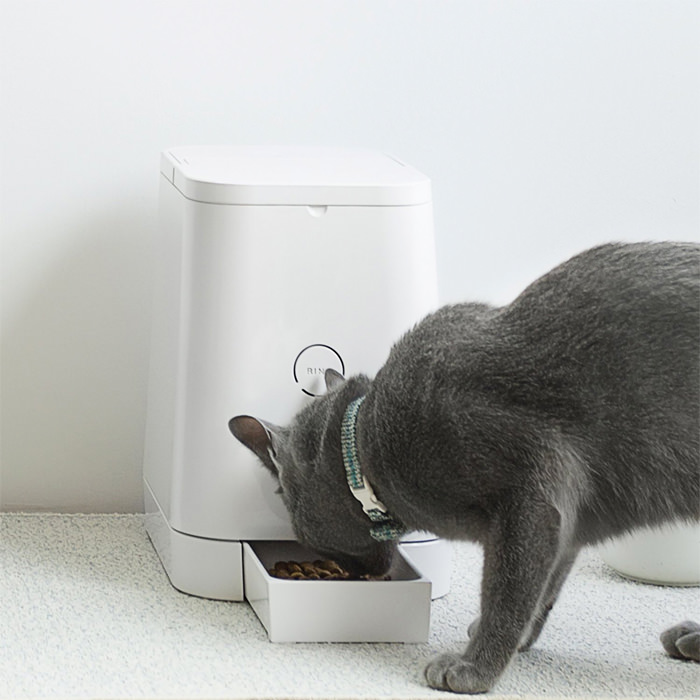 This portable toaster looks like a butter knife and even shows the user how well the bread was toasted. Note that it is just a concept but wouldn't it be great if we could toast bread with a bread knife?! [N/A]
Cliq is a minimalistic hanger without a hook. It can be magnetically attached to any metal surface or tube. It's available in white, black and natural brown. Cliq can hold up to 2 kg worth of clothing. [€99]
If you never know how to make a tastey cocktail then MixStik is a must have. Pick a cocktail you want to cook up, follow the recipe, place the MixStik in the glass, and add the ingredients up to the level as indicated. [Pre-order]
This handy contraption can be attached to any bottle of water, turning it into an instant humidifier. It is powered via USB and can work at the office, at home or in the car. It turns off automatically in 8 hours, working off a 10.14oz water bottle. [$17]
Keep your countertops clean by clipping your cooking utensils with this flex pot clip. This dishwasher safe clip will create a suitable spot to hold your cooking utensils for easy reach. [$8.99]
We don't really need two shakers. This Switch dual dispenser knows where it's at. With this salt and pepper switcher just flip the switch to change the shaker into a salt shaker or a pepper shaker. [£13.99]
This corn stripper removes kernels right off the cobs, and catches the harvest inside its clean container easily. You can now have corn in a cup anytime. [$13.99]
Kids may not be as keen to brush their teeth as adults may be, so Kolibree is making it a fun process. With Kolibree, a kid can brush their teeth in response to a game on the smartphone, turning toothbrushing into an interactive game. It also tracks brushing sessions. [$199]
With Edyn you would never overwater or underwater your garden again. The gadget monitors environmental conditions of your garden and will send you the information to your smartphone. [$99.97]
Who says you can't have it all? Toast, ham and eggs, coffee, all brewing in one go. Save time, save space, still get breakfast. [$91.50]
Tile is a small Bluetooth tracker that can be attached to your small but valuable things such as your phone, wallet or keys. Use your phone to find your things based on the Tile attached to it. [$25]
This cool ring will not let your phone slip out of your hands while you're using it. It is handy for a steady grip for prolonged reading, typing a message with one hand on the go. Plus, it doubles as a stand for your device. [$12]
If you are conscious about the lack of safe water in many places in the world, then you might like this strainer bowl design. It helps you use 60% less water than other strainer bowls, can be attached to your sink, and you can release the water to water your plants. [$35]
Phantom is a stylishly designed wireless charger for your smartphone or tablet. And it doubles as a portable lamp as well. It looks so stylish so it could be a great addition to any interior design. [$70]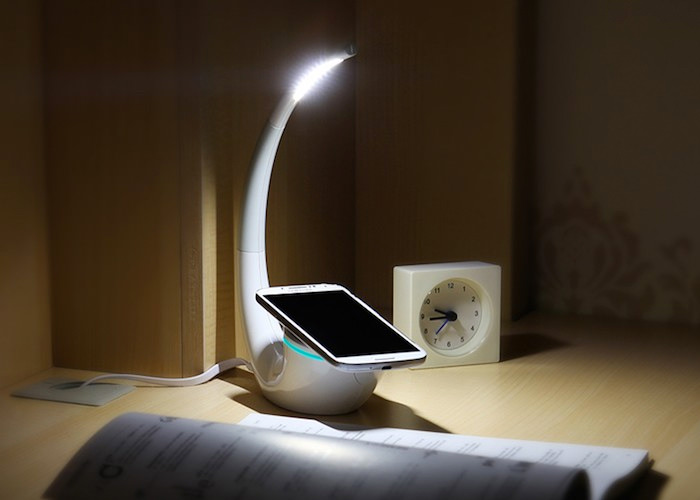 Want to quickly chill your wine but not dilute it with ice? Then, you might like Icecap, a wine chiller that fits nearly any glass and can chill any beverage, not just wine. Just put the icecup into a freezer before use. [$30]
This thermostat is designed to control the air conditioning in your home. It authomatically turns the A/C off when you leave, and starts up, keeping your home environment cool before you get home. [$200]
This smart WiFi camera is built into an outdoor light to help prevent break-ins or at least alert you to the potential of one. It notifies you of any presence outside your door, sending notifications straight to your phone. [$270]
This fancy smart keypad can work as both a calculator and a keypad. The design fits in nicely with the original Apple keyboard. [$35]
With Lumen Smart Bulb you will be able to customize the atmosphere of your room be it for a party mood, romance, relaxation or even a wake up to a sunrise mode. [$40]
Sometimes you want to print out photos to keep instead of keeping it in the cloud. For this purpose, this wireless printer lets you print photos straight from your smartphone or tablet. [$180]
This innovative electric bike has a clean and minimalistic design. It's lightweight (under 15kg) and foldable which makes it convenient to store even in a limited-living space apartment. It is also compatible with a smartphone (though the application of this feature is yet to be seen). [Pre-order]
The KAZbrella can be called Umbrella 2.0. It is said to improve upon the centuries-old design of the umbrella, by being inside-out! [Pre-order]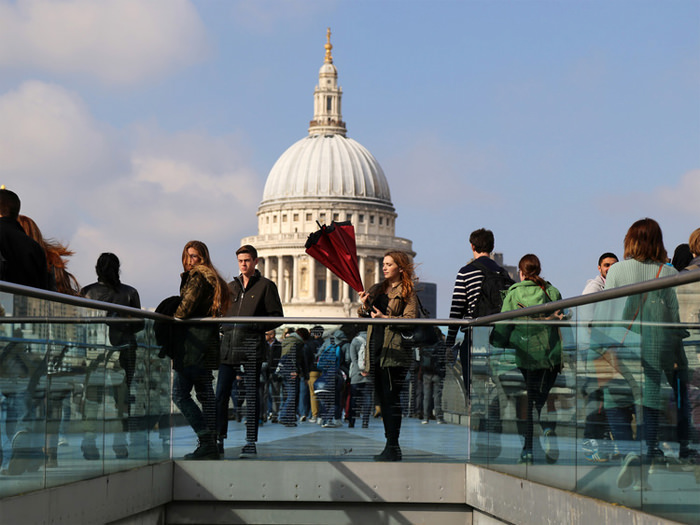 This scribble pen allows you to pick any color you want from real-life objects around you. You can then use the digital stylus pen for tablets, or ink pen for paper to draw with the color you picked. It even lets you save the colors you've scanned. [Pre-order]
If you have ever felt like some sockets were built at a height that is there to make charging difficult for you, then this phone holder will solve most if not all your problems. No more phone-dangling nonsense to put up with. [£7.98]
Miito is an alternative device to a usual electric kettle. Instead of wasting energy heating up a full kettle load of water, just heat up the amount that you need to the temperature that you want. It works with soup, coffee, sauces and any other forms of consumable liquid, and it is easy to wash and mantain. [$189]
Phree takes you way beyond your screen, literally. You can write or draw on almost any surface with Phree – the world is your paper. What you write will appear on your smartphone or tablet screen instantly. [Pre-order]
Bruno is a smartcan with an integrated vacuum inlet which will suck the dust you sweep in front of it directly into the trash bag. It is also integrated with a notification system that will remind you to take out the trash or buy new trash bags. [$129]
This portable travel door alarm is great for solo travel. The motion sensitive device blares a loud sound if someone tries to break in through the door or window. [$18]
Pugz is possibly the smallest wireless earbuds, that can be charged via your phone. It can also be charged while you are listening to it. [Pre-order]
Connected pedal lets you know where your bike is at all times. If it is moved by someone other than you, you will be notified. Plus, it's a great way to track where you last parked your bike. [$189]
Smarthalo is a beautifully designed bike accessory that can find routes for you and notify you on where your bike is located in real-time. It tracks all your metrics such as time, distance, average speed, elevation, and calories burned. [$119]
Enjoy your music even when you're in the shower or at a pool party, with this water-resistant NepTune speaker. It's designed to be clipped on or loop around a rail. Control the volume with the available buttons and enjoy the music. [Pre-order]
If you ever find yourself stuck next to a crying baby on a flight, pop these "Hush" plugs to fall asleep in silence. These smart earplugs also have a notification filter and will know to ping you only when you are needed. [Pre-order at $150]
With SNAP you can transform almost any surface into a table. You can create endless variations of furniture with these legs by snapping them onto the surface. Together, four of these legs can hold up to 154 pounds. [$60-300]
Weighitz is a small, accurate and easy to use scale. Not only can you combine the use of several Weighitz to weigh your kitchen ingredients or parcels and packages you want to post, you can also weigh heavier objects like your travel suitcases, and even yourself.
Unique is a revolutionary strap which will turn any watch into a smart one. Thanks to its multi-color LED, vibration alerts and gesture recognition, the strap lets you receive notifications, reject inconvenient phone calls, send pre-written texts, monitor your fitness, store all your security or transport passes, and of course remind you if you left your phone behind.
Bruvelo
It does everything a coffee maker is expected to do, but it takes a really small space to do it. Apart from its portability, you can use your smartphone or tablet to command it to start brewing. [Pre-order on Kickstarter]