How to Connect Evernote With Google Calendar and Gmail
This article was first published on: Jan 10, 2013.
With the recent massive Evernote 5 update for Mac and iOS, Evernote has proven itself once again to the productivity app to keep. What would make it even greater is integration with external services; heavily used services like Gmail or Google Calendar. We found an app called Powerbot that will do that for you.
Powerbot allows you to link the power of notes and reminders in Evernote to your scheduling tool, Google Calendar. There is also another app that lets you create and access your Evernote directly from the Gmail webpage through a web browser extension. We'll run through both apps below.
Sync Google Calendar With Evernote
This Powerbot tweak will create a note in Evernote every time you create or accept an invite to a Google Calendar event. It's very simple to set up, here's how.
Go to their website and click on the green 'Start here' button.
You'll then be asked to give Powerbot authorization to your Google account to access your Google Calendar. Login with your Google account details and click on 'Allow access'.
Next, you have to allow Powerbot to access your Evernote account in order for it to create notes for you. Note that you need not use the same Google account; it still works even if you signed up for Evernote with an email account that is different from your Google account.
Once you've given Powerbot access to those two accounts, you'll see a settings page where you can set which calendars to extract events from and customize the way the note is created. You can also add a custom logo to the created note.
Here's a sample of the note template Powerbot will automatically create for you. In it you will see your selected logo, the participants invited through Google Calendar, and other relevant information.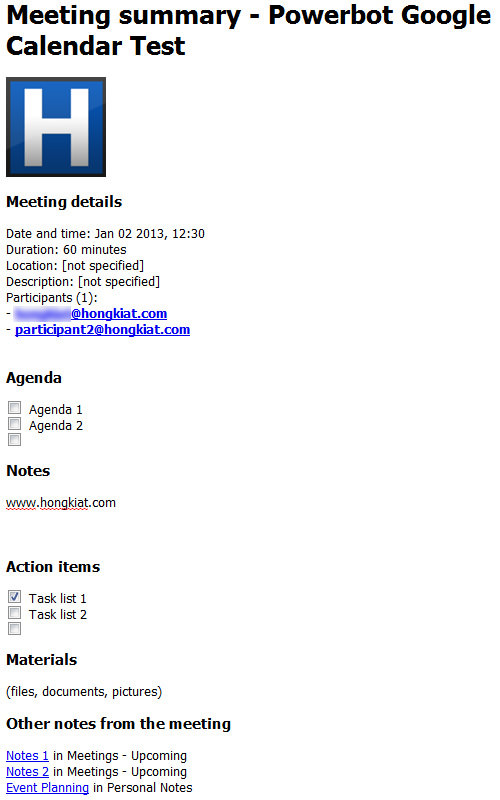 You'll even find that Powerbot also automatically links the Notes you've created in other Notebooks during the time of the Meeting. These will be placed under 'Other notes from the meeting'.
Overall, Powerbut is a very handy tool to have if your daily needs rely heavily on Evernote and Google Calendar.
Access Evernote Notes On Gmail
Here's how to easily create notes from emails and share existing ones via Gmail.
Go to their website and install the Powerbot browser extension, supported on Google Chrome, Firefox and Safari. Again, you'll have to give Powerbot access to your Google and Evernote account.
Done? Everything is now automatically set up and when you refresh your Gmail webpage, you'll notice a few new buttons that allow you to access Evernote straight from your Inbox.
First thing you might notice is an extra link to insert notes or notebooks when you're composing a new email.
When you click on that, a small overlay window will appear which allows you to select notes or notebooks to share.
Another button you might see is the 'Send to Evernote' button which allows you to send individual or an entire email conversations to your Evernote account.
When you click that button, a small overlay window will appear where you can change the title, determine which notebook to put it in and also add tags and comments.