Christmas-Themed Games For iOS And Android
The Christmas season is (finally!) just a few days away; which means you've probably already gotten Christmas presents for a few special guys or girls. Let's not forget the little nephews and nieces you will run into at family gatherings. If you aren't getting them the latest devices they are asking for in their letters to Santa maybe the best Christmas-themed games can make up for it.
We've gathered a few fun games to help you out. These games are simple to play and fun, which means the young ones can learn how to work it on their own. We've split this list of free Christmas-themed games for iOS or Android devices but if you have both, you can try out the first game on the list.
Ever wanted to ride Santa's sleigh through the rooftop of houses? Well now you can, and in beautiful 3D as well.
As Santa flies past houses, help him deliver presents with precision while collecting points along the way. Tilt the iPhone or use the screen buttons to enjoy this simple game.
This 1 app has 6 mini games in it including throwing snowballs, catching presents and even saving santa from falling, you might find yourself spending a lot of time playing it.
This game is so wrong at so many levels but that's what makes it fun. Get the fat man on screen to eat as many unhealthy food as he can. And dodge vegetables!
Android Games
The Android Army is also celebrating the Christmas period with a bang. Check out these games available for Android devices.
The Angry Birds franchise is so successful that you can even buy Angry Bird merchandise. The seasonal release of Angry Birds is already available for free in the Google Play Store. iOS players can get it for 99 cents.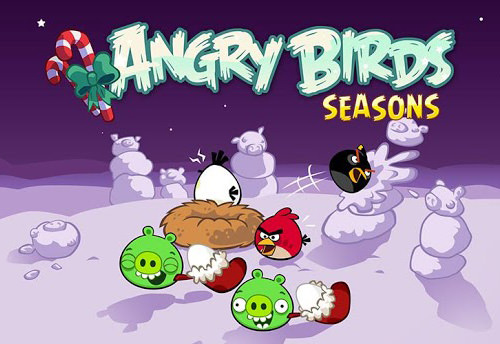 This game requires a little bit of thinking to complete each level successfully. Each bubble has their own speciality and you must clear all the bubbles on screen with the fewest touches.
Remember all those connect-the-dots puzzles you grew up with? Well, play them on the Android now. Or maybe you should let the young ones do it instead.
Tilt your Android device to control the squirrel, as nuts fall from the sky. Nuts get cracked as they fall on the squirrels head and you'll earn points by eating and cracking the nuts.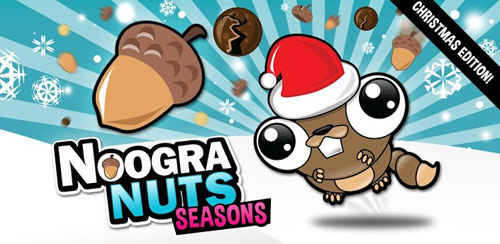 Tap 3 or more fruits in a row to clear them off screen. However, this game comes with a slight twist that makes it more fun with the addition of worms which you have to get rid of.