30 Striking Lightning Photos
You know how they say lightning never strikes twice on the same place? Well, "they" lied. Lightning can strike the same spot or area many times – in fact there is a place in Venezuela, called the Lighthouse of Catatumbo, where lightning strikes 1.2 million times a year – because how else can you find such amazing photos of lightning strikes?
And find them, we did. In this collection, we are going to look at 30 perfectly timed photos of lightning strikes that will definitely shock you. These shots were captured because someone with a camera was at the right place at the right time.
1. Lightning Strikes New Zealand Air Flight
2. Lightning Strikes Thrice Over The Chicago Skyline
3. Lightning Turns Night Into Day!
4. Lightning In Cape Town Covering Table Mountain
5. Lightning Strikes the Empire State
6. Lightning From a Volcanic Blast in Sakurajima
7. Lighting Wire Catches Lightning In The Act
8. Striking The Eiffel Tower
9. Rainbow Over The Lightning Storm, haikou, China
10. Somewhere In The Caribbean.
11. Intra Cloud Lightning Up To Column
12. Lightning over South Jersey, Philadelphia
13. Perfect Shot, Clearwater Beach, Florida
14. Toronto Takes A Lighting To The Rod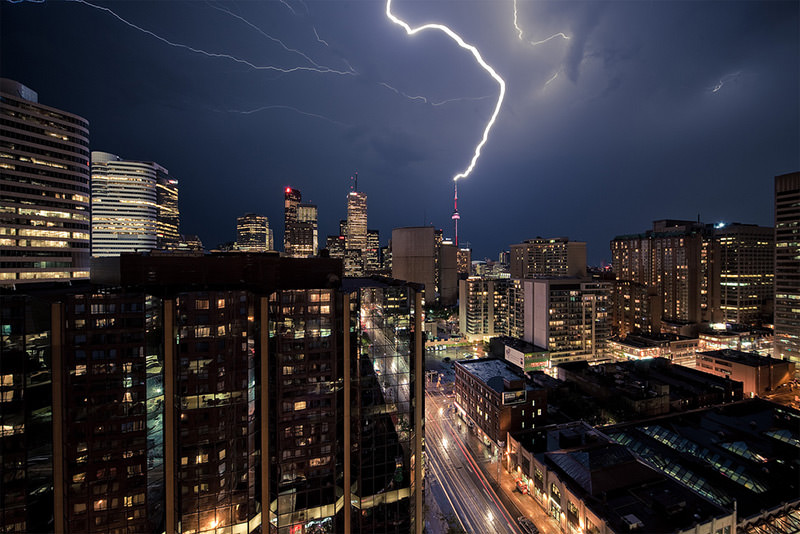 15. Lightning Dance, Grand Canyon, Arizona
16. Behind a Glass Window, West End, Washington
17. Early Morning Light Show, Omaha, Nebraska
18. at the foothills of Superstition Mountain, Arizona
19. Branching Hit, Ontario, Canada
20. Up Close And Personal, Dallas, Texas
21. Chain Lightning, Leiden, Netherlands
22. Tallest Strike, Burj Khalifa, Dubai
23. Reflected of a Lake, Canada
24. Over Ottawa Skyline, Canada
25. Inside The Ashcloud, Sakurajima, Japan
26. From Dark to Light, Quebec, Canada
27. Tornado and Ligtning Dance-Off, Secor, Illinois.
28. torrential Thunderstorm in Germany
29. The Pillar of Light, Lake Goodwin, Washington
30. Christ the Redeemer, Rio de Janeiro
Nature is both awesome and beautiful. Have a photo of a lightning you want to share? Post them in the comments below!