Top 50 Job Sites for Freelance & Independent Professionals
Being a freelancer can be extremely advantageous and is probably a dream for many designers and developers who are tired of the cubicle lifestyle. Not only do you get to choose only the jobs you are interested in, but you also have total flexibility in terms of time, whom you want to work with, and where you want to work.
The problem now is where you can go to find work that will help you sustain your freelance lifestyle. To help you with this, we have listed the best 50 freelancing job sites to help you in your project search. If you a company or individual looking to outsource or hire a freelancer, these sites will be able to serve that purpose as well.
Want to test the waters of freelancing? Give Fiverr a shot. Projects go for between $5 and $10, and this is a great place to gain some experience to add to your portfolio.
The average budget size of a job here is around $5,000! It's no wonder this online marketplace is a great asset for service providers and employers.
What makes crowdSPRING different is that instead of outbidding and competing with someone with a larger portfolio, how you approach a project and your level of creativity is what gets you that project.
Gun.io has successfully delivered freelancers for companies like Amazon.com, Zappos, and LonelyPlanet. To apply as a freelancer in Gun.io, you would need a GitHub account filled with great codes and repositories to be qualified.
Toptal is a hiring marketplace for developers of (almost) all programming languages; it provides "A"-level developers who are truly skillful in their fields. You can apply as a freelance developer with the possibility of working with top tech companies or a cool startup.
99Designs is where companies go to get their logos, banners, and websites designed. Designers are awarded a pre-determined amount of money if their design is chosen.
A house for creatives and developers of many fields to find freelance gigs worldwide. Apply as a service provider and once you are accepted, you can name your price for your service.
StackOverflow is not only a solution-churning site; it also provides job listings of tech companies from all over the world. To apply for the job, you will need a Stack Career Account (you'll need to be invited first).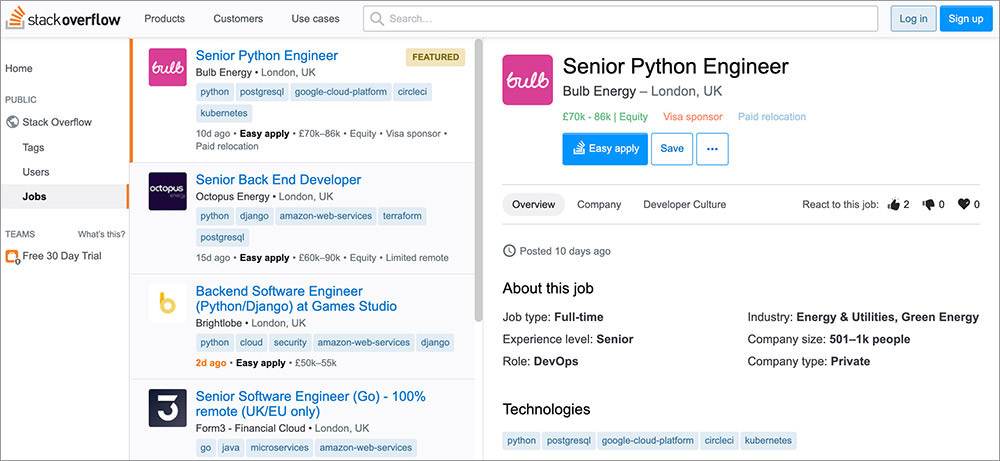 Sign up for a Dribbble Pro account and show the "Hire me" button on your profile page or scour the job board for companies looking for freelancers.
Productivity and creativity go hand in hand at the job list section of this site. This exclusive site is known to convert creativity into lucrative services or products to promote unique ideas.
This is the official WordPress job board. Herein you can find some jobs surrounding the WordPress ecosystem, such as plugin development, theme customization, or WordPress site optimization.
A site for every professional. Once you sign up for LinkedIn, you can start looking for freelance jobs of your interest in the LinkedIn job board.
A nice job portal to find programming and designing jobs, among many other job opportunities.
Here's another spot to find the industry's offering of professionals worldwide. The Escrow payment gives this site an edge over many other freelancing sites.
Krop is a job board and career resource website for creative professionals. Whether you're looking for a job, or hunting top-notch talent, Krop's simple and powerful tools are geared toward connecting the world's brightest minds with the best companies.
Coroflot is an employment site for creative professionals: design firms post job openings and designers post portfolios – Coroflot makes the connection.
Blogging enthusiasts and professional bloggers who wish to explore the income potential of this fun-filled hobby of 'blogging,' will like this site. The job section of this blog can land you with a few blogging jobs.
Dice is a job search engine dedicated to only finding technology jobs. It offers a targeted niche space for finding the exact technology position you might be looking for.
WordPress developers can find big opportunities in WPHired for a WordPress-related project, as a freelance, an intern or a full-time position.
As the name suggests, this is a site where you can find jobs which you can do from the comforts of your home, or wherever you like. Jobs range from design to programming and development to executive positions.
LocalSolo
(LocalSolo has been discontinued.)
LocalSolo is a site to find local freelancers in many countries from a wide range of expertise including design, engineering, copywriting, photography, and even analyst. You can sign-up as a freelancer or an employer for free.
OnSite is a place where designers, developers, and copywriters can find many opportunities for freelance jobs. Applicants are carefully curated. Once accepted, freelancers can show off their portfolios, set the price rate, and manage their availability.
Another great site to find freelance gigs, YunoJuno connects freelancers with employers, and also provides tools for generating contracts and invoicing.
On top of the design contests to try out, if you are an established designer or developer, you can also negotiate for a private project with clients on Crowdsite.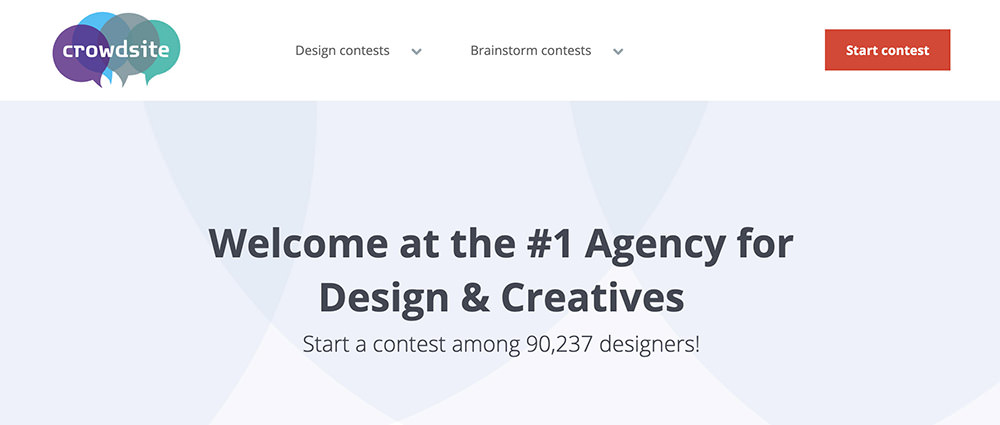 Lorem
(Lorem has been discontinued.)
Quickly emerging as a powerful platform to get well-paying short-term freelance jobs related to designing, building and fixing websites. The payment ranges between $25 and $250 for freelance projects, however, you do go through a strict selection process in order to get accepted.
Bridging the gap between experienced employees and qualified employers, this site is known to have the best talent in varied industries. You can seek both part-time and full-time contracts as well as consulting opportunities.
Creative and web professionals can seek reputable full-time and freelance opportunities here and get associated with well-known names in major industries like Sony BMG, HBO, HP, Facebook and many more.
Based on the simple bidding system, you can hire efficient freelancers here and enjoy the on-demand flexibility while saving money at the same time. Marketing, legal, accounting, writing, programming are some of the most common industry types covered by this site.
DesignCrowd is a graphic design marketplace that gives creative people opportunities. Businesses can post requirements or request quotes for logo design, business card design, advertising artwork and website design.
This online job portal allows you to find all kinds of jobs, whether freelance or full-time, based on your location, skills and experience in the field.
TheShelf is a site where bloggers and freelance writers, covering fashion, lifestyle, food, and travel, connect and collaborate with brands to reach the right audience.
Working nomads are freelancers who travel from city to city, coutnry to country, and still working their jobs as they travel. They find remote jobs on site like this. Job categories include Design, Development, and even Management.
bark is a marketplace for almost any kind of work field from painter to photographer to party caterer. A great site for regular people to find local professionals. If you are a Pro, sign up.
AirPair is a community site where developers meet other developers to seek advice and mentorship by sharing their experiences. It isn't a freelancing job site but having a good network may help you land a job or possibly a career down the road.
SolidGigs takes the hassle out of project searching for freelancers. Out of thousands of job ops, it filters out the ones that go best with your profile. You get a weekly gig list with only the very best of all jobs available so you can focus on your productivity instead of looking for quality work.
What I like most about SolidGigs is that you can have access to an enormous resource library with courses, interviews, templates, scripts, and other tools to help you land more freelance projects, negotiate your rates, pitch quality clients, and grow your freelance business.
For the freelancers who have gained considerable experience in their field and are looking for high profile clients, then CloudPeeps may be for you. Due to the exclusive nature of the platform, it gets a bit hard to join but once you do, there is an array of quality projects waiting for you.
Indeed is an intuitive platform that curates all the jobs on the interwebs that you can search on the basis of keyword or location. The platform is particularly famous for searching remote jobs. Best of all, it's free!
College Recruiter is a job site created for students and recent graduates. You can enter your degree, majors, or any other keywords and the region in which you want to search the job and you get a list of different freelance or part-time jobs on the beginner level to help you gain experience and contacts for future work.
ServiceScape offers a global platform for freelancers that gives them access to more than 86,000 clients and numerous projects. You can find freelance jobs on a range of subjects with an emphasis on graphic design, writing, editing, and translating.
A unique job search website that offers you to search freelance gigs on the basis of career, locality, diversity (a more inclusive work environment for everyone), and globalism. This system of categorization allows you to try different freelance jobs and see which one would suit your career path.
A platform to find freelance jobs outside the USA and Europe, Hireable lists equal opportunity employments for its users. With a simple interface, the site sends you job alerts and recommendations. You can also see your saved jobs and all the jobs you applied for.
FreeeUp is a platform for high-quality remote freelancers to connect with equality high-quality clientele. In order to get on their panel, you have to go through an extensive vetting process. The site focuses mainly on freelance jobs from the field of e-commerce, digital marketing, and virtual assistance, etc.
If you want to work for a budding start-up as a freelance designer, then Angel List would work wonderfully for you. Different start-ups from all over the globe look for talented individuals on this platform so you can also get picked depending on your design talents.
If you want your artistic skills to be noticed and paid for, then try out Art Wanted. You can put up your graphic or illustrated masterpieces on the website where people can browse and buy them or you can connect with potential clients.
A high-quality marketplace for freelancers, Working Not Working accepts only the most talented freelancers but once you do get accepted you get very promising projects. The platform is created by two world-renowned former freelancers and caters to famous companies like Apple, Facebook, Google, and more.
10x Management offers projects for tech experts from freelance web developers to cybersecurity gurus. This is a great place to start if you have a niche tech specialty, or you have an interest and want to see the possibilities.
A great platform for web designers, web designers, even app developers. Gister takes up freelancers who are best at their jobs and accepts them through strong selection criteria. But once selected, they use AI to match freelancers with projects, which is really cool.
Talent Cupboard
(Talent Cupboard has been discontinued.)
Talent Cupboard offers a useful platform for improving your digital resume and finding the right clients for your freelance career.

Codeable is a great platform for freelance WordPress developers and experts. You can offer services in any category of WordPress development including, e-commerce development, plug-in development, custom APIs and integration, and WordPress theme development, among many other areas.
For people looking for non-digital or offline freelance jobs, TaskRabbits offers freelance jobs related to housework. From furniture assembling to moving, packing, or plumbing, you can find an array of jobs at the site.