Revolutionize Designing Workflow with These 45 Web Tool
The internet is crowded, literally, with tens of thousands of web tools. Every moment a new web tool or service is launched, even as we speak.
How are you selecting the ones that are the best fit for your projects, the ones that are reliable, that are offering you a competitive advantage over your competition and so on? Which ones are offering you the best ROI?
Answers to these questions you will find below. We reviewed for you the best 2019 45 web tools, new releases, and old but efficient and popular solutions.
1. Bonsai: Freelancers Invoicing Tool
Freelancers represent the future as most companies prefer on-demand talent rather than full-time employees. That is why they see a huge number of projects on their table, and so arises the need to be very efficient to get as many as possible.
To help them get more projects and save time, Bonsai has created the best suite of products dedicated to designers, developers, writers, photographers, videographers, and more. Moreover, it creates fully customized invoices that look great on any device, auto-generates invoices from proposals, contracts, and time-sheet, automates reminders, accepts payments and much more.
Bonsai is an all-in-one solution that is used by over 100,000 freelancers with great success, telling the world that they are being paid 13 days faster using this solution.
WordPress is already used by thousands of users as a reliable content management platform. However, you do need a support service to deal with customer issues.
In this regard, 24×7 WP Support is by far the most popular and appreciated service that will help you with all your WordPress needs. These experience WordPress developers will quickly help you with all the issues and support: speed and performance issues, hacking and malware, hosting migration, 502 bad gateway errors, and tens others.
24×7 WP Support has robust hosting plans which start at $1/ month. If you want a new WordPress website, they can also help you with that, including SEO, SSL certificates, and domains.
Apart from that, you can find free WordPress Tutorials (over 500 pages eBook) along with video tutorials (above 6 hrs. playtime) to their clients. You can also get a free consultation via phone or chat; they are available 24/7. The pricing for this service starts at only $6.67/hr.
3. MonsterInsights: WordPress Analytics Plugin
With over 2,000,000 users, MonsterInsights is the fastest-growing, most popular, and useful WordPress analytics plugin. It enables you to get better insights that will help your company maximize revenue, profits, and ROI.
You can use it to see exactly how people are finding and using your website, and find out which content is appealing for your visitors, to get to know your visitors in a whole new way and see all the critical metrics in one place (conversion rate, transactions, revenue, average order value, total add to carts and much more.
4. Polypane.rocks: Responsive Design Browser
Polypane is the best browser you can use to design and develop responsive websites in no time. It is tailor-made for agencies, developers, UI/UX designers, and QA engineers and loaded with tons of features and options that will save you tons of time.
Additionally, Polypane will let you build responsive websites in half the time it normally takes you. Forget how hard it was, and get used to this new way of building a website. You can see your site at all sizes, the browser syncs all your actions (everything happens in all the panels), Polypane detects CSS breakpoints automatically, and much more.
5. Fire Checkout: Magento Checkout Plugin
To make your Magento shop stand out of the crowd and get more sales, you can implement the Fire Checkout — one page — one step checkout extension. Checkout process usually has six steps, however, with this plugin your shop will have only one, which translates to better sales and better user experience.
Fire Checkout is loaded with four excellent unique design and nine extensions. The installation is free, and the support is remarkable fast and useful.
6. Codester: Marketplace For Designers & Dev
Codester is a huge marketplace where designers and developers can find awesome stuff related to design. The website is filled with thousands of scripts, codes, app templates, themes, plugins, graphics, and much more.
Simply browse Codester and pick what you need.
7. Mobiloud: WordPress to Mobile App Converter
If you're a digital publisher, you'd know that native apps are a great way to grow your traffic and revenue – and this is what MobiLoud makes this simple for you.
It takes your existing WordPress site and converts it into a feature-rich and powerful native app. They're a full service, and get the job done in a matter of weeks and at a fraction of the cost of traditional development.
You have all the tools you need to grow revenue and engagement like push notifications, ad integrations, and subscriptions – and you can manage it all through your existing admin panel.
8. Total: WordPress Theme
Total is a brilliant multipurpose WordPress theme that is flexible, easy to use. It has pixel-perfect and gorgeous web design, and it is loaded with tons of demos that can be installed with 1-click.
Fully customizing Total WordPress theme is simple through the built-in editor that uses tones of features and options.
9. Mobirise: Offline Website Builder
Mobirise is the best offline builder in 2019, being super simple to use and generating gorgeous websites that compete with expensive designer's work. It is loaded with over 2,000 awesome website templates, with a great drag-and-drop editor, with eCommerce and Shopping Cart, and much more.
10. Astra: Elementor Template for WordPress
Elementor is an extraordinary website builder but to make your website stand out from the crowd, and you can use Elementor themes made by Astra. You will find over 100 free and premium items that look awesome and which are fully optimized for conversions.
11. Rank Math: SEO WordPress Plugin
Are you looking for a WordPress SEO plugin that will really do its job and be effective in helping your website rank higher? Rank Math is a very efficient WordPress SEO plugin that will do exactly that for you, being super simple to install and configure.
12. WP Review: WordPress Plugin For Reviews
Implementing a review section on your WordPress website is super simple with WP Review. Let your customers review products, services, places, and much more.
WP Review can be installed and configured in minutes, without requesting you to have any coding skills.
13. Designmodo: Website Builder
Designmodo made its name by building some of the best three products on the internet. The Startup 3 is a Bootstrap website builder, and Postcards is a responsive email generator, and Slides is a static website builder. All of them were built using the latest technologies and are excellent solutions in their niches.
14. Landing: Landing Page Template
Landing is a brilliant free Bootstrap landing page template that looks great on all devices and which is loaded with tons of features and options. The design is pixel-perfect and clean, being optimized for conversions.
15. AdminLTE: Bootstrap WordPress Admin Dashboard
AdminLTE is a popular dashboard template which comes with six skins to choose from, all of them looking gorgeous, with 18 plugins plus three custom made plugins explicitly made for AdminLTE and much more. All you need is there.
16. ServicesLanding: Bootstrap WordPress Landing Page
ServicesLanding is a top, yet free to use landing page template that is having a pixel-perfect, clean design and which is optimized for better conversions. The theme is loaded with features and options that usually can be found on expensive, premium themes.
17. WhatFontIs: Identify Fonts Online
WhatFontIs will help you identify the logo you love from an image in 40 seconds and easy three steps. This web app has a 550,000 free and commercial database, a powerful and very effective AI system, and a lightning-fast interface that will guide you every step.
Converting any video to HTML5 is super simple with this web tool, being very fast and easy to use. The platform supports over 300 video formats, and the created videos will play in all browsers and devices.
It works with all the major browsers and devices.
WordPressToWix.PRO lets you move your WordPress-based website to Wix with almost no hassle and waste of time. This is the all-in-one service, which has an amazing track record of successfully converted projects. They employ a team of experienced developers, who are aware of all the nuances of the website migration process and have firsthand knowledge of how to make it a success.
20. Wrappixel: Bootstrap Admin Templates
WrapPixel is a major supplier of the free and premium Bootstrap, Angular and React admin templates and UI Kits. Their Mega Bundle is loaded with 45 unique dashboards, 11 admins templates, 103 customized plugins, 6,500 UI components and pages, 3,000 premium font icons, and costs only $79 (80% discount).
If you are looking for the highest possible WordPress themes, free and premium, stop and take at what Fortune Creation is building. All their themes are gorgeous, have a pixel-perfect and clean design, are super simple to install and configure, and all of them are optimized for conversions.
22. Bonsai: Time Tracking App
Freelancers know all that Bonsai is a compelling suite of products dedicated to them. With Bonsai Time Tracking, you can track time in a click, you can centralize timesheets, and you can even use for automated invoicing. All Bonsai products are deeply integrated and work excellent together.
23. MailMunch: Newsletter templates
MailMunch is the fastest growing email newsletter builder on the market, coming loaded with tons of gorgeous email templates, a drag-and-drop editor, a lightning-fast and friendly interface, and lots of features and options.
Creating high-converting emails is super simple with MailMunch hand you need absolutely no coding skills.
24. g-Unlayer: Email template builder
g-Unlayer is an embeddable editor that will let your customers create beautiful mobile-ready emails or landing pages right from your app. It is super easy to install and configure.
Let your customers create highly engaging email newsletters using the included beautiful themes and the powerful editor.
25. Logaster: Online Logo Maker
Logaster is the most popular and professional logo design service in the market, helping you with logo and brand designs in 60 seconds or less. This budget-friendly solution is super simple to use.
All you have to do is just write down your company name, select a tagline and icon if needed, and the platform will present you hundreds of designs to choose from.
26. Fotor: Online Photo Editor and Design Maker
Fotor is the most efficient and popular all-in-one visual content tool that will help you create high converting images in a matter of minutes, without requesting you any special skills.
Use images created with Fotor on your website, social media channels, and in the email newsletters, engaging with your visitors and customers.
27. Content Snare: Content and Files Collector
Getting content on time from your customers can be time-consuming. Content Snare will help you get the content and files on time, sending the emails in your place. It is super simple to configure, taking you only three steps and a couple of minutes.
Let your customers send you content and upload files in a professional way while you save time, and you can focus on growing your business or on getting more projects.
28. Mockuuups: Desktop Mockup Generator
Mockuuups is a super-easy mockup generator for macOS & Windows with more than 300 high-quality scenes. It is super simple to use, having a friendly and lightning-fast interface that will guide you every step.
29. Taskade: Real-time Task Collaborator
Taskade is the simplest way to create team outlines, checklists, and workflows. Whether you are managing team projects or planning future milestonesbargetting work done with Taskade is simple, fast, and fun!
Taskade is designed as a remote workspace for distributed teams, and it works fantastic.
Collaborate with team members on the same page and edit projects together in real-time. Chat, organize, and work together instantly. Use Taskade to supercharge your team productivity.
30. HelpJet: Knowledge-base Software
HelpJet will help you implement a knowledge base on your website in a few minutes, helping your customers to find answers to their questions quickly. This way, you can massively increase sales without hiring more support staff.
31. WikiPress: WordPress Wiki Theme
WikiPress is the most popular WordPress Wiki theme on the market, which has a pixel-perfect and clean design, it is super simple and quick to customize, and it looks great on all devices.
32. Wokiee: Multipurpose Shopify Theme
Wokiee is more than a Shopify theme; it is a powerful design tool which is loaded with tons of good stuff that will help your shop stand out of the crowd and get more sales.
33. Shella: Responsive Shopify theme
Shella is the best fashion Shopify theme that will make your website stand out of the crowd, being highly optimized for conversions and sales. The design is pixel perfect and clean, creating a unique user experience.
34. InvoiceBerry: Free Invoice Templates
InvoiceBerry is a professional invoicing software that is an excellent fit for freelancers and small and medium companies. Use it to create fully customized invoices in 60 seconds or less, to create reports, to track expenses and payments, manage clients, and much more.
35. GoodieWebsite: Web Development Service
Goodie is a professional web development service, best used by designers looking for a reliable web development partner, by small business owners looking to amplify their online presence, by people looking for 1-10 WordPress website and more.
36. RumbleTalk: Online Group Chat Platform
RumbleTalk is the way to go if you want to quickly add an online group chat on your website, without having any coding skills. Start engaging your customers and website visitors, helping your business grow faster.
37. OpinionStage: Opinion Stage Quiz Maker
OpinionStage is a brilliant quiz-maker that comes loaded with tons of gorgeous templates that are optimized for conversions, with a super simple to use editor and a lightning-fast interface that will guide you every moment.
38. SteadyWP: WordPress Optimization Service
SteadyWP is the best WordPress page speed optimization service on the market, usually cutting in half the loading speed of your website. A faster loading website means more conversions and sales, more happy website visitors, and better user experience.
39. uLanding: Landing Page Builder
uLanding gives everyone a chance to create an effective one-page website. With the uLanding builder (another great product by the uKit Group) this process will take a few minutes. No programming knowledge or special skills are required. Give it a try, and you won't regret it!powerful landing page on a budget.
Apart from that, the builder offers several features and a great variety of templates as well as A/B testing, drag-and-drop building capabilities, CRM, etc. Ideal for people with no coding background.
40. Gorgias: Shopify Live Chat App
With over 1,600 companies using Gorgias, this is a powerful, professional, and friendly customer support helpdesk specially designed for Shopify stores. It will help you manage customer support in one place, get the full customer picture, automatically respond to common questions, and much more.
41. uCoz: Website Builder
uCoz is a new service for website building that has something for everyone (no matter if you are an expert or a newbie). You will find various templates, modules, and features that help create any website: an online shop, forum, blog, and so on. Try it today!
42. WebDataStats: Detect CMS of Any Websites
WebDataStats is a free service that offers its users many opportunities related to CMS. You can check a site CMS, see domain names' CMS migration history, download a list of sites built with a particular CMS and so on. Try the platform today and see how it works for yourself!
43. MM Thomas Blog: Website Builders Comparator
MMThomasBlog.com unveils the secrets of website development via the analysis and comparison of the best DIY website building software. The resource contains posts that provide detailed info about website builders, their functionality and feature set, pricing policy, designs, customer support, and other aspects that matter a lot when it comes to the choice of quality service.
44. Jacqueline: WordPress Theme
Jacqueline WordPress theme is created to be used for a quick start of your spa salon or beauty center website. It comes loaded with a bunch of amazing features that will help you present your business in a catching and outstanding manner. It can be used for blogging and eCommerce purposes alike.
Jacqueline is also integrated with Bookly plugin, which makes it easy to manage all your bookings and appointments. There are three live demos included in the theme's pack. Choose the one the comes to your liking the most.
45. LogoAI: Logo Creator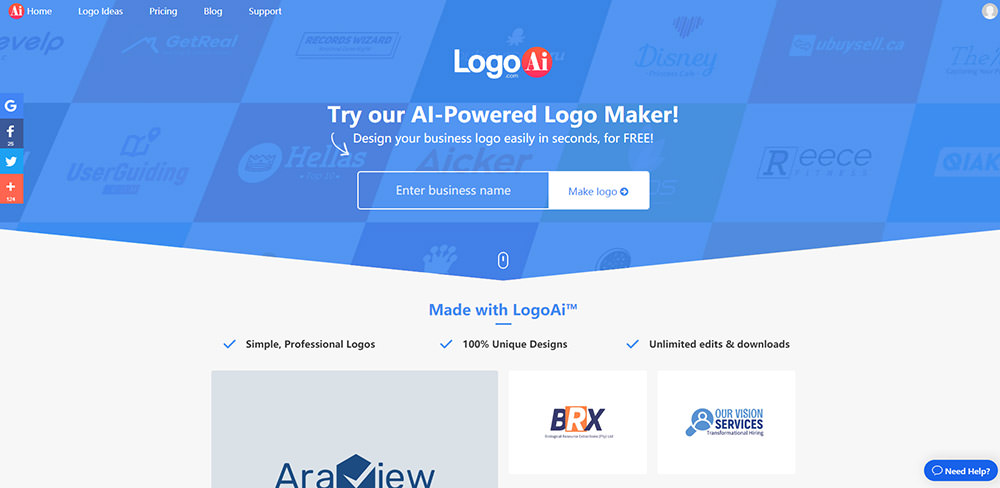 LogoAI is the best way to get a brilliant logo design in a matter of minutes, using a budget-friendly solution. You write down your company name, you choose a tagline and icons if needed, and the platform will show you hundreds of designs to choose from.