Chinese Input App For iPhone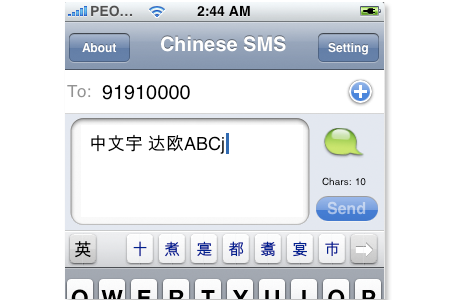 iPhone by default supports chinese characters viewing but not the input. Here's a plugin that allows you to input as chinese in iPhone – good news for those who wants to send short text messages in chinese characters.
Developed by Gary and IczFirz, this plugin allows both Chinese Traditional input as well as Chinese Simplified. Installation of the plugin comes in 2 easy way:
Option 1: Using iBrickr
Download the plugin to your computer
Send it up to Application folder using iBrickr.
That's it!
or, if you have WiFi connection you can install it directly.
Option 2: iPhone direct install
Launch Safari in iPhone, surf to http://www.iphone.org.hk
Click on the SMS icon at the bottom
Install Chinese SMS
This post is published by a Hongkiat.com staff (editors, interns, sometimes Hongkiat Lim himself) or a guest contributor.