How to Add Custom Ringtones and Text Tones for iPhone
Your iPhone may have an array of chimes and ripple tones, but one gets rather bored from these. To counter that, you can create customized ringtones from among your favorite songs on your iPhone.
However, most iPhone users would already know that it requires a unique file format for ringtones and text tones – M4R – that the iPhone recognizes. So in this post, we'll show you how to slice up your favorite part of a song in your iTunes library and then transfer it to your iPhone for using it as a ringtone. Let's take a look.
Note: This tutorial requires the use of macOS 10.15 Catalina and above and the Music app.
Step 1. Decide the track
Select the track, songs, music, or any audio that you would want to turn into a ringtone and place the track where it's easily accessible. (Example: Desktop)
Note 1: You can use any track you ripped, but you can't use any item from Apple Music or iCloud.
Note 2: For the sake of simplicity, we will just use the term "track" throughout the tutorial.
Step 2. Trim the track
Trim the track down to the part you that want for the ringtones. If you are familiar with audio editing then this should be fairly easy. If you do not have any audio editing app on your Mac, then check out Acutterpro, it is a web service that allows you to edit audio for free.
Note: Your final track should not be longer than 40 seconds for the ringtone and not more than 30 seconds for the text tone.
Trimming music with Acutterpro
Go to Acutterpro.com, click Choose Files and upload your track. You can also drag and drop your songs on this panel.

Adjust the left and right handle to mark the start and stop point for your final track.

Click Cut and then Download to save the final track on your computer.
Step 3. Create AAC version for your track
Now launch the Music app, on the sidebar, go to Library > Songs, drag the trimmed track inside.
With the track selected, go to File > Convert > Create AAC version. This will create another copy of your track in .m4a extension.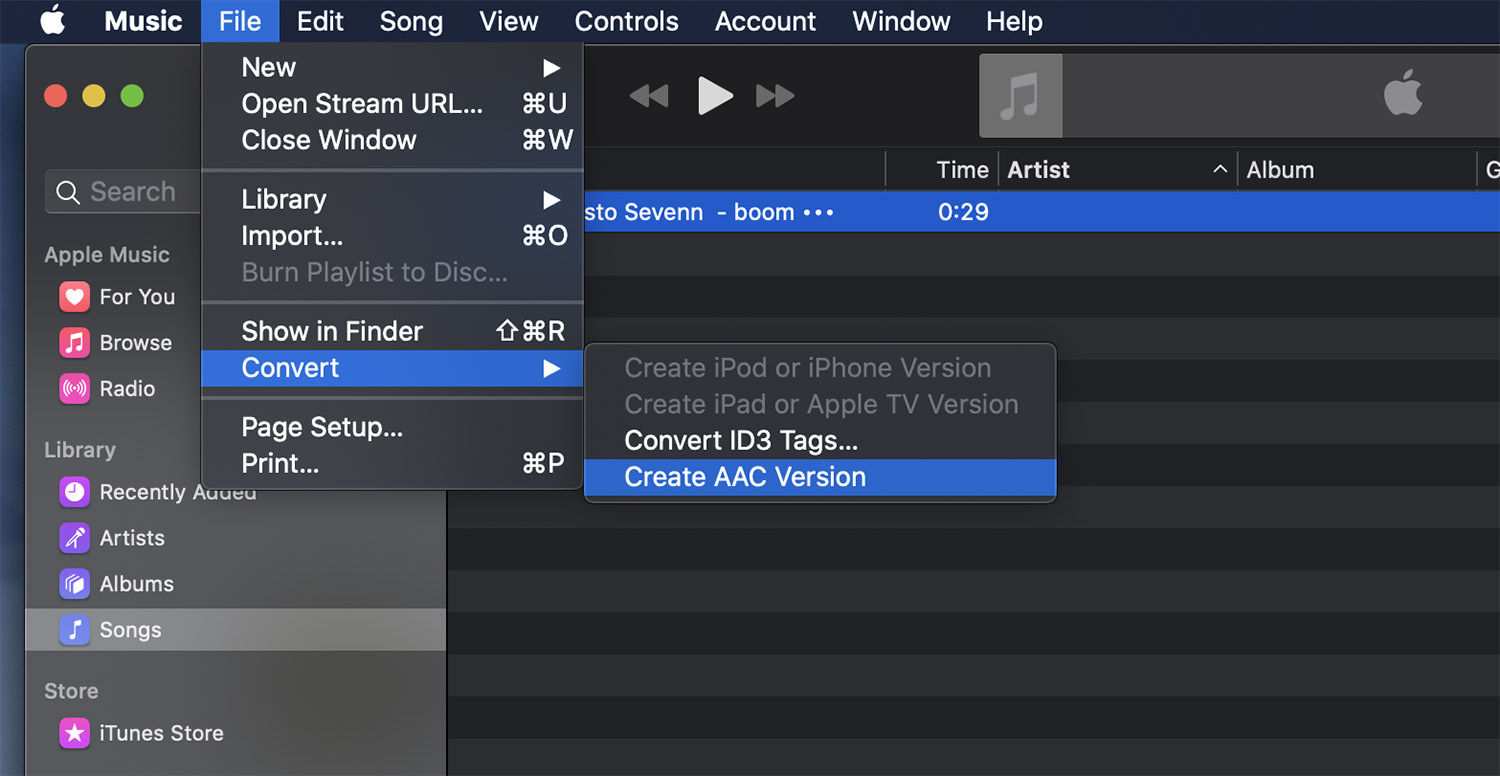 Step 4. Convert track to a ringtone
Right-click on the newly created track and select Show in Finder. In the Finder window, change the track file's extension from .m4a to .m4r.
Go back to the Music app, right-click on the same track again, select Delete from Library, and then Keep File so it's not sent to the Bin.
Step 5. Add ringtone to iPhone
Connect your iPhone to your Mac via lightning cable, launch Finder and select your iPhone under Location on the sidebar.
Make sure the General tab is selected, drag and drop the .mr4 track inside.
That's it, you should now be able to find it in your iPhone, under Settings > Sounds and Haptics > Ringtones.