20+ Must-Have Apps For Your New Windows Phone
Despite the lack of apps, the Windows Phone Store is steadily expanding its arsenal of great apps on a monthly basis. You can now find a number of official apps and alternatives that are similar to or even better than the regular culprits for your mobile needs.
The best thing about the Windows Phone Store is that we can try the apps before purchasing any; if it does not work as you expected, or you don't like it, you can simply hit Uninstall.
After exploring the Store, installing, and uninstalling a bunch of apps, here is a list of essential apps you should be installed on your Windows Phone. Note that there are some apps like Files that need Windows Phone 8.1 to work. All apps listed here are free (at the time of writing), unless specified otherwise.
Recommended Reading: 10 Things Windows Phones Do Better Than Android Phones
Tip: If some these apps may not available in your region (yet), you can change your phone region from the Settings > Region menu, and then restart your phone to install some of the apps.
Having an app that lets you generate and save unique passwords is essential. Use Password Padlock to create unique password and manage them conveniently. This app also lets you manage passwords across the Windows app version for OneDrive. All passwords are encrypted with AES-256, the latest encryption standard. So, rest assured, your passwords are safe.
This app brings background images in various sizes and categories and lets you download them with ease. Use this app to have more background selections to attach in your Windows Phone Start and Lock screen.
As the name implies, Life360 Family Locator allows you to monitor your current family members' locations in real-time. This app also lets you chat with your family in person with its built-in chat system. In a world full of uncertainty, this app is essential to help you keep tabs on your family members, with regards to safety, of course.
Photosynth is a Microsoft-owned app that allows you to capture amazing interactive 360 degrees panorama pictures. In the new version, aside from allowing you to share your photos on Facebook and Twitter, it also ships with a Photosynth social; a niche community that shares panoramas taken with Photosynth.
Adobe Photoshop Express gives you Photoshopping powers on your Windows phone. You can edit, crop, flip, rotate, and give your photos nice filters, then immediately share your photos with your favorite sites. Note, however, that Adobe Photoshop Express would only run on Windows Phone 8 and 8.1 and requires at least 512 MB of memory.
This probably goes without saying but we're pretty sure you are getting the Facebook app for our new Windows Phone. Luckily, Facebook is one of the social media sites that have made its way to the Windows Phone Store with an official app. Additionally, a new version of Facebook app for Windows Phone dubbed as Facebook Beta has also been released. On Windows Phone, you can access the Facebook app straight from the lock screen.
Other social media: Twitter, Instagram BETA, FourSquare, LinkedIn, Vine
WhatsApp has finally returned to Windows Phone after being pulled for having compatibility issues with Windows Phone 8.1. The comeback is accompanied by a number of long-awaited features such as Custom Chat Background, Custom Sound Notification, and Media Autodownload.
Other messaging apps: Messenger, LINE, KakaoTalk, Telegram Messenger BETA
Scanning your document is so old school, nowadays you can scan your documents with your phone. Office Lens not only lets you scan your docs, but also trim and resize your document automatically to an appropriate readable size. It's a very handy app to take digital copies of your important printed documents like receipts and business card details.
The Google and Microsoft relationship is hot one minute, then cold, the next. Since Google axed Microsoft's access to Youtube's API, you should probably use Toib as an alternative for your video-related needs.
More video-sharing apps: MetroTube ($0.99) and PrimeTube.
Paypal is a superior service when it comes to payment processing, mostly because many people subscribe to its service. Check your current balance, send and request money straight from your Windows Phone when you get this app.
More financing apps: Finance, Mint.
This is one for power users who love to check out Amazon for deals. The Amazon app lets you browse products easily by category and department, search through products via filters and you can place your order easily, even without getting the Amazon smartphone.
More online shopping apps: eBay, Newegg, Yelp.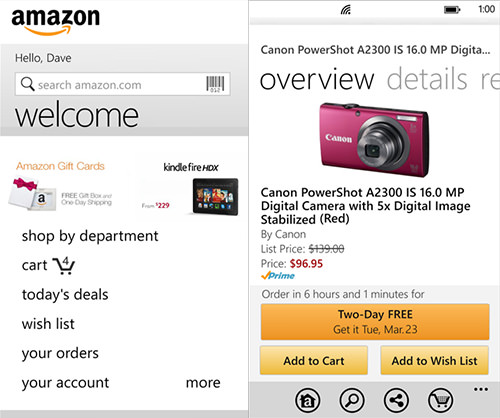 You can't avoid having a PDF reader on your phone hence this is a must-have app to get. Launch, read, add bookmarks easily to your PDF reading materials with the app. It also lets you share your PDF documents to social media sites via OneDrive.
Nextgen Reader is a the nicest Feedly app in Windows Phone. It's beautifully built and it implements the Windows Phone design principle, Modern UI, really well. It also comes with offline support, live tiles, image caching, Save to Pocket and Instapaper. This app is really well worth the price and you can run it on multiple devices.
Poki is an unofficial app client for Pocket, an application to save web articles to read it later. Poki, as you can see from the above screenshot, has a playful interface. It supports offline reading, tagging, searching, marking articles as favorites, live tiles, speech synthesis and more.
Files works similar to how Windows Explore workr. With Files, you are better able to manage the files or documents stored within your phone (as well as additional connected storage services), such as creating a new folder, and moving as well as renaming files.
Network Speed Test is a minimalistic app to test your internet connection speed. It provides both the upload and download speeds of your internet connection and also records the result of the previous test in the History tab for comparison.
iPhone users may be familiar with how easy it is to group certain apps within a folder. Windows Phone has no such thing built in the system. If you want to have similar functionality, App Folder would be the best app to use on that regard.
Bonus Apps You Might Like
Measures Mate is a unit converter suite. This app encompasses dozens of unit measurements ranging from temperature, length, volume, energy, velocity, and angle just to name a few. A handy converter can be of use for someone who is always on the move and may not have Internet access all the time to Google for the conversion.
Need a Stopwatch? This is one of the best and simplest stopwatch app to get from the Windows Phone Store at the moment. There are dozens of other stopwatch apps but you can start trying them out with this particular one first.
Use World Clock to see the times at major cities worldwide. The app will also automatically switch to the time of your current location. It's a handy app for those who often travel around the globe or for those who work with people across different timezones and need an app to help them keep track of world times.
Unlike iOS, Windows Phone does not have a Compass app built-in within the system due to the varying devices it needs to support. If you need a compass, you can try this app. But make sure that your phone has Movement and Directional Sensor hardware support.
Flashlight Zero, in my opinion, is by far the best app in the Store to turn your phone camera flashlight to brighten your surroundings – in case of power cut. It's simple to use and free, and you never know when you will be in sudden need for a light source.
If you are looking for a Shopping list reminder app, then this is a free app that will help you manage your shopping priorities well. It's a handy app that helps you remember details on what to pick up.