Collaborate On Design Projects Remotely with GoVisually
Remote collaboration via email is a pain. It takes time and choosing between Reply and Reply All is sometimes so complicated that some won't be able to keep up with the discussion. This is not good news for large teams, particularly those that include the clients in the mix. Things could get messy.
If you have been facing these problems, I think GoVisually could help you and increase project efficiency.
GoVisually is a tool for collaborative working that is designated for people who work in the creative field. So, if you work as a graphic designer or a web designer, this is the tool for you.
Starting Your First Project
With an account, you can immediately create your project, and add your designs. You get only one project for free, but you can upload unlimited number of designs.
Click on the Add new design, then name your design and upload the image. Note that GoVisually only accept image formats like JPG or PNG – uploading a PSD will fail.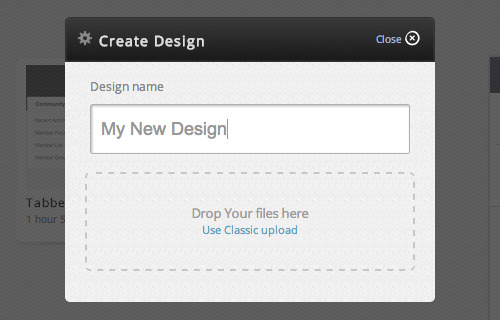 If you have people working together in your project, they will be notified via their email that you have uploaded a new image design. This is a useful little feature to keep your co-workers and clients on the same page.
Working in Collaboration
If you are looking to work in collaboration mode long term, you can add your co-workers and even your clients to the project. There is no limit to how many collaborators can have access to work. Just invite them using their email.
Once they accepted your invitation and registered, they will be able to annotate, give feedback, and start a discussion to the designs of the project. You can remove collaborators just as easily once the project is over.
Design Revision
It is rare to find clients agreeing to your preliminary design sketches so revisions are expected. GoVisually allows you to upload multiple design revisions, and better yet compare it to one another.
That said, we know that handling revisions is a pain. So, although GoVisually lets you upload multiple images for revision, it's a better that you limit the allowed number for your design revision when dealing with your clients.
Annotations
If you have been working with Preview.app in Mac OSX before, GoVisually has (more or less) the same method. You can draw circles, rectangles, arrows, and assign comments directly on your design image. Each collaborator can also reply to exisitng comments.
If somehow you have several collaborators inlvolved, there could be a bunch of annotations in your project. Using GoVisually, this would be no problem. Simply, click on the eye icon as shown below to sort out the annotations from particular collaborators.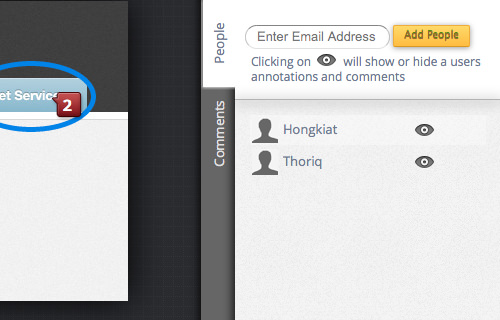 Final Thought
GoVisually is a good tool with many essential features for collaborative working. But there is room for improvement. Here's my wishlists:
Cloud storage: People today store some of their stuff in online cloud storage like Dropbox, Skydrive, and Google Drive. So, it would be nice to be able to grab from these sources rather than manually uploading the images.
Ideas board: Uploading revisions is good, but being able to draw Ideas would be better. There some occasions when we need to do post idea directly within the tool. Currently, each time we upload images to the project it counts as revisions.
Webpage snapshot: Similar to the ideas board, we as web designers retrieve ideas from another website. So, adding the capability to take a snapshot from another website would be nice.
Branded email: As shown, GoVisually sends a notification every time we upload a new image — which is nice. But, it will be nicer to be able to customize the email look. At least, giving an option to add our brand/logo.
Whether GoVisually is the perfect tool for you, I honestly have no definite answer. Give it a try and decide for yourself.