10 Tools to Improve Your Social Media Performance
For every business on social media, it is essential to know whether social media marketing efforts are paying off, analyze the current performance, and plan. When you determine what's working well and what areas you need to improve in your business, you'll get good results.
You know well that random social media tactics lead to random results. If you want to be successful, you need a solid strategy. According to Sprout Social, 63% of online marketers prove the importance of discussing the ROI of marketing campaigns and managing marketing expenses for each project.
This is where the right tools can become the best friends for social media marketers. Numbers don't lie, as the story goes. Moreover, you can identify content trends and learn about your customers, competitors, and your main strategy beyond the numbers.
In this article, you will find some of the best tools to track your social media performance.
ClickUp is a great cloud-based project management tool that lets you combine everything into one place. It offers task-settings functions, status alerts, whiteboards, project updates, calendars, docs, chat, and an inbox to manage your social media activities.
Along with fully customizable and proprietary features, the tool works for teams of all sizes and industries to better alight workflows around social media goals.
ClickUp includes 15+ customizable views to visualize your tasks, timelines, and team structure that you can save and share with anyone. Besides the standard view options (List, Gantt, Calendar, Board, and Box Views), you can use Mind Map, Activity, and Workload View options to plan, visualize, and organize your social projects.
With ClickUp, you can easily create, customize, and share reports with others. It also gives more insight into your team's performance, shows each team member's schedules, and tracks the progress of each project.
Key features of ClickUp:
Effortless collaboration and communication solutions.
High customization options.
Multiple views.
Easy time tracking.
Advanced reporting capabilities.
Well-functioning mobile app.
Affordable pricing.
Pricing:
ClickUp offers a free plan for personal use and beginners to manage projects with limited file storage of around 100 MB. The Unlimited Plan starts at $5 per member per month.
Business and Business Plus plans for large teams with more advanced and exclusive features like turndown charts, custom role generation, priority support, API, and more. Enterprises should contact the Sales team for more details.
InVideo is a powerful web-based video editing tool. It is the simplest, quickest, and most versatile way to create videos on Android, iOS, and the web.
This all-in-one online video editing tool provides 5000+ pre-made templates and has capabilities like audio controls, voice-over, stock music, transitions, and 8 million+ stock content.
With InVideo's intuitive drag-and-drop interface, making a video is simple, even if you have no prior knowledge of video editing. InVideo is a favorite option for millions of professional video editors worldwide because of features like configurable motion graphic components, text, icons, shapes, effects, transitions, and color correction.
Key features of InVideo:
Easy drag and drop editor.
5000+ customizable video templates.
8M+ iStock media library.
Video creation in 70+ languages and more.
Convert text to video.
Add voice-overs.
Wide range of filters and overlays.
Smooth & trendy transitions.
Pricing:
InVideo offers a free version with limited access. The paid plans start at $15 /month when you pay yearly. If you pay monthly, it will cost $30/month.
BuzzSumo is one of the top tools for exploring, analyzing, and monitoring your content. Founded in 2012, it provides the robust content research and performance insights you need.
You can see what's trending now, discover common questions and keywords, find out how many links lead to your content, and identify the most famous content types.
BuzzSumo shows which of your pages received the most engagement, including Twitter, Facebook, Reddit, and Pinterest shares. You can also find out who shares competitors' content and compare your content performance on social media against your competitors. You can easily use these insights to fine-tune future content and power your brand.
BuzzSumo is great for researching and generating content ideas for your social media channels. It's the best match for the brands that bring a focus on the content marketing strategy.
Key features of BuzzSumo:
Advanced data filters.
Real-time trending content discovery.
Competitor alerts.
Comprehensive social media analytics.
Personalized interface.
Social media content insights.
Easy segmentation of influencers.
Pricing:
Buzzsumo offers a free version with limited access up to 10 content searches per month. The paid plans start at $79/month when you pay yearly. If you pay monthly, it will cost $99/month after a 30-day free trial.
Affable is a great influencer marketing platform for brands and agencies. Due to its data-driven artificial intelligence, you can find the most effective and relevant influencers for your social media campaigns and connect with those who resonate with your target audience the most.
This tool can search for influencers' audience demographics, including gender, age, location, and many more. The Content Discovery section allows you to find specific content on YouTube or Instagram that you want for your brand. It will help you reach out to the right influencers and save time.
Built as an end-to-end platform, Affable makes it possible to manage all influencer routines, from finding to building relationships with them in one place. Once you connect with the influencers, you can track how successfully they engage with your customers and identify how well your competitors are doing in your field.
Key features of Affable:
Sentiment analysis.
Exclusion search.
Image recognition.
Track ongoing influencer trends.
Compare your influencer performances against competitors.
Create and export reports about the Social Metrics.
Pricing:
Affable offers a 14-day free trial to help you understand the platform's best features. The personal plan offers ten free credits, and every additional credit costs $1 per credit. The monthly plan costs $500 per month.
SE Ranking is a powerful all-in-one marketing software that shows hidden opportunities, consolidates multiple social campaigns, and tracks the performance of your content performance. It provides content auditing, lead generation, topic research, and marketing plan within one platform.
Its Competitor Research feature helps you find the best-performing content on social media and "borrow" these content ideas to improve your social media strategy.
You can use SE Ranking to create social media posts based on your findings and rank better in social search results. You can include keywords in your YouTube titles or tweets to improve the visibility on these channels.
Key features of SE Ranking:
Advanced topic research.
Accurate keyword ranking data.
Backlink checker.
Competitive research.
Comprehensive content audit.
Detailed SEO progress reports.
White Label.
Marketing and SEO plan.
Pricing:
SE Ranking offers a subscription-based pricing model with a 14-day free trial for new customers. It starts from $31/month to $719/month if you pay annually. Once you get a subscription, you will get full access to the SE Ranking mobile app.
Source: socialmediaexaminer.com
Facebook Premiere is the next generation of professional live video presentations. This feature allows business pages to upload and publish pre-recorded video content without the stress of hosting a live broadcast. It will enable you to launch a new product, share details about a show, increase sales, and more. 
Facebook Premiere shows videos not only in the news feed and on your page but also distribute them on Facebook Watch to let you reach a wider audience. Users can instantly react to the video content in real-time like any live video. I mean, you can interact with viewers in the comments within the broadcast.
Facebook Premiere is an excellent alternative to Facebook Live. It helps you have a significant Facebook presence, create video content ahead of time, and encourage users to follow and engage with it. The tool is excellent for episodic content and announcements.
Key features of Facebook Premiere:
Interaction from viewers during the broadcasting.
Easy setup.
Send reminders with notifications.
Get distribution on Facebook Watch.
Countdown clock for when your video will go live.
Pricing:
Facebook Premiere is free to use and available to all Facebook Pages.
Keyhole is one of the top tools to measure and improve the impact of social media posts. It has many valuable features, including social listening, competitor analysis, sentiment analysis, social reporting, and post-performance.
One vital feature of Keyhole is tracking hashtags, keywords, and URLs. Its analytical dashboard shows the most popular hashtags relevant to your campaign and identifies areas for improvement. The tool displays real-time updates to make necessary changes.
Another track of information is influencer marketing. It provides information on your competitor and tracks the progress of your influencer marketing campaigns. It shows raw numbers, and you can determine which influencers get the best results. It is valuable for those who have a lot of influencers.
Key features of Keyhole:
Real-time tracking of campaigns, keywords, and hashtags.
Influencer identification.
Flexible searches.
Custom alerts.
Powerful analytics.
Historic usage data.
User-friendly interface.
Pricing:
Keyhole offers a free trial and the option to book a personalized demo, but it doesn't provide pricing plans. Just fill in the form and custom pricing for your business to start with Keyhole.
Google Analytics is a fantastic free tool to monitor social media progress and performance. The tool gives a wealth of insights about your content, your website, and its visitors from social media. Once you add the tool to your social media analytics strategy, you can track the following things:
Find which social media channels drive the most traffic
Measure the ROI of your social media campaigns
Collect social referral data where visitors are coming to your website using social share buttons;
Discover what types of content work best with each social network;
See how many sales conversions you get from social media;
Track the total traffic to your best content and traffic sources.
With this data, you will maximize social media campaigns and enhance your marketing strategies in the long run.
Pricing:
Google Analytics is free and suitable for small and medium-sized businesses, including a wide range of features to grow your business. Google Analytics Premium, designed for enterprises and companies with high traffic volume, will cost $150 000 per year.
NapoleonCat is a powerful social media engagement tool to help you manage all your social media profiles in one place. It includes everything from scheduling and publishing operations to conversion tracking and reporting.
The tool will take the weight off your shoulders by incorporating some social media automation tools in one without paying additional fees.
The best thing about NapoleonCat is its Social Inbox feature which is a great time saver for businesses to monitor their brands on social media. You can view all the comments, messages, and reviews within one dashboard and instantly respond to them on board.
If you run different locations on Google My Business, this feature will be a must-have to manage all the reviews from all locations.
Key features of NapoleonCat:
Single Social Media Inbox.
Social media analytics.
Auto-moderation.
Competitive and comparative analysis.
Custom reports.
Great customer service.
Pricing:
NapoleonCat includes a 14-day free trial to test all the features. Otherwise, you can design your perfect plan and pay only for what you use. The Standard plan costs $31/month per user.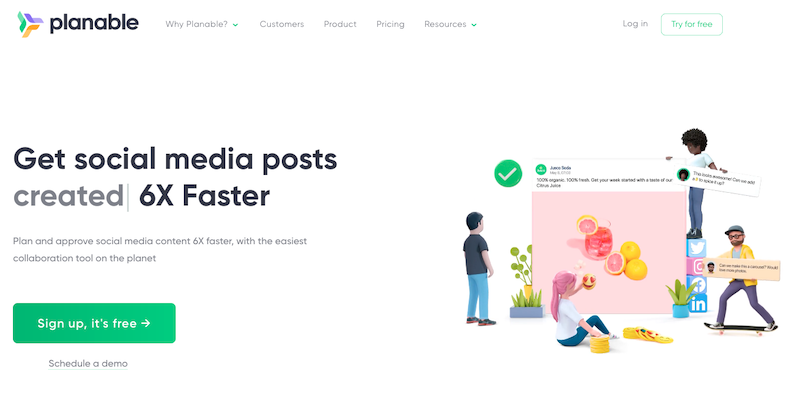 Planable is another excellent option to streamline content-related processes, from planning and publishing content on social media to collaboration and approval. With its user-friendly interface, you can easily view how social media posts will look once they get published, set up schedules, and push them to multiple channels.
The best thing about Planable is collaborating on client projects and content and getting quick client approval. It works great for large teams and different stakeholders. You can create separate client workspaces to manage other clients and keep your interface organized and accessible.
Planable includes multiple timeline views to choose from. You can work with calendar, feed, list, or grid views to efficiently handle your content timelines. The Label feature lets you filter all posts by the right category and see the history of your activities.
Its collaboration system allows teams to leave and share feedback in-app using replies and comments next to the post.
Key features of Planable:
Easy collaboration option.
Multiple timeline views.
Mobile app.
Guest sharing.
Separate workspaces.
Flexible publishing.
One-click approvals.
Unlimited storage.
Pricing:
Planable offers to create the first 50 posts for free and unlimited experience (pages, users, and workspaces). The paid plan starts from $13 per user a month to create a high volume of social media content each day. The Enterprise plan is available for large social media teams, and get in touch with them to find out an exact price point.
Wrapping up
I've reached the end of my top 11 tools to increase your social media performance. Don't be afraid to try any of the above tools, especially considering they all have free trials.
With the right tools, you will clearly understand your social media results and ensure you're taking the right time with your strategy.