10 Best Music Apps for iOS
If you're a music fan (which almost everyone is), you'd want access to music everywhere, even on the go. For this, music apps work the best, provided they're reliable and allow you to organize your music the best way possible.
Previously, we did a post on Android music players that offer different features for users. This post is for iOS users and features the best music apps you'll find for the iOS platform. So, let's take a look.
10 Best Music Apps for Android
10 Best Music Apps for Android
Music is one of the biggest sources of entertainment and a great pastime for billions around the world.... Read more
1. Earworm
Earworm is a unique entry in this list of music players in such a way that it's developed by a magician, Marc Kerstein. The way you use this application is you borrow someone's phone, type something on their YouTube, give it back to their face down and muted, and perform some "ritual" of some sorts &mash; like you are trying to transmit a music into their mind.
Ask your audience which music they "heard" while you were doing your ritual, then you ask them to unmute their phone: and the song that's playing is the one that has been "transmitted" to their mind. Earworm works with YouTube, Apple Music, Shopify, and other music platforms.
People have debated whether this is a voice-activated application that plays the music once the audience mentions a title or lyrics, but no one really knows for certain because a magician never reveals his secrets.
2. VOX
VOX is a music player that supports several formats in lossless compression, sourcing its music collection from iTunes, SoundCloud, Spotify, and other channels that you use. It has a whooping list of 30,000 radio stations worldwide, integration with Last.fm, and supports easy transfer of music over Wi-Fi, iTunes files sharing, and cross-applicaiton sharing of playlists and tracks.
Vox's premium features include unlimited cloud storage, cross platform syncing between Mac and iPhone, offline playback, and others.
3. Flacbox
Flacbox is a powerful player and downloader for your iPhone or iPad. It supports all popular cloud storage services including Amazon Drive, Dropbox, Google Drive, iCloud so you can listen to any song on the go. You can also play music from shared folders on computers with SMB/WebDAV support and even from external flash cards and SD card readers.
Flacbox is a powerful music player and downloader with audio equalizer and bass booster. With the application you can open almost any file, even ones your iPhone cannot due to limitations of iOS software, directly from cloud storage or on home computer.
4. ARIIA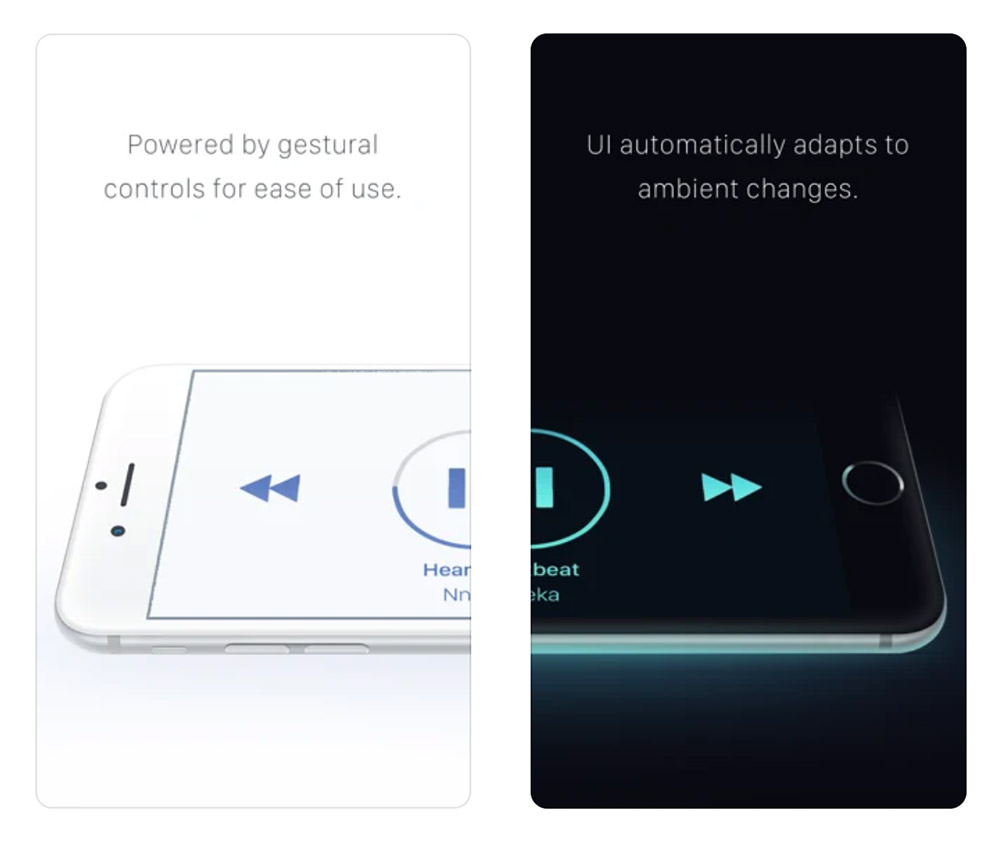 ARIIA is a lightweight music player that is optimized for different environments. It is designed for people who are on the roat, in such a way that it judges what environment you are in so it knows whether or not sunlight will be interfering with how clearly you'll see the screen; meaning that as soon as you enter from a dark building, or into the sunshine, your panel switches smoothly and adapts accordingly.
ARIIA has been designed for you, the user. It is a simple music player which integrates easily into your lifestyle and promotes ease of use in any environment.
5. New Monaural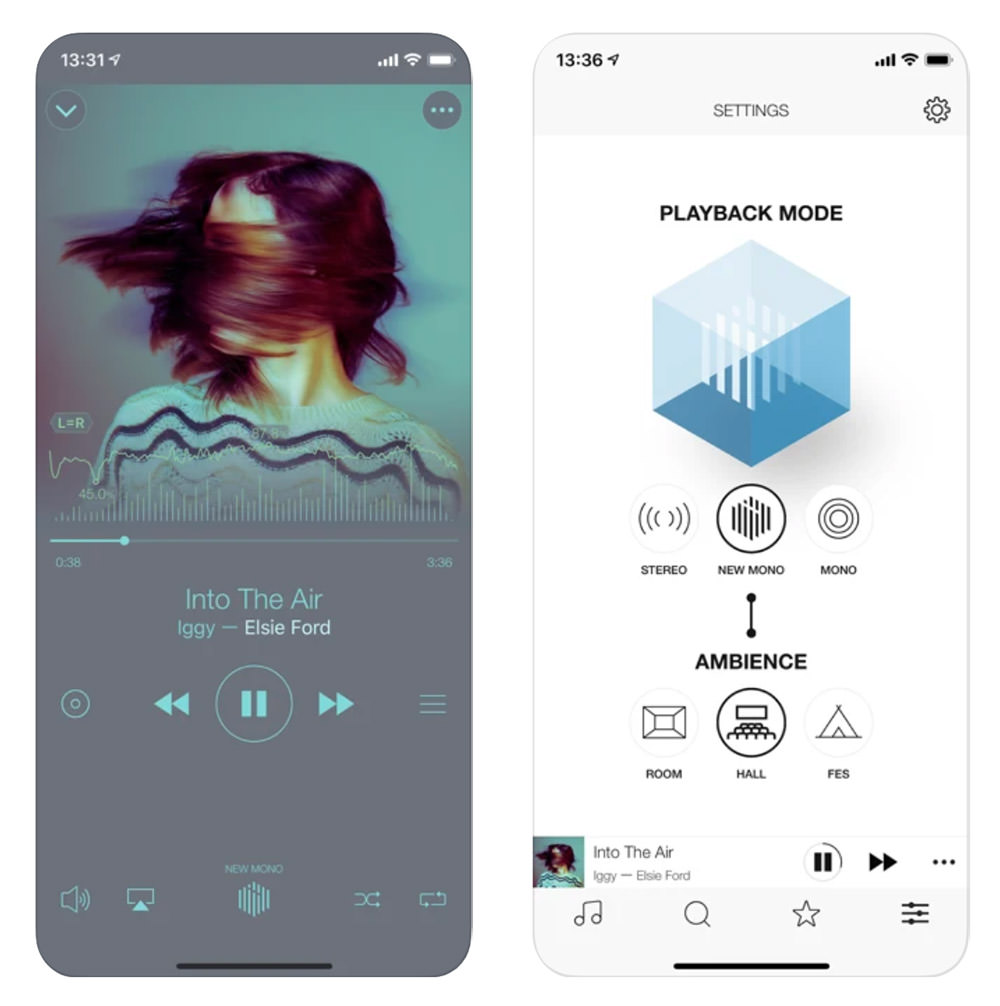 New Monaural sets a fresh standard with its revolutionary approach to stereo-to-mono conversion that emulates the natural listening experience of those with unilateral hearing loss. It produces balanced music that can be enjoyed from either earpiece on your headphones or speakers without affecting the total output sound space.
New Monaural allows its users to submit ratings based on the left-right channel balance of music and genres, which is particularly helpful for people who have hearing problems. Imagine sorting through music that would play best on your good ear? That's something no one has thought of before.
6. Stezza Music Player
Stezza is a stylish and easy way to enjoy your favorite music. The design adapts to different environments and tastes; gives you access to custom color themes, video functionality, AppRadio compatibility, and accessibility support thanks to its indie development team.
Stezza is a minimalist masterpiece that would make you fall in love with music players again, just like when the first iPod was released, only this time it's more chic.
7. Evermusic
Evermusic lets you build your own streaming service and listen to all your favorite music anywhere. All the popular audio formats are supported, so you can create an account on any of the supported cloud services, like Google Drive, Dropbox, Mega, etc. All your music will now be available online instead of taking up space on your smartphone!
Evermusic is your one stop app for lifetime music. With the crossfade playback function, all of your songs are playing continuously so there's never any pause between tracks during playback. You can also stream your favorite hits to Apple TV and devices connected to Chromecast. Plus the use of automatic synchronization to make sure those tunes are always right at your fingertips in an instant! The audio equalizer, which has built-in presets for many genres such as pop rock or jazz, ensures you'll get the most out of every song with its dynamic variety and balance across frequencies plus more versatility when making adjustments until each track sounds like a personal masterpiece.
8. TapTunes
TapTunes is a new way to experience your music. It transforms the traditional list of albums into an aesthetically pleasing and easy-to-use interactive interface. It is designed so that it feels more like interacting than just merely scrolling through your albums – it helps you rediscover old favorites or forgotten gems lurking around in the back corners of your playlist. After all, there is a reason why they made your playlist, right?
TapTunes enables its users to seamlessly switch between audiobooks, podcasts, or music without much fuss, either through tapping or a few gestures on the screen. For the price of $1.99, the premium feel will definitely stalk you for years to come, especially if you are big on customizing your music player, integrating it with Apple Watch, sharing on social media, and the like.
9. Musi
Musi is a music player that can stream on AirPlay enabled devices, it also allows its users to build playlists and share it with friends. While other music players limit the number of playlists you can make, Musi has unlimited playlists so you can build the music library you've always dreamed of.
10. Listen: Gesture Music Player
Listen is a music player that you can use without looking at it, making this the perfect app for when you're exercising or actively on the move. The design makes Listen more enjoyable to look at, as it is easier to navigate than most music players available in the market.
Gestures are the key to controlling your music. To change tracks, swipe left or right on the screen and tap once you find what you're looking for! You can also add songs to a favorites playlist by swiping up while in play mode.