10 Apps to Record Your Baby's Milestones & Achievements
Having a child is one of life's great joys, or so I'm told. If you're a new parent, it's only natural that you'll want to document and record your baby's life. Whether it's a daily record, or milestones like a first word or first birthday, there'll never be a shortage of memories that need documenting. What's more, there's nothing that keeps an extended family together like regular updates on the newest addition(s) to the family.
Sure you can email or send photos via messaging apps to family and friends, or clutter everyone's Facebook news feeds with the same baby pictures from 8 different angles, but there are easier, more secure, more organized, and more fun ways to do this
Here are 10 best apps that allow you to fully immerse yourself with pleasant memories of your adorable little ones, with timelines, calendars, milestones and with sharing capabilities to help keep family in the loop.
Moment Garden is a simple-to-use baby journal with a nice minimal interface and a beatuiful timeline view.
One interesting feature Moment Garden has is its suggestion engine for milestones and moments. It also emails you reminders of moments from the past year, a feature it calls Moment Memories.
The journal is private and you can invite friends and family to follow with granted access.
Peekaboo Moments is a basic baby scrapbook that records and presents photos and moments in your baby's life, as well as your own thoughts.
It's not loaded with features, but it does support private sharing, and allows you to invite friends and family to contribute to your baby's scrapbook with their own memories and photos.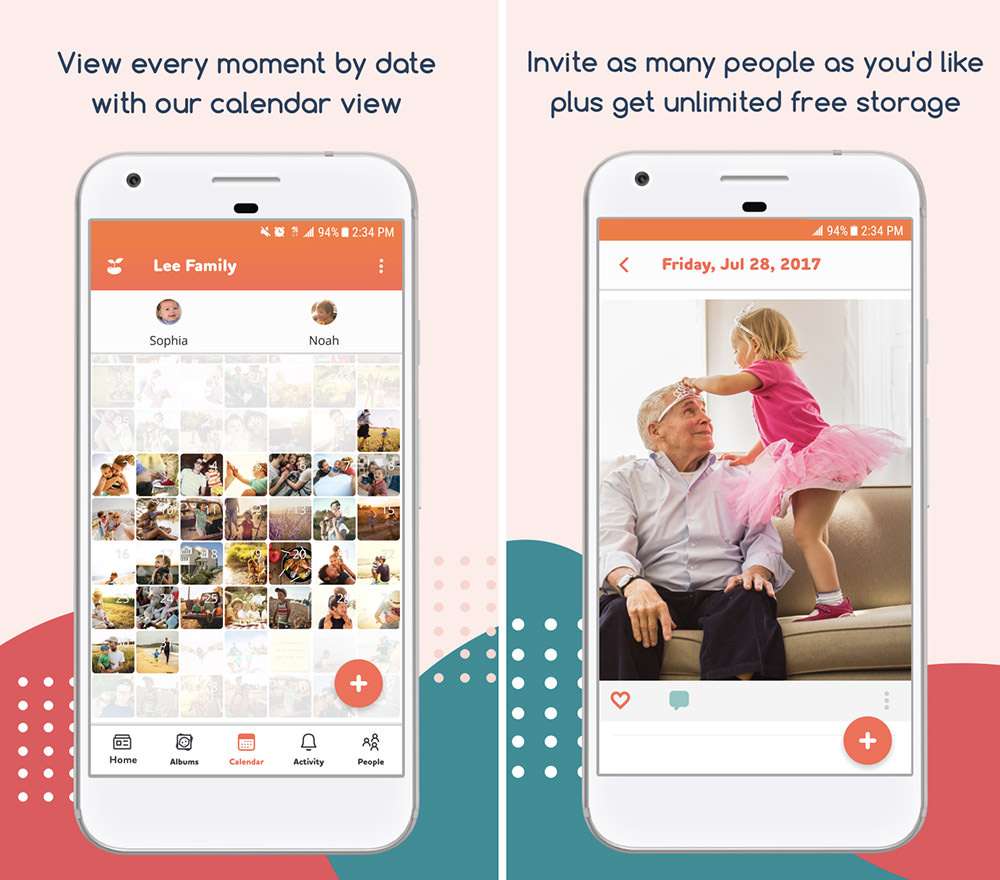 Tinybeans is a private online journal for your baby, documenting his or her life through photos, videos and milestones.
It displays these moments as a calendar, which lets you see, at a glance, how your child has grown over time. Your journal is private, and only followers will be able to see it.
Tinybeans will also send regular summary updates via email to friends and family of your choosing.
4. BackThen Family & Baby Photos
Lifecake will turn entire folders of photos into one beautiful timeline, organized according to date and child, and can be easily and securely shared with friends and family.
Lifecake will automatically share updates with chosen friends and family members; no more emailing photos or sending text messages. You can even create a photobook in Lifecake and have it delivered to your door.
5. Baby Tracker – Newborn Log
Baby Tracker is a useful app that works as a scheduling tool for the new parents. It enables you to track your baby's growth and daily habits in an organized way.
The app features nursing timer, sleep scheduler, growth recorder, diaper change tracker, medical history log, and a milestone journal where you can add your baby's goals and achievements with pictures.
6. Peanut: Find Friends & Support
Peanut is a platform where women from all over the world can collaborate and share the different stages of life that they're going through like fertility, IVF, pregnancy, adoption, or new motherhood and nursing etc.
You ask questions from the community members, explore different groups, and even chat or meet the like-minded ladies around you.
7. The Wonder Weeks
Discover your baby's developmental milestones with The Wonder Weeks app. It tells you when to expect difficult phase in your baby's life and gives you tips and insights to deal with these periods.
You learn about a baby's mental leaps and how to detect them and keep a track. It offers some other features as well including WiFi baby monitor, baby audio books, and baby music, etc.
8. Glow Baby
Glow Baby is a newborn baby's growth and development log right in your phone. With this app you can track and monitor everything from breastfeeding, sleep cycles, diaper changes, solid intakes, and other vitals.
There's also an option to document your child's achievement and memorable moments with friends and family through photos and textual entries.
9. MyMedela Baby Tracker
For the moms who find breastfeeding a challenge, here is MyMedela – a reliable guide for breastfeeding issues and concerns. It allows you to track your progress related to breastfeeding and pumping as well as your baby's progress regarding his weight, feeding, sleep time, and other information.
There's also a vast knowledge base in the form of FAQs on pumping and breastfeeding issues where you can get answer to most of your problems.
10. Milk Maid
Just as the name says, Milk Maid helps mothers who pump milk for their babies to log their schedule and manage their stock of breastmilk.
It enables you to keep track of individual bottles by pumping date (to avoid expiration) and if you're up for a trip, it will calculate an average for the milk your baby used last week so you can have a good estimate.
You can also keep an inventory of fresh and frozen milk in multiple locations like home, and workplace etc.