10+ Premium Horizontal Scrolling WordPress Themes
When you think of a WordPress Theme, you probably picture your average vertical-scrolling (up and down) theme; these types are definitely the most popular. However, if you're looking to make your blog stand out or just want a unique portfolio theme, you may want to consider changing the orientation – to a horizontal-scrolling (left to right) theme.
Some WordPress Themes that scroll horizontally may put you in the mind of reading a book – something that many readers are sure to appreciate. Horizontal-scrolling themes are also great for designers, artists and illustrators who want to showcase their work since it's a more natural way of looking through designs and artwork.
No matter your reasoning for wanting to use a side-scrolling theme, you're sure to find one below that really suits you. Here are 17 premium horizontal-scrolling WordPress themes.
Fluxux is a beautiful magazine-inspired portfolio theme with three different homepage types: slideshow, "hello," and portfolio with horizontal scrolling. It also features horizontal portfolio pages, a horizontal blog, a contact page with Google Maps integration, shortcodes and integrated social sharing.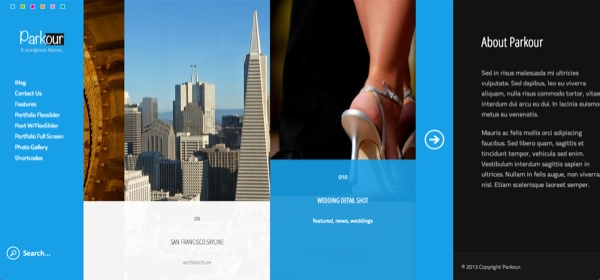 Parkour is a responsive theme that comes with three different types of blog styles, two of which scroll horizontally. It's loaded with features like a full-screen portfolio page, six color schemes, custom widgets, contact page with Google Maps integration, shortcodes and much more.
The Curator is a unique semi-responsive timeline theme for museums, artists and designers that want to display their work in chronological order. Your content can be sorted by year, decade, century, or millennium. It includes image sliders for each post and Theme Options thanks to the OptionTree plugin.
Crea WP is a really unique flash-like theme built with HTML5 that features a full-screen layout, horizontal page transitions, parallax background, two types of sliders (fade and carousel) and three custom content types (photo albums, portfolio, slides). With the integrated background builder, you can customize the colors and position of your background and even add layers.
Horizzon is a creative theme with multiple columns; you can choose to use the columns layout, wide columns layout, or classic wide layout. You can also navigate the theme using your mouse or keyboard. With unlimited color variations, a custom background, Google fonts, shortcodes and four portfolio styles, this theme really gives a lot of flexibility.
KIN is a minimalistic theme made for photographers. While the homepage and galleries scroll horizontally, all other page types scroll vertically. KIN has two theme skins (black and white), includes Google fonts, has a built-in image zoom feature and comes with a contact page.
As the name suggests, this is a theme that scrolls sideways; it includes a horizontal blog and portfolio page. The unique full-screen image background is unique because it allows you to use a different image for each of your pages. You can also use a full-screen slideshow as your background. In addition, there are custom widgets, shortcodes, Theme Options and a contact form with basic spam protection.
Modern Metro is a responsive column-based theme with unlimited colors options. While its Web version scrolls horizontally, the mobile version still adopts the vertical scrolling orientation. You can even set multiple featured images for each of your pages and posts. With the built-in share panel, visitors can share your work with ease.
Montana is a simple portfolio theme with five color variations, shortcodes and a contact form with Google Map integration. This is a great theme for designers, photographers, artists and illustrators. There are numerous page templates to choose from, including a horizontal-scrolling blog.
Stuff is a column-based theme with horizontal-scrolling pages and would work great for a blog or portfolio. There are 12 color schemes, two portfolio templates and two page templates. There's also a simple contact form with spam prevention. You can easily add your Google Analytics script (or any other tracking system) in the admin options.
Acid is a unique and responsive and comes in three different themes: colorful hipster, serious black and retro grandma. It would work great as a portfolio or blog. There are two different ways to display your portfolio and it features unlimited scrolling and retina-ready social icons. There's a footer that can be switched on/off when you choose and there are unlimited background patterns and images.
Have you considered using or are you currently using a horizontal-scrolling WordPress theme on your blog? Share your thoughts.