iOS 5: Unveiling 10 Lesser-Known Features
Originally Published: October 14, 2011
At last, the wait is over. Unveiled by Apple's late CEO Steve Jobs in his final keynote, iOS 5 is the most recent operating system for Apple devices like iPhones and iPads. It comes packed with a plethora of new features and enhancements. By connecting your compatible device to the latest version of iTunes, you can now upgrade to iOS 5.
But iOS 5 is more than just a run-of-the-mill update. According to its feature page, it boasts over 200 features aimed at enhancing the user interface, fixing user experience issues, and introducing innovative functionalities like the Notification Center, iMessage, Newsstand, and Reminders.
So, as you eagerly await the completion of your update, let's delve into some lesser-known but equally amazing features that iOS 5 has to offer. Your Apple device is about to get a significant upgrade!
1. Tailoring Your Notification Center
The Notification Center is one of iOS 5's standout features. It's a redesigned push notification system aimed at consolidating all your alerts in one place, making your device usage more seamless.
But there's more to it than meets the eye. By navigating to Settings > Notifications > (Application), you can personalize the Notification Center to suit your preferences. You can disable it, set the number of displayed items, choose from three alert styles, and even adjust the frequency of alerts.
2. Safeguard Your Online Privacy
We all have things we'd rather keep private, whether it's confidential work data or a blog you still follow. iOS 5's Private Browsing feature in Safari ensures your online activities stay your own.
To activate Private Browsing, go to Settings > Safari. Once activated, the interface color of Safari changes to dark grey, indicating that you're in Private Browsing mode.
If you find it cumbersome to toggle Private Browsing on and off, iOS 5 also allows you to selectively remove website data. Simply go to Safari > Advanced > Website Data to do so.
3. Enhanced Camera Features
If you're an iPhone photography enthusiast, you'll love this feature. In the past, toggling between the Camera app and Camera Roll was a bit cumbersome. Now, you can effortlessly switch to your Camera Roll directly from the Camera app. Simply slide to the right on the Camera app's interface.
Photos in the Camera Roll are displayed one by one. You can continue to slide right to view more. To return to the Camera app, just slide left. It's a brilliantly simple solution.
4. Universal Delete Button
It's a small tweak, but it adds a lot of flexibility to iOS 5. Now, a red delete button is hidden in various apps like Notes, Music, and even Settings.
Simply swipe right on an item to reveal the delete option. This works for songs in the Music app, notes, and even application data in the Usage settings. It's a convenient way to manage your content without needing iTunes.
5. The Emoji Experience
Emoji, a fun and universal language of emoticons, has been added to iOS 5. To enable it, go to Settings > General > Keyboard > International Keyboards > Add New Keyboard > Emoji.
With Emoji, you can express yourself using a variety of 33 emoticons. But that's not all; Emoji offers a wide range of icons grouped into six categories.
From sunshine and animals to tech gadgets, these icons add a fun element to your conversations on iDevices.
6. Customizable Keyboard Shortcuts
Typing long, repetitive phrases is a thing of the past with iOS 5's keyboard shortcuts. For example, typing 'OMW' will automatically expand to 'On My Way'. To set this up, go to Settings > General > Keyboard > Add New Shortcut.
Creating a shortcut is incredibly easy. Just enter the shortcut and the phrase it should expand to. This feature is compatible with multiple languages, making it a versatile tool for users worldwide. It's especially useful for coders who can set shortcuts for frequently used code snippets.
7. Personalized Vibration Patterns
Exclusive to iPhones, the Custom Vibration feature was initially designed for individuals with disabilities. However, it's a fun and useful feature for all users. To set up your own vibration patterns for incoming calls, navigate to Settings > General > Accessibility > Custom Vibration.
While there are default patterns like 'Heartbeat' and 'S.O.S,' you can also create your own by selecting 'Create New Vibration' at the bottom of the options list. You can even assign these custom vibrations to specific contacts, so you'll know who's calling just by the vibration pattern. Ingenious, isn't it?
8. AssistiveTouch and Customized Gestures
AssistiveTouch is another feature aimed at making iOS 5 accessible to everyone, including those with physical disabilities. However, it's also a handy tool for the average user. To enable it, go to Settings > General > Accessibility > AssistiveTouch.
A semi-transparent button will appear on your screen, providing quick access to actions like 'Shake,' 'Pinch,' 'Lock Screen,' and 'Rotate Screen.'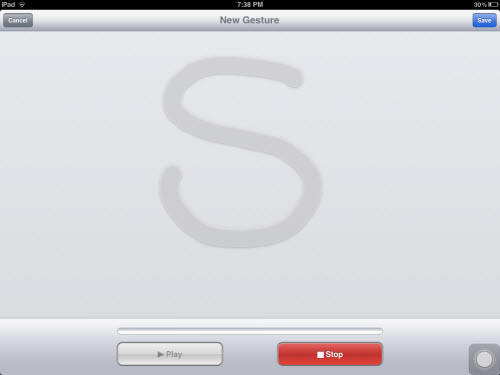 To create your own gestures, navigate to Settings > General > Accessibility > AssistiveTouch > Custom Gesture. These gestures will be saved in the 'Favorites' section of AssistiveTouch and can serve as macro shortcuts for specific tasks.
9. Manage Device Usage
Apple aims to make iDevices independent of PCs, and the 'Usage' option is a step in that direction. To access it, go to Settings > General > Usage.
Here, you can view available storage space and how much each app is using. If an app is taking up too much space, you can delete it directly from this menu. Additionally, you can manage your iCloud storage without needing any external apps like iTunes.
10. A Plethora of Additional Features
iOS 5 is packed with minor tweaks that significantly enhance your user experience. In this final section, let's delve into some of these smaller yet impactful features that have been long-awaited since iOS 4.
One major time-saver is the ability to use your iOS device while it's syncing. Additionally, the introduction of Delta Software Updates means that only specific files are updated, eliminating the need to download the entire operating system. These updates are also available On-The-Air (OTA), allowing you to update your device via Wi-Fi or 3G.
Another convenience is the 'Purchased' section in the App Store, where you can easily track both iPad-specific and iPhone-specific apps you've bought and installed. Other noteworthy features include the ability to create and manage albums, open iTunes and Safari links in the background, and easily switch between mailboxes in the Mail app. iOS 5 is truly feature-rich!
References
Final Thoughts
In a promotional video for iOS 5, Scott Forstall of Apple mentioned the company's ongoing quest to make the iOS user experience even more user-friendly. While Apple has often taken a unilateral approach to iOS development, the improvements in iOS 5 show that they are listening to user feedback. Well done, Apple.
Whether it's the 10 key features highlighted in the keynote or the ones discussed in this article, which feature do you find most useful? My personal favorite is the Notification Center. Feel free to share your thoughts!