Tribute to Steve Jobs (1955 – 2011)
We all recognize that this moment was inevitable, yet its sudden occurrence has taken us by surprise. Today is challenging for millions who own Apple devices, as well as for those who are employed by Apple. Steven Paul Jobs, popularly known as Steve Jobs, former CEO of Apple, passed away on the 5th of October, 2011.
He was instrumental in bringing real innovation to the world. Jobs transformed the way we interact with gadgets and computers. His departure leaves behind a profound legacy of transformation and innovation. He truly changed the world.
Through this post, we wish to honor Steve Jobs, a pioneer who significantly influenced the tech industry for many years. Let's delve into the remarkable life of this visionary and draw inspiration from his incredible journey.
The Early Years: Born in 1955 and Adopted by Paul Jobs
Steve Jobs was born to a young, unwed college graduate who decided to give him up for adoption.
Jobs' biological mother later discovered that his adoptive mother had not graduated from college, and his adoptive father had not even finished high school. She hesitated to finalize the adoption but eventually agreed a few months later when she received a promise that Jobs would attend college.
1972: The College Dilemma and Perseverance
After graduating from high school, Steve Jobs enrolled at Reed College in Portland, Oregon. At the time, he was uncertain about his future and felt the financial burden of college tuition, which was consuming his parents' life savings. Consequently, he decided to drop out after just one semester.
Despite financial challenges, Jobs' enthusiasm remained undiminished. He continued auditing classes at Reed College and found creative ways to support himself, such as collecting and returning Coke bottles for cash and taking advantage of free meals at the local Hare Krishna temple.
1972: Stepping Stones to Apple – Jobs' Early Career
Steve Jobs' first employment opportunity was a summer job at Hewlett-Packard. Later, he joined Atari, a well-known video game manufacturer, as a technician. Here, he was tasked with developing a circuit board for the game "Breakout." During this period, he collaborated with Steve Wozniak, who would later co-found Apple with him.
1974: The Spiritual Quest and Becoming a Buddhist
While at Reed College, Jobs developed a keen interest in philosophy. In the same year he started working at Atari, he embarked on a journey to India with Dan Kottke in search of spiritual enlightenment.
Upon returning from India, Jobs embraced Buddhism. He shaved his head and adopted traditional Indian attire.
1976: The Genesis of Apple Computer, Inc.
It is widely believed that Steve Jobs was inspired by Atari's founder, Nolan Bushnell. At the age of 21, Jobs teamed up with his former colleague from his summer job at Hewlett-Packard, Steve Wozniak, to found Apple Computer. Jobs and Wozniak thus became the first and second employees of Apple.
The fledgling company received a significant boost when angel investor Armas Clifford "Mike" Markkula invested USD $250,000.
1983: The Turnaround Year and an Iconic Question
This was a transformative year for Apple. Initially, the company hired Mike Scott from National Semiconductor as its CEO. Later, Jobs managed to recruit John Sculley, then the CEO of Pepsi-Cola, with an unforgettable pitch:
"Do you want to sell sugar water for the rest of your life, or do you want to come with me and change the world?"
During his tenure, Sculley spearheaded Apple's growth, taking the company's sales from $800 million to a staggering $8 billion. By 1987, he was the highest-paid executive in Silicon Valley, earning USD $2.2 million annually.
1984: The Dawn of the Macintosh Era
This year marked a significant milestone in Steve Jobs' legacy of innovation. He introduced the Macintosh, the first commercially successful personal computer to feature a Graphical User Interface (GUI). Though initially led by other team members, Jobs eventually took over the Mac's development.
While the company appeared to be on a path of success, an undercurrent of tension was subtly brewing among the founders.
1985: Steve Jobs' Departure from Apple
This year marked a pivotal moment for both Apple and Steve Jobs. Amid an internal power struggle and the announcement of significant layoffs due to disappointing sales, Jobs was removed from his role as the head of the Macintosh division by John Sculley. Ultimately, Jobs was ousted from Apple, the company he had co-founded.
Reflecting on the experience, Jobs said it was one of the best things that ever happened to him: "The heaviness of being successful was replaced by the lightness of being a beginner again, less sure about everything. It freed me to enter one of the most creative periods of my life."
1985: The Birth of NeXT
Not one to be deterred, Jobs continued his journey of innovation by founding NeXT Computer. Although the computers were technologically advanced, they struggled to gain market traction primarily due to their high cost. Jobs' obsession with aesthetic perfection remained, but only 50,000 units were sold.
Due to production constraints, NeXT eventually pivoted entirely to software development, culminating in the release of NeXTSTEP/Intel.
1986: Steve Jobs Founds Pixar
Jobs acquired The Graphics Group for $10 million, a venture that would later become Pixar. Initially focused on high-end graphics hardware, the business struggled. However, a contract with Disney to produce computer-animated films turned its fortunes around, with 'Toy Story' being a notable success.
In 2006, Pixar was acquired by Disney, making Jobs the largest individual shareholder with a 7% stake and granting him a seat on Disney's board.
1996: Jobs Returns to Apple
Facing a series of business and innovation setbacks, Apple acquired NeXT with the primary aim of bringing Jobs back into the fold. Jobs was subsequently appointed as the interim chief executive. Upon his return, he swiftly terminated numerous projects he deemed irrelevant to Apple's future success.
Interestingly, Apple employees at the time were apprehensive about sharing an elevator ride with Jobs, fearing they might be the next ones to be let go.
2004 (Mid-Year): Jobs Diagnosed with Pancreatic Cancer
Jobs faced a grave health crisis when he was diagnosed with a cancerous tumor in his pancreas. Doctors advised him to get his affairs in order, predicting a life expectancy of only 3-6 months. Despite the grim outlook, Jobs announced that he had a rare, less aggressive type of tumor and opted for alternative treatment methods, which proved to be effective in removing the tumor.
2004 (End of Year): Jobs Takes First Medical Leave
Following his successful surgery, Jobs informed Apple's employees via email that he would take the month of August off for recuperation. He expected to recover from his cancer and return to work in September. Tim Cook, who was then the head of worldwide sales and operations – and is the current CEO – assumed leadership of Apple during Jobs' absence.
2005: Jobs Delivers Stanford Commencement Address
Steve Jobs gave an inspiring commencement speech to Stanford University graduates. The address was divided into three major themes: his early life, his exit from and return to Apple, and his reflections on mortality.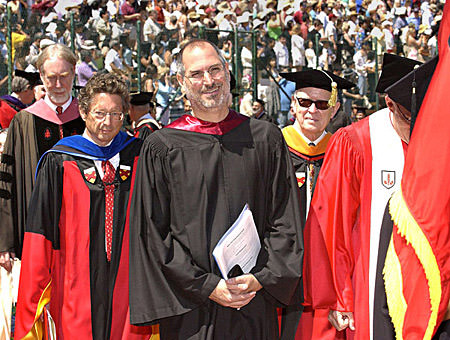 The speech concluded with timeless advice from Jobs: "Your time is limited, so don't waste it living someone else's life. Don't be trapped by dogma – which is living with the results of other people's thinking. Don't let the noise of others' opinions drown out your own inner voice. Most importantly, have the courage to follow your heart and intuition."
2007: Jobs Introduces the iPhone
Just six months after criticizing ESPN's George Bodenheimer about a lackluster phone project, Jobs dramatically shifted the mobile industry with the introduction of the iPhone. The device not only dominated the U.S. market but also revolutionized mobile phone use, pushing industry leaders like Nokia to innovate extensively.
2009: Jobs Undergoes Liver Transplant
In January 2009, Jobs announced in an internal Apple memo that his health issues were more complex than initially believed, leading him to take a six-month leave of absence until the end of June 2009. Tim Cook, who had previously served as acting CEO in 2004, assumed the role again, although Jobs remained involved in major strategic decisions. In April, Jobs underwent a liver transplant at the Methodist University Hospital Transplant Institute in Memphis, Tennessee, with an "excellent" prognosis.
2010: Jobs Introduces the iPad
Building on the monumental success of the iPhone, Jobs took another audacious step by unveiling the iPad in 2010. The device defied traditional tech categories but vindicated Jobs' vision as it became another runaway success.
2011 (June): Jobs' Final Keynote
This would turn out to be Steve Jobs' last public presentation. He introduced iOS 5 and iCloud, Apple's cloud storage service. Though Jobs allowed other key Apple employees to take the stage for much of the presentation, his limited appearance was a subtle yet poignant indicator of his declining health.
2011 (August): Tim Cook Becomes Jobs' Successor
Recognizing that his health was deteriorating and he could no longer fulfill his role as CEO, Steve Jobs announced his resignation. In his resignation letter, he stated, "I can no longer meet my duties and expectations as Apple's CEO". He designated Tim Cook as his successor and expressed his gratitude to Apple's employees for their years of collaboration.
October 5, 2011: The World Loses Steve Jobs
The inevitable finally happened, yet it felt all too sudden. Apple announced the passing of Steve Jobs by displaying his portrait on its website. This marked the end of the journey for one of technology's most legendary visionaries. His family released a statement saying Jobs "died peacefully today surrounded by his family."