Useful Microsoft Word & Microsoft Excel Templates
I believe one prominent feature that most Microsoft Word & Excel users really missed out, is the ability to use template. Template, such as budget planner, provides you a complete platform to key in the budget rather than building everything from scratch, thus allowing you to invest more time on planning kick-ass budget plan.
Of course it's not just about budget planner, with thousands of free templates available in the Microsoft Template Gallery and Vertex42, you can download any template you needed for your household planning, work project, debt calculation, just about anything you need!
To make things even easier, we have compiled 25 useful and nicely designed Word and Excel templates for you, ranged from planner to report and even calculator. Now all you need to do is download and use them right away!
Shortcuts to:
Microsoft Excel Templates
This spreadsheet is a combination of a budget planner, monthly budget and checkbook register. It helps you track your expenses and manage your budget very efficiently. You can create a yearly budget, record transactions from multiple accounts, track your monthly spending and more.
This spreadsheet lets you plan your house budget one month at a time. It's a great way to compare your projected spending to your actual spending and see where you should cut back (if needed). Negative numbers are noted in red so that you can see right away if you've overspent.
If you're just looking to create and manage your budget for the entire year, this is for you. It's a combination of family budget and monthly budget planner. It comes with a decent list of budget categories and you can add your own if needed. It also helps you plan ahead for unexpected expenses and compare your spending for each month.
This spreadsheet is used to track your current spending for the month. Each time you spend money you can record it in its appropriate location and the amount will be subtracted from your budgeted amount for the month. You can then see how much money you have to spend for the month so that you won't go over budget.
This simple spreadsheet is used to keep track of your daily tasks. You can then filter your items by status, priority, due date or name. This is great for people who still like to do things the old fashioned way by writing down to-do items and them marking them off manually. Columns can be added as needed.
Since there are so many start-up businesses popping up on a daily basis, I thought it was imperative to include on this list. This spreadsheet will help you estimate your business startup expenses prior to jumping in. There is no need to start a business if you can't afford it, so be sure to use a spreadsheet like this then you'll know whether or not you'll have ample funding.
If you're dieting or just trying to maintain your weight, this daily food log can help you out a great deal. You can keep track of everything you're eating along with calories and fat so that you don't eat too much. You can also track how much water you drink each day as well as any exercise you do. Why pay for expensive weight loss sites when you can do it yourself for free with this easy to use food log?
This spreadsheet lets you calculate gas mileage and track over time. This is useful for figuring out your average gas mileage and cost per mile, so that you can estimate how much you'll spend on trips and long distance travel. You can do measurement in kilometer unit or miles unit. If you'd like to see how you can improve your mileage, this will definitely help.
Most people use their mobile phones, email client or some other type of web app or software to keep track of contacts, but a spreadsheet can be just as handy. This easily customizable contact list is great for collaborative events or your own personal needs like mailing lists. It also allows sorting by category, last name, first name, company, email and more.
While it's good for everyone to have a savings account, many didn't make it because they feel they can't afford to save. With this spreadsheet you can calculate just how much you can afford to save. You can set your goals to save then see how much money you'll have left. This spreadsheet can be used as a savings account register and goal tracker so that you'll never be put in a bind by unexpected expenses again.
This will help you calculate the minimum monthly payment for your credit cards, then let you see how long it will take to pay them off. If you're interested in seeing just how much it will really cost you to pay off your credit cards by only paying the minimum amount (including interest), this spreadsheet will come in handy. This is the best way to calculate whether or not you can afford to increase your payments.
The main purpose of this spreadsheet is to help you repair your credit score by using the snowball effect to reduce your credit card balances to specific levels. Meaning, it will help you reduce the amount of debt you owe in relation to your credit limits, and it does this in two stages. Stage #1 involves using the debt reduction calculator to help you pay down your balance. Stage #2 involves paying off your balance entirely.
When you think of calendars, you probably think of them being made in Microsoft Word, not Excel. Well, this is a very useful spreadsheet in calendar form. You'll get calendars for the whole year and each month, and even featured photos taken by a professional illustrator named Hala Swearingen. You can of course add your own photos as well as events, appointments, etc.
This spreadsheet was designed to let you print out weekly planner pages for a 3 ring binder. It can also be used along with the daily planner spreadsheet (mentioned below). If you prefer to write out events, appoints, tasks, notes, etc or just want to save money (on an expensive app or yearly planner), then these will be very useful to you.
This spreadsheet is pretty much identical to the weekly planner (mentioned above) except it's for daily planning. If you have a really busy schedule and a weekly planner isn't enough, this will keep you organized on a daily basis. This is great for printing out and creating your own planner via a 3 ring binder. You can also customize it to fit your needs (unlike a store-bought yearly planners).
If you have an event to plan, this spreadsheet will help you manage your budget for it. You can track expenses and set a budget so that you don't go over. You can also calculate the cost per person.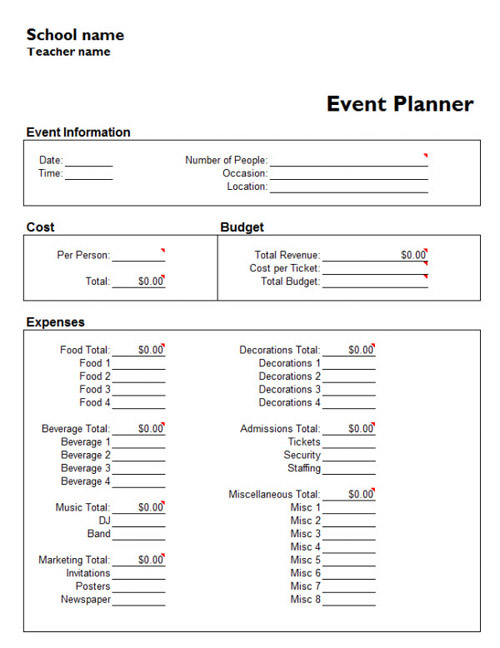 Microsoft Word Template
If you like the above-mentioned to do list in Excel, you may like this colorful to do list in Word. It's broken up into different sections (phone calls, errands, correspondence, projects, miscellaneous tasks) for better organization. Again, this is great for those who prefer printing out a template and writing down tasks by hand.
This document gives you an easy way to keep track of your progress on a single or group project. If you have to report regularly to a project manager or client, you can use this to update your status. Each time you make a change you can note it along with the date, author and a short description.
This document has many uses, but it's mainly created for weekly reports. If you have to report to a manager or even a client about your weekly activities, this is a great way to fill them in. There is a box for each day of the week (except Sunday) so that you can write a short description of your progress, completed tasks, project status, etc.
If you have to travel for business or just for your own personal pleasure, this is a great document to help you keep track of your travel expenses. It has customizable expense options including an option to include any money that is paid for by your place of work or personal business.
This is a great way to keep track of tasks and chores for the week. It shows the days across the top row and time (in 1 hour increments) in the left hand column. If there are things like housework, school work or business tasks that you repeat on a weekly basis, this is a nice way to keep them organized and see them all at a glance.
Many companies use market research surveys to find out more about their customers. Many times it also helps them to decide on new products and features to offer. This template is great for companies that want to gauge the loyalty of consumers to a specific brand or product.
Going along with Business Startup Costs template mentioned above, here is a press release template that can be used to help you to spread the word about your new product or service. If you don't like this setup, you can try the professional or elegant design. Both of these give you instructions on how to customize and create an effective press release document. Having a professional looking press release can really help jump start your new startup.
If you ever need to send a fax, it's important to have a cover sheet so that you can include the sender and recipient information. This professional cover sheet is sure to do the job. If you're looking for something more creative, the Clipboard and Arc designs might suite your needs better.
Labels
Labels are great for mailing lists for your business or for your own personal tasks, like mailing out holiday cards. These are very easy to create, especially when you're using a Word template. You'll see that there are many sizes to choose from; you can have large or small one depending on your needs. Labels are also great for organizing your home or office.
That's all. We hope you find them useful!