Top 20 Wireless Charging Pads for iPhone 8 and X
Wireless charging was one of the headline features of the new iPhone devices in the September 2017 Apple event. Although, you'll be able to get your hands on the new devices soon, but Apple didn't release any wireless charging pad to help you wirelessly charge your device. All we got is an introduction to Apple's AirPower wireless charger that won't become a reality till next year.
Thankfully, Apple choose to use the standard Qi wireless charging technology, which is supported by most of the wireless chargers in the market. To help you find the best wireless charger for your shiny new iPhone, I am going to list 20 best wireless chargers that can work for the iPhone X, 8 and 8 Plus.
Read Also:  5 Unorthodox Smartphone Chargers
Our Top Picks
Let's start with something cheap and reliable that should work fine for most users. This wireless charger by CHOETECH offers the standard 5V power output and has rubber design to prevent the phone from slipping. There is an LED light that keeps you updated with the charging status. For example, a blue light will show up when the phone connects.
It only has one coil for wireless charging so you may have to adjust a bit to connect the charger. And the AC adapter is not in the package, so you'll have to use your iPhone's adaptor.
With the introduction of the iPhone devices, Belkin also introduced its new wireless charger specifically created for iPhone 8, iPhone 8 Plus, and iPhone X. Belkin has worked closely with Apple to create the wireless charger to ensure you get a hassle free experience. The company promises that you'll just have to place your iPhone on the charging mat and it will automatically connect without any adjustment required.
The charging mat has an anti-slip design, and Belkin also throws in an AC adapter to ensure you'll have everything you need to charge your phone.
Buy on Belkin ($59.99)
Similar to Belkin, mophie also introduced their new wireless charger specifically created for iPhone 8, iPhone 8 Plus and iPhone X. The main difference between these two competitors is probably the more compact design of mophie wireless charging base.
The charging mat has a rubber base to prevent slipping and it seamlessly connects to your iPhone as soon as you place it. mophie also promises that later this year faster charging will be enabled as a free software update.
Buy on Apple ($59.99)
Yootech provides a sturdy Qi wireless charger with smart charging to prevent the phone from heating up. The charger automatically goes on standby mode when the battery is full to ensure unnecessary heat isn't generated and you also save power.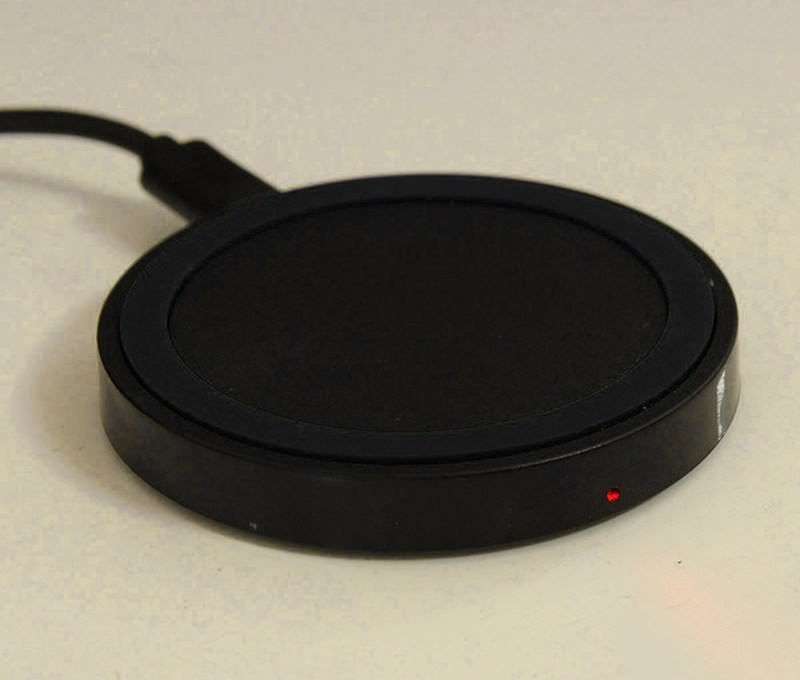 Being a single coil wireless charger, you'll have to adjust the position a bit to connect the phone. The red and green LED lights will help you with the positioning. It also has rubber base to prevent slips.
For a rather small price tag, Cloele wireless charger offers an impressive set of features. The wireless charger has a built-in 0.7-watt fan to help cool down your phone. Heat usually slows down the charging process, so this basically helps speed up the charging process as well.
Additionally, it has two charging coils allowing you to easily connect the phone and even use it in landscape or portrait mode while charging thanks to the inclined design.
Another cheap and reliable option in this list, Anker wireless charging pad has a compact design to make it easier to carry around, and it comes with an anti-slip base for the safety of your phone. There is a built-in temperature control that kicks in when the temperature reaches 107° Fahrenheit. The charger goes on standby mode and save both energy and prevent the phone from heating up.
You'll have to properly adjust the device on the single charging coil. For that, two LED lights are available to tell you if the phone is properly placed or not.
TYLT VU is created to allow you to seamlessly charge your phone while still being able to use it. It has total 3 charging coils that basically allow you to place your phone anywhere on the mat and still get perfect charging.
It also has a 45° inclined design to let you interact with your phone while charging. You can put the phone in both portrait or landscape style and the charging will work. You can also take advantage of the fast charging feature on supported devices.
This wireless charger from Insignia™ has a really sleek design that both looks good and fits easily in your bag. There is a blue LED light to indicate charging status, which is not so bright that it irritates you in a dark room.
Even with a low price of $16.49, this charger is shipped with complete accessories. This includes a charging mat, USB cable, AC adapter and a user manual.
This is actually a 2 in 1 charging pad that works as both a smartphone stand and a charging pad. Unlike TYLT VU or Cloele, DISDIM has a fully adjustable stand which you can slide and even adjust the angle. You can also take off the charging pad from the stand and use both of them separately.
To easily carry around, you can fold the stand and slide it in your bag. It's also made of a high-quality durable material with full aluminum alloy and ABS construction.
If you don't mind a rather bulky wireless charger, then this is a great option. CHOETECH wireless charger comes with everything you'll need to both interact with your phone and charge it at the same time. It has an inclined design with rubber grips to firmly hold your phone and let you interact with it easily.
There is a fan located at the back that keeps the phone cool while charging, and it automatically stops charging when the phone reaches 100% battery. Overall, CHOETECH wireless charger stand is a really safe and convenient wireless charger.
More Options:
Conclusion and suggestions
The offering of Belkin and mophie is attractive as they have directly worked with Apple to create these chargers. However, they are very expensive and won't actually make any difference when it comes to charging your iPhone. Although you might like to go for them if you trust these brands for quality.
Nevertheless, all the wireless chargers mentioned above are able to charge the new iPhone devices and can do it without any loss in charging performance or damaging the phone.
Read Also:  Fuel For Your Phone: World's Smallest Smartphone Charger