20+ Ideal Gifts for Photographers
In this generation, we prefer to tell our stories through the lens of a camera than through the complexities of the written word. It's either that or we just forgot how to spell words properly. Then again, nothing explains the serenity of a blue sky or the grace of a galloping horse quite like having that moment locked in time – be it by a DSLR or a point and shoot.
That kind of explains why almost everyone knows a photographer, or is one nowadays. Much like the art of photography, the art of giving also needs sources of inspiration. Forget the thousand-dollar lenses or the hundred-dollar filters; try your luck with the following gift ideas for the avid photographer. And even if the receiver isn't a fan of photography now, you could very well turn him or her into one, with these awesome gifts.
We have the bracelets for causes, friendship and love, so it was only a matter of time before lens bracelets came into the action. The ideal gift for photographers who are into each other as much as they are into taking photographs, the lens bracelet is also the perfect accessory that goes fashionably well with the rest of the gadgets.
Whether you're a RAW photographer or a JPEG photographer, once you've tired a WhiBalTM G7 Pocket card, you can never go black – I mean, back. A great reference card for colour neutrality, this light gray card 'tells' your camera what white should really look like – that is when it is absent of any other colour. With a WhiBal, you don't have to deal with mal-adjusted colour tinges in your photographs no more.
Related: White Balance cap
If you're going to be snapping photos with your DSLR, you might as well transport them from one device to another in… a DSLR as well. A miniature-sized DSLR that carries 4Gb of your best work spells pure genius in my book!
Related: USB Film Roll
Not only do we want our work to stand out, let's face it, sometimes it doesn't hurt to let just some of the limelight fall on the person behind the lenses. Customize and showcase your – or your friend's – personal style with HighKey camera straps.
(Price: $20.00 – $45.00)
Related: BlackRapid R-straps, OpTech straps, Camera Strap Buddy, Luma Loop
Do you have an adventurous friend who cannot live without his or her camera phone? Why not get them phone lenses for that SLR quality and higher picture-snapping flexibility? Who says only camera owners can have all the fun?
(Price: $20.00 – $49.00)
Related: Telephoto iPhone Lens
Remember how your dad/mom/teacher looked when you gave them their "The world's greatest _____________" mug? Well this is to make up for the lack of a "World's Greatest Photographer" mug. P.S. I prefer this alternative too.
Related: Nikon Camera Lens Mugs
This Bokeh kit can turn out to be a great source of fun – or frustration – to the receiver. While the verdict is still out on what makes for a good Bokeh, thank, or prank, your friend with this 21-cut-outs kit for the Bokeh enthusiast.
Looking like a cross between a three-legged squid and that molecule model in your seventh grade science class, the gorilla pod is actually a great addition to the outdoor photographer's bag of tricks. Let it cling, grab or grapple onto anything you can wrap its bendy legs around and one can break barriers by producing mind-boggling angle shots. Trust me, everyone will love this!
Related: Monopods, Monsterpod
Missing conversations bogging your creativity down? The chalkboard bubble speech can be the answer to all your problems, and then some. Disclaimer: We're not liable for lowered levels of productivity of our readers.
(Price: $29.00)
Can't upload your latest snaps to the Net fast enough? Upload them via your iPad with this camera connector. This should hold the fort until they make Wi-Fi enabled cameras. What am I talking about? They have!
Don't we all wish that we could spend less time fixing our photographs and more time taking them? Get this hood that directs the flash upwards for a wider spread of natural light and say goodbye to red eyes, annoying shadows and background-less snapshots.
Related: Ring Flash Adapter, Pop-Up Flash Diffuser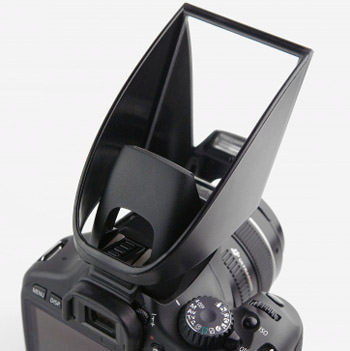 It's waterproof, it's affordable and it works underwater! What's not to like?
So you've gotten her her fifteenth photography book for her birthday. I'm sure she'll appreciate these bookends well decorated with vintage cameras on both ends as a great book-stopping addition to her growing book collection.
With all those gadgets, gears, tools and kits to lug around, one can definitely appreciate a handy backpack that has all the right-sized compartments at all the right areas. It also has a designated space for a 15.4" notebook, perfect for one who shoots on the move.
When was the last time your photographer friend got frustrated over a full memory card even before the start of the event he wanted to cover? With this card, his photographs can be uploaded automatically, via Wi-Fi, to a safe storage space (his laptop, Android device, iPad or even his photo-sharing account online) to immediately free up valuable space. Equipped with a Geotagging feature, this memory card is the best companion for photogs who are always on the run.
Related: Eye-fi for iPad
The last roll of Kodachrome was developed at the end of December 2010 and with it died the photo-album sharing obsession of grandmothers everywhere. Sure, you can still print photos from the digital camera but it's just not the same, is it?
Salvage your obsession of sharing photographs with unsuspecting friends with the Easyshare Digital Frame. Just slot in your memory card and initiate the slideshow for a complete cinematic (albeit a mini one) experience that will add colour to your days from the top of your work desk. It makes for a sleek gift for people in the office too.
Related: Smartparts SPX8 Digital Picture Frame, Hewlett Packard DF820A3 Digital Photo Frame, Mailable Photo Frame
If the underwater digi-cam is not enough for a photographer who just would not let you pry his SLR from his fingers, you can always get him a camera case that would keep his equipment dry, even if he has to get himself wet in the process. Aahh, the lengths photographers would go through just to get that perfect shot.
The title says it all: it's a camera that gives you panoramas by spinning 360 degrees while taking seamless surround-view photographs. It's the perfect gift for someone who likes experimenting with new photo-taking techniques – especially one that gets the photographer in the picture as well!
Lomographers who own the Canon EOS would definitely love this bundle of joy. With a quick flick of the SLR Adaptor, you can plug in your Diana+ fisheye lenses, super-wide lenses, wide-angle and close-up lenses, or telephoto lenses to get hours of wacky fun.
Related: Nikon SLR Adaptor & Diana Lenses Bundle, LensBaby, 4-in-1 German Lens Kit
Adobe never fails to impress when it comes to corrective photography and Lightroom 3 is not going to be the first to break that record. The software contains a wide range of editing tools such as for noise reduction, contrast, colour tune, lens correction among others; video file support; organized and elegant web galleries that are integrated with online photo-sharing sites – ideal for the photographer who aims for perfection and nothing less.
Related: Apple Aperture
The spirit of the Polaroid is strong in this one. Like how its ancestor rolled, the user snaps his photo and prints it out on the same device with the Polaroid PoGo. Crop, add a border or edit the snaps whichever way you want on the camera's 3" LCD screen using the built-in editing tools before printing them out. Another surprise this little gadget has is that it does not print its photos with any ink. Instead, the device heats up dye crystals embedded in the Zero Ink or ZINK paper that is specially produced for the PoGo.
Related: Fujifilm Instax Mini, Polaroid album
An account that no photographer should go without, Flickr is the perfect social networking site for lovers of photography. The Pro account provides unlimited storage space and best of all, no ads!
(Price: $24.95)
Only one-sixth of the actual SLR model itself, these mini model cameras are exact replicas of their larger-sized cousins and we're not just talking about the body here. It comes with three interchangeable lenses, and all the buttons and dials at all the right place. If you have a friend who already has every camera model in the market, this will definitely prove to be an awesome addition to their collection.s
(Price: $28.00)
More Gift Ideas
Shopping mode on? Here are more ideas for gifts and present for you: