How To Hide Stock Apple Icons On Your iOS Device [Quicktip]
Your iOS device comes with a lot of apps that, frankly, you do not need or use at all. These apps, such as Compass, Voice Memos, Stocks, Videos, Newsstand or Game Center are also known as 'Stock Apple Apps' – they came with the device. And everything that came with the device, stays with the device.
Yup, you cannot delete these apps, so you can either leave them where they are or chuck them into a folder and place that unsightly folder in a far corner of your home screen…
… or you can hide them. Today we're going to show you just how to do that. With this simple trick, you can hide apps that cannot be deleted, without jailbreaking your iOS device.
'Delete' Those Unused Apple App Icons
The first step is to use Safari on your iOS device and access RAG3HACK. Once there you'll see a list of things you can do. Go to 'Hide Apps no Jailbreak'.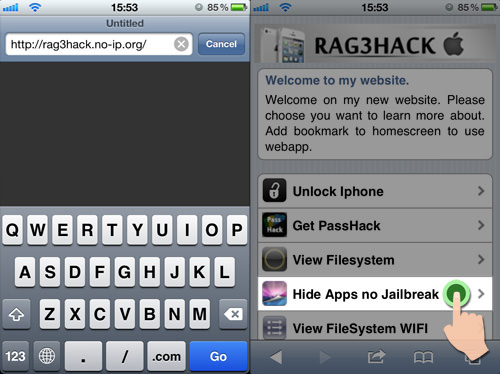 You'll now be directed to another page where you will see a description about what this tweak does. Scrolling down, you'll see all the icons that you can hide. These icons will include Passbook on iOS6 and the old YouTube icon that cannot be deleted on iOS5 and other versions below (iOS4, iOS3).
To hide your stock apps, finding 'Widget' and tap on 'Hide Stocks'. You'll then get a prompt to install 'Stocks Hide'. Tap on Install.
The 'Stocks Hide' app should be installing. But after a few seconds woops, the application failed to install. Do not be alarmed, as this is supposed to happen. Tap on Done to continue.
You're now left with the stock icon greyed out with a 70% completed installing bar. Now tap and hold an icon to go into the Wiggle mode – as if you're going to delete an app. You'll see X's at the top of the Stocks app! Delete the stock apps that has been holding up your home screen space to hide them.
And that is it, your Stocks app will be gone. If you followed the steps above, you'll notice that the other apps that came with the phone cannot be deleted, which is why this tweak was made.
To delete other apps that you have no use for (like Compass), go back to RAG3HACK and repeat the above process to Hide Compass.
Conclusion
Do note that this hiding game is not permanent. If you restart your device, those stock apps will return. If you want to hide them again just redo all the steps above.