Google's Backup & Sync – What You Need to Know
In June, Google announced to the world that the desktop Google Drive client will be succeeded by a new Backup and Sync client. After running into a slight delay, the app is now available for Windows and Mac users to download and use. Here's what you need to know about the new Backup and Sync client.
Read Also:  Google Drive Tips and Tricks (Part I)
Setting up Backup and Sync
When Google first announced Backup and Sync, the company mentioned that the app is meant to replace both the Google Drive client as well as the Google Photos desktop app. With that in mind, do note that upon installing Backup and Sync, you'll lose both the Drive and Photos app once the installation is complete.
The first thing you'll need to do once Backup and Sync is up and running is to login to your Google account.
After that, Backup and Sync will ask you if you would like to sync only videos and photos, or you would like the sync other files as well.
Rounding up the initial setup, Backup and Sync would prompt you to choose the folders that you wish to backup or sync with Google Drive and Google Photos. The app will also ask you if you wish to store your photos and videos in "high-quality" format or in "original quality" format.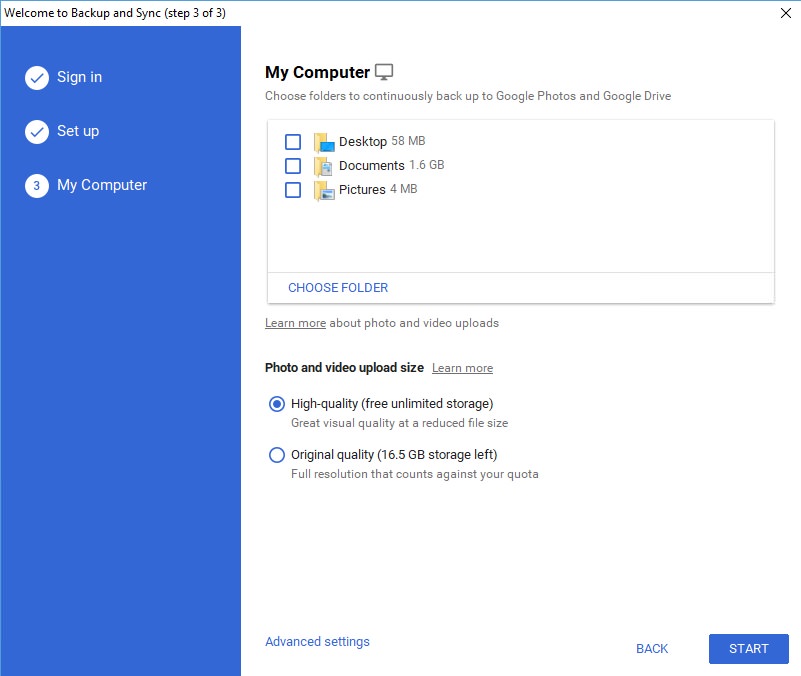 Quality formats
So what does high-quality or original quality mean with Backup and Sync? These two are categories that are used by Google Photos to sort its images.
High quality format
For those who select the high-quality category, you'll be able to save an unlimited amount of videos and images onto Google Photos. However, the tradeoff is that photos that are larger than 16MP will be compressed and resized to 16MP. Additionally, videos that are shot in resolutions above 1080p will be downscaled to 1080p.
Original quality format
As for original quality, users will be able to upload their videos and images onto Google Photos without any compression or downscaling applied to them. In return, the videos and images in question will consume a chunk of their storage quota. There is a way to bypass the storage quota, but you'll need to own a Pixel phone in order to do so.
If you're just an everyday user that takes the occasional selfie or two with your smartphone camera, the high quality option is good enough for you. However, if you're a professional videographer or photographer, the original quality option will probably be your first choice
Additional options
Upon completing the initial setup, the first thing you should probably do is to access the application's Preferences menu. Through the Preferences menu, you can choose to enable the applications ability to automatically sync photos and videos of any USB device or SD card that is connected to the desktop.
You will also be given the option to create a Google Drive folder on your desktop in the Preference menu.
Using Backup and Sync
Using Backup and Sync itself is pretty effortless as all you need to do is toss the files into the appropriate folders. Once you've added a new file into the marked folder, the application will immediately sync it to either Google Photos or Google Drive.
While the app likes to push itself as a tool meant for syncing and backing up images and videos, you can also use the app to backup important files and documents.
If you're particularly ambitious, you can also choose to backup your entire machine with the application. However, if you intend to do so, you'll need to make sure that your Google Drive has the capacity to store it. Thankfully, the app does have a direct link to the Google Drive upgrade page if you require it.
Overall, the new Backup and Sync application is a boon for anyone who is heavily reliant on Google Photos, Google Drive, or both. The general ease of use and the straightforward setup means that you can have this system running in just minutes. Most importantly however, with this new client, you'll no longer need to juggle two separate applications.
Read Also:  Google Drive Tips and Tricks (Part II)