10 Essential Questions for Switching from iOS to Android
Here are some tips to help you migrate from iOS to Android as easily and quickly as possible.
Are you migrating from or ready to migrate from iOS to Android? First of all, welcome to the community! Secondly, though it's quick and straightforward, it is going to take you sometime before you find yourself at home with Android.
Through this post, I'll help you migrate from iOS to Android as easily and quickly as possible. So let's begin.
Can I use an eSIM on Android phone?
Yes, you can use an eSIM on your Android phone in the same way as you can use it on iPhone.
However, at the time of writing, there are a few Android phones that offer the eSIM feature — as is with iOS devices. For instance, you can use the eSIM on Google Pixel 2, Google Pixel 3, and Samsung Galaxy Note 9.
If you are switching to any other Android phone, you need to buy a physical SIM — be it be micro or nano-SIM — depending on the slot on your phone.
How to transfer data from iOS to Android?
There are multiple ways through which you can transfer your data from iOS to Android, but the easiest one is by using Google Drive. Please follow the below steps to transfer your data in a hassle-free manner:
class="steps"
Download Google Drive from the App Store on your iPad or iPhone.
Open the Drive app and click the cog/gear icon in its menu.
Now in the Settings, click Backup for the backup wizard.

Click START BACKUP to backup all your data. You can also choose the data items if you want to back up the items individually.
Once it's done, sign in to your Android device with the same Google account that you used to sign in to the Google Drive on iOS.
Finally, restore the data by importing the backup from the Drive.
Note: Remember to turn off iMessage in iOS before removing the SIM card else you will not receive the text messages in your new Android phone.
How to copy contacts from iOS to Android?
Again, there are several methods to solve this problem, but let's take the easiest approach — using Google Drive.
Follow the steps given in the above section, but in its step #3, click Contacts instead of clicking START BACKUP.
How to move calendars from iOS to Android?
Once again, let's stick to the easiest method in the list to solve our problem of moving calendar data from iOS to Android.
Follow the steps shown in the second section above. However, please remember to click Calendar events instead of clicking START BACKUP in its step #3.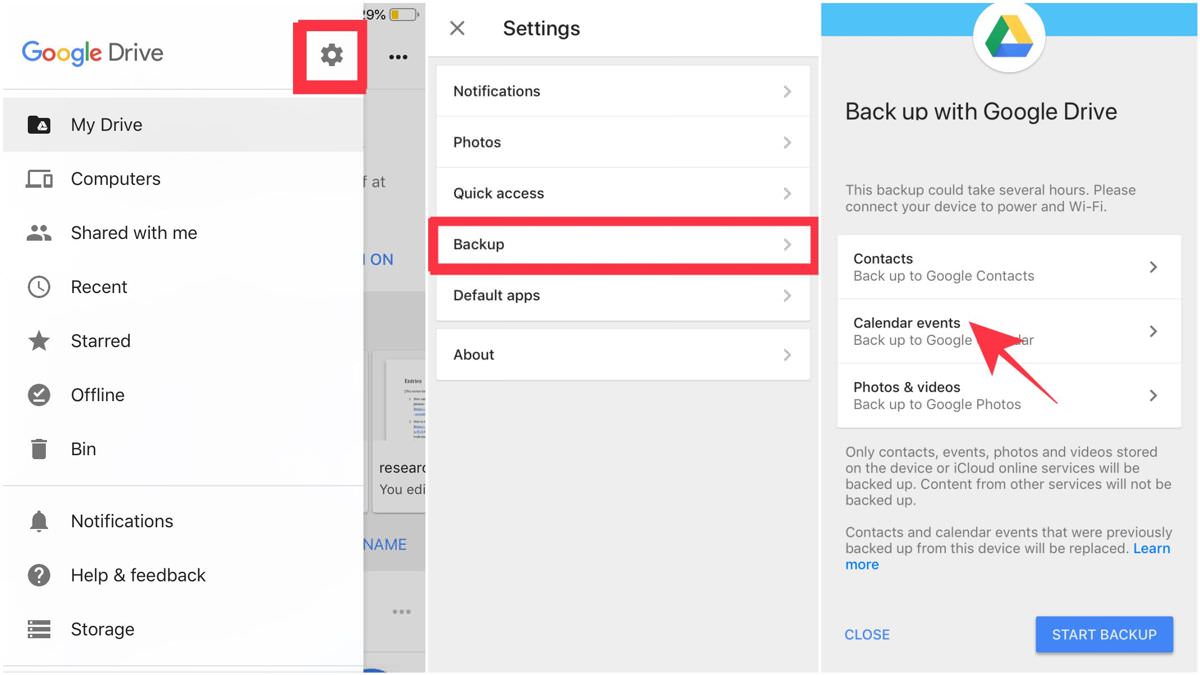 How to migrate media from iOS to Android?
It's easy to transfer your media — photos and videos — from iOS to Android using Google Photos. You can upload unlimited photos in high definition or in their original size based on the free space in your Google Drive.
Moreover, the number of videos — you can migrate — will depend on the free spaces available.
You just have to follow the mentioned steps for using Google Photos:
class="steps"
Download Google Photos from the App Store, and open it.
Open its menu, then click Settings > Backup & sync.
Toggle on the option named Backup & sync, choose the Upload size and toggle the options under When to back up per your preference.

Google Photos will upload the media from your iPhone to its servers. It will take time per the amount of media and your connection speed.
Finally, download Google Photos from Google Play Store in your Android phone and open it to find photos and videos from your iOS device.
Can I use iOS apps & services on my Android?
Unfortunately, it is not possible to use Apple apps and services on your Android device. The reason being: Apple — unlike Google and Microsoft — does not offer its apps and services apart from their own platforms.
Nevertheless, once you switch to Android, you can use a plethora of apps provided by Google. Google leaves no stone unturned when it comes to providing essential apps and services. Also, its apps and services work on most platforms and feature cloud sync as well.
Moreover, I find that there are better alternatives, like Google Assistant over Apple's Siri. Here are more of its apps (90+ in total):
Can I transfer and use iOS apps on my Android?
Haplessly, iOS and Android are very different platforms, hence the apps that run on these operating systems are developed differently altogether.
That means you can't simply transfer your apps to Android and get them running.
Instead, you need to download their Android versions from Google Play Store. The popular apps for entertaining yourself, managing social lives, and playing games have their counterparts for Android.
For example, Facebook, Snapchat, Spotify, Twitter, VLC for Mobile, etc. are all available on Android too.
Of course, some of the apps are exclusive to iOS, so you may not find them on the Play Store. Nevertheless, there are a ton of great replacements for such apps on Android.
However, you may not get the in-app purchases and subscriptions you made on iOS. You will need to purchase them again on Android.
How can I transfer WhatsApp messages to Android?
Unfortunately, it's not possible to get your WhatsApp chats on your Android device once you switch from iOS to Android.
The reason being: when you back up WhatsApp on your iPhone, your messages are stored in Apple iCloud.
However, the Android's version of WhatsApp uses Google Drive to backup and restore the messages.
Hence, both these versions of WhatsApp are incompatible with each other when it comes to the backed up media and messages. And that is the reason you cannot transfer the messages from iOS to Android, sadly.
Can I check or monitor my phone usage in Android?
Of course, you can monitor your screen time through an app named Digital Wellbeing, which was released along with Android 9 Pie.
You can have a glance at a visual breakdown of the time you spend on your device — be it for gaming, socializing with friends and family, or enjoying music and videos.
The feature that most interests me is Wind Down. It fades your phone's screen at night, reminding you to stop using the device to enjoy a good sleep. Moreover, you can set daily timers for limiting your time to a set of installed apps. I find it useful to restrict my daily usage of addictive games and social apps.
5 Apps to Monitor Mobile Data Usage
5 Apps to Monitor Mobile Data Usage
It's always a good idea to keep track of your mobile data usage so you can avoid exceeding... Read more