25 Free Magazines You Can Download From Apple App Store
Magazines are a good way to keep yourself updated and entertained about your favorite topic. And it makes an even better pastime when you can read your favorite magazine on your mobile device.
In this post, we are featuring a list of free magazines for iOS. You can subscribe to any of them, download for offline reading, and even share the content with friends and followers. Let's jump right onto the list.
Really is you all-you can-read free magazines app. It offers a collection of over 5000 magazines from all over the world (including back issues). You can download your favorite ones for offline reading and even share the magazines with your friends on up to 5 devices. There's also an option to search any keyword across all magazines to pick the content that you're interested in.
A free newsstand app, Zino features the best magazines on a wide variety of topics including tech, news, business, food, home, art and lifestyle etc. You can read the magazines in traditional layout or through an innovative text mode. There's also a big collection of free articles from famous publications. All the articles can be bookmarked and shared with anyone.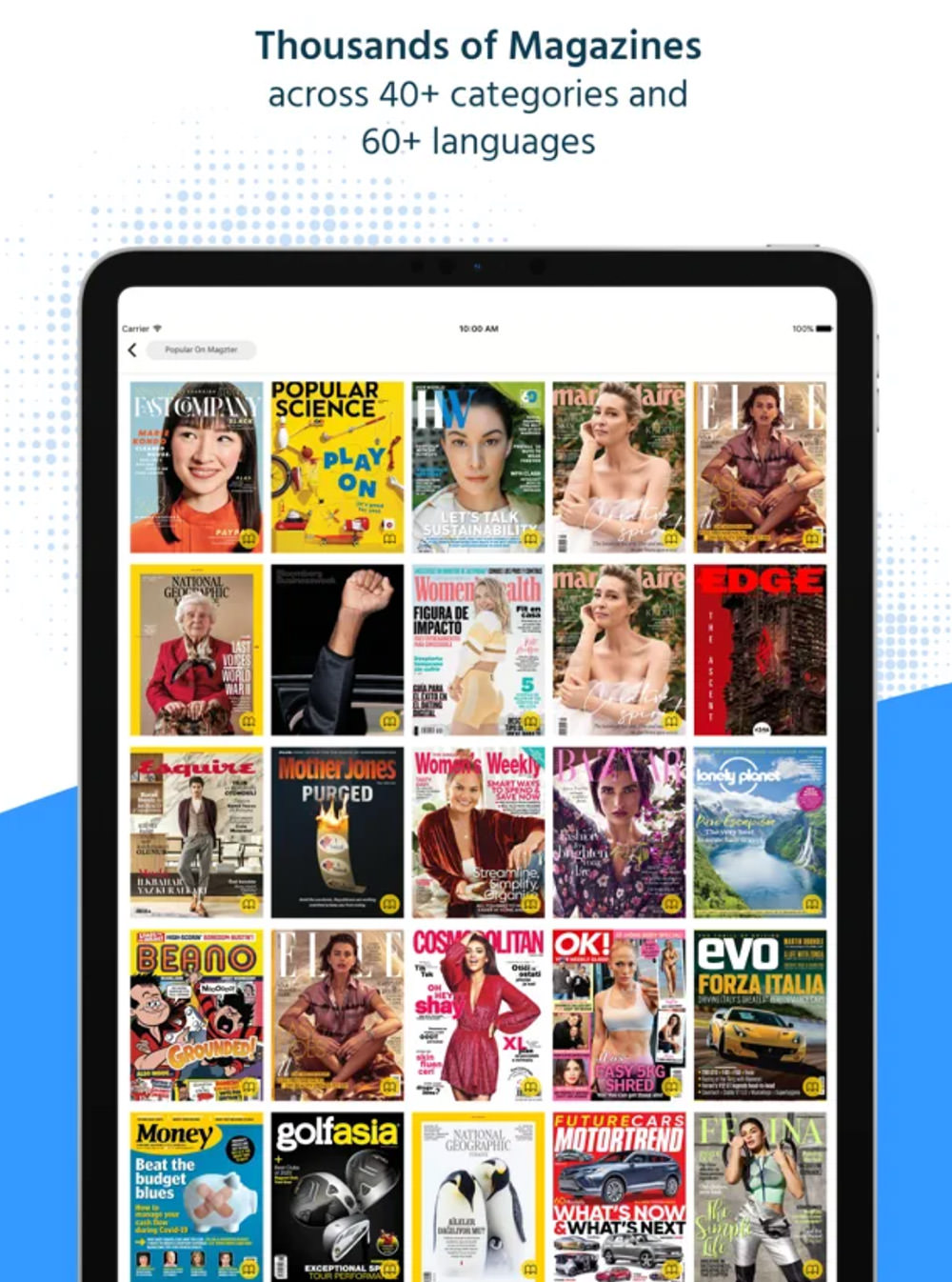 Magzter Newsstand contains a collection of thousands of publications from all over the globe and across 40+ categories. It offers ezRead feature that presents magazine and newspapers in responsive layouts as well as offline mode for on-the-go reading. You can also share your favorite articles on social media sites. It's free for 7 days and then you have to choose one of its easy subscription models.
Medium is an interesting open platform that has a readership of more than 170 million members who read and share interesting content from science tech and lifestyle to everything under the sun. It allows you to follow writers and publications of your interests and they make recommendations as well. You can also join the conversation or share your own ideas on any topic and grow your audience.
An award-winning content curation app, Fibboard is a place where you can find any and all kinds of content related to your interests. You can use it to keep yourself updated on latest news from world-famous newspapers, curate stories that you can share with your friends or followers, create smart magazine with personalized newsfeed and a lot more.
People magazine is the best source for all kinds of Hollywood and entertainment news and their app brings you all the fun content right to your mobile phone. It features pictorial and written content along with interesting scoops and older editions (as it's published 52 times a year). You can customize your reading experience, download magazine for offline reading, receive new issue alerts, and listen to the content through text-to-speech mode.
For nature lovers, here is the National Geographic app that brings you all kinds of interesting news, views and information. It gives you access to the most captivating stories and photo galleries from around the world. You can download any article for offline reading, create a personalized story list, and a clean and ad-free reading experience.
The iOS app of the world-famous TIME magazine brings you award-winning articles, breathtaking image galleries, and breaking news through a wonderful mobile experience. You're able to read it in the traditional magazine mode or innovative text mode. There's also an option to bookmark the content that interests you and share it with anyone.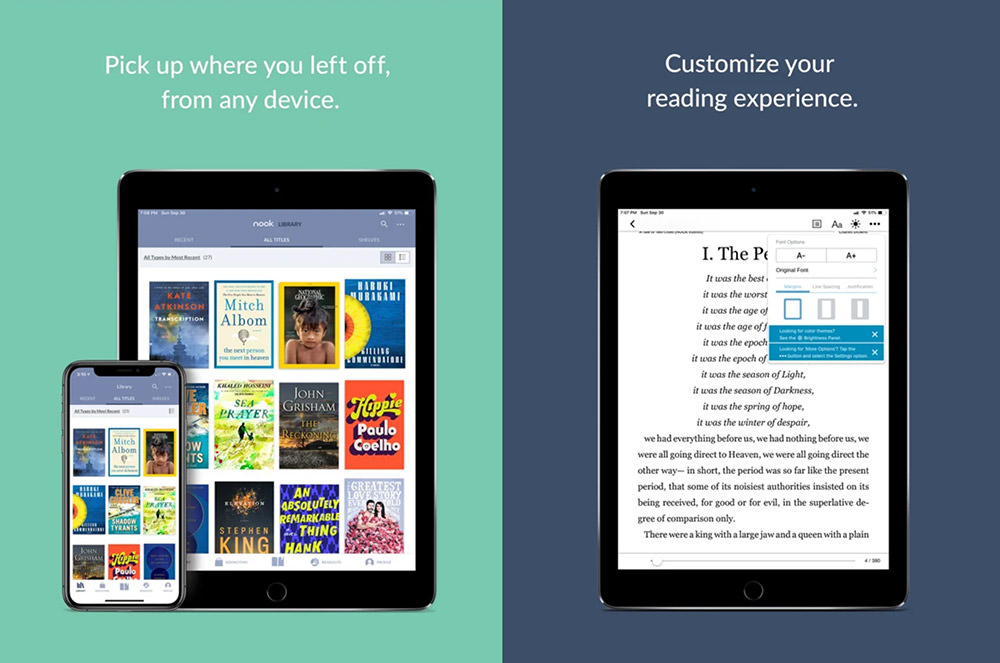 Here is the free NOOK reading app for iOS devices offering an amazing digital reading experience. It enables you to access a vast library of eBooks, magazine, graphic novels, comics and many other publications and offers its own recommendations as well. You can customize your reading experience by modifying the font size and page styles and share what you like through social sharing buttons.
Men's Health magazine app brings you all kinds of useful content based on health and fitness for men. There are tips, informative articles, interviews, and a lot more that you can benefit from. You can also share the content on Facebook, Twitter, Tumblr, and Pinterest or save anything for offline reading.
A unique one in the list, Issue app is a platform where you can create and discover personal stories and digital content in the form of a magazine. For content creators there's a whole suite of publishing tools to create and share stories. For readers, there are thousands of stories, full-length magazine, eBooks, catalogs and much more to enjoy. You can also share this content on social media.
Google News brings you global and local news stories right on your iOS device. It organizes and curates the news and articles that would interest you and presents them throughout the day. Moreover, you can get full coverage on any topic from different credible sources. You can also get Google News Widget to get the latest updates right on your home screen.
The famous WIRED magazine comes as iPad app bringing award-winning journalism and wonderful stories for you. With a stunning design and a customizable reading experience, there's so much you can get in the app. You can download any of its articles for offline reading and share your favorites with anyone.
The Rolling Stone magazine app gives you a comprehensive coverage of topics related to music, entertainment, culture, and politics. There are thousands of music reviews and opinion pieces on TV shows and movies. With an intuitive navigation style you can browse through top headlines. There are also photo galleries, customizable homepage, and real-time news alerts along with other cool features.
The Atlantic's new magazine app brings you complete coverage on topic related to politics, current affairs, culture, entertainment and much more. Its most interesting features include a clean and clutter-free reading experience, stunning video content, podcasts, estimated reading time, and even its own crossword puzzle to give you a complete magazine experience.
This is the iOS app of the popular Entertainment Magazine that offers all kinds of news, views, and articles related to TV, film industry, music, celebrity interviews, and cultural activities in general. The app is optimized for any device for seamless reading experience. You can also bookmark, share, or download your favorite content and even avail its text-to-speech function.
For Apple aficionados, Macworld is not a new name. And with the Macworld iOS app they can get all the latest news, updates, tips and informative articles on their mobile devices. It is the best source of any kind of news on Apple and its products. And not just Apple products, you can get a lot of useful information on other tech products and accessories as well.
This New York Times app for iPad offers top stories, morning and evening briefings, opinion articles from famous journalists, reviews and interviews as well as interesting podcasts. You can follow any topic that interests you and get regular notifications and alerts when there's an update on your selected topic. There's also a mini crossword puzzle that you can enjoy everyday.
Bloomberg is already a big name in the business and finance news industry. This Bloomberg app brings you the same wonderful experience on your iOS device with access to exclusive business news, trending topics, currency rates, stock exchange info, and much more. You can also live stream Bloomberg TV and listen to radio shows and podcasts.
Sydney Morning Herald app brings you credible and relevant stories from around the world. You can activate push notifications to keep yourself updated on related topics, curate the news and articles that interest you in the for a personalized newsfeed and download any of those for offline reading.
The VICE media app has everything that you want from a complete and entertaining magazine publication, that too, right on your iOS device. You can get diverse news from all around the world from topics related to culture, tech, art, music, entertainment, fashion, lifestyle, and much more. The app also offers recommendations based in your interests.
Metro Newspaper app is your all-in-one-app source of all kinds of news, updates and information on UK-centric as well as global topics. You can enjoy latest headline, celebrity gossip, photo gallery, and even puzzles for free. The app also recommends content to the reader on the basis of the topics that interest them. Also through Metro Talk, you can make yourself heard by sharing your opinion on anything.
Just as the name says, Scene is a visual digital magazine that features photos and images of most stunning and interesting scenes taken by iPhone. The platform allows you to share your iPhone photography with a vast community and get inspired by others' photography.
The Al Jazeera English app for iOS features curated content with top stories, live events, opinion articles and on-demand videos – all for free. It offers global coverage on any topic of your interest and allows you to share these with anyone through social media and messaging apps. You also get access to video and audio stream 24/7.
For gaming fans, here is Gamereactor app for all kinds of news, articles, tips, and other information related to the gaming industry. They have a vast network of writers who keep your informed about the latest happening in eight countries across Europe. There's also a video channel with game trailers and gameplay footage in HD.