A Guide to Managing Your Google Contacts
Along with all the collective Google apps, Contacts has proven to be a very dynamic address book system. What initially started off in Gmail has now evolved into its own web-based application where you can add, edit, delete, and categorize your Google Contacts.
These lists can sync with your Android phone or even with your iPhone/macOS Contacts list, provided you set it up correctly. Thus, it is crucial to keep these contacts organized and easy to navigate.
Unfortunately, Google is far from being the best at maintaining order, and the development platform is still in its early stages. I have added some helpful tips below for Google users to organize their extensive Contacts list.
The Great Division
If you began using Gmail, you likely have a very large Contacts list. The default All Contacts menu contains a list of every person you've ever emailed, replied to, called, or texted through Google Voice. It also includes contacts who have messaged you via Google Chat.
It's convenient that Google provides several default categories to start with. You can organize family members and friends into their own groups. The easiest way to manage and set up duplicate contacts is through your Google+ profile if you are a user. Otherwise, you might want to separate the contacts for business from those for personal use.
You can create new groups using the sidebar link labeled "New Group". All new groups are stored under "My Contacts," which is the master group that you can't delete. As challenging as it sounds, the most reliable way to organize all your contacts is to manually sort through the Other Contacts group.
I've had my Google account for about five years now, and currently, my Other Contacts group contains just over 6,000 people. Many of these are blank email addresses with which I've communicated in the past. If you don't want to manage a database of this size, then simply organize the people you do know into My Contacts. This can then be your go-to folder for contacts since this folder will sync with any paired Android mobile device.
Contacts in GTalk
To add contacts to GTalk, you must first send a chat request to someone or accept their request to chat with you. Afterward, they will be automatically added to the My Contacts group. This process also attaches their first and last names to the contact display.
One issue I've encountered when using GTalk is with the Windows desktop application. When you first download Google Talk and log in, you are presented with your regular buddies list. This includes everyone who is online, idle, and offline.
The problem is that it also includes all the contacts you have that are not part of Chat; instead, it pulls data from your All Contacts group. For me, this means over 5000 people and email addresses, which I don't care about, and many of whom aren't even using chat in my GTalk.
To disable this feature, look towards the bottom of the app for a "View" button. Click once to open a menu and look for "Show all address book contacts". This is checked by default, indicating it's enabled. Simply click once to disable it, and you'll notice a significant clearing out of your Chat list.
Working in the Contacts Webapp
The new and refreshed layout for Google Contacts reflects many of their recent design schemes. It bears a strong resemblance to Google Docs and functions similarly to the newer version of Gmail. Down the main column, you'll find default contacts listed with their full names, email addresses, phone numbers, and other details.
From the left sidebar, you can navigate through other Contact Groups. If you are not using their social networking features, then this list will be empty. Using the Import link, you can add any CSV file or a vCard for alternate contacts.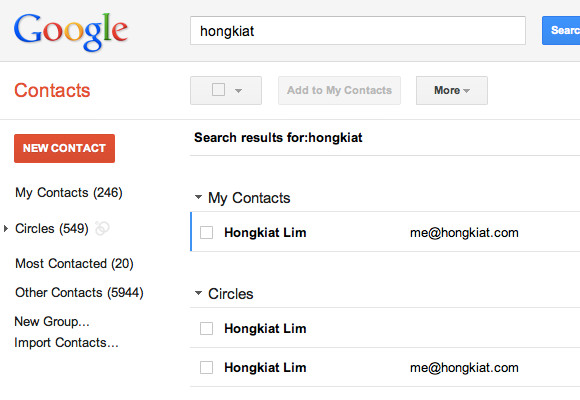 The main top menu offers some additional features, including the option to directly add a new contact. You can navigate through multiple pages using the buttons on the right-hand side.
Additionally, in the gear menu, you'll find a Settings link. This menu provides options to increase the contacts listing up to 500 per page and to toggle keyboard shortcuts on and off. You can access a full list of keyboard shortcuts from Google's support center.
User Profile Details
From the main contacts view, you can click on any user row to open up a more detailed view. At the top, you'll find the contact's name, profile photo, job title, and company, along with the groups and circles they are included in.
Much of this data can be pulled from the other contact's Google account, assuming they've filled in the respective fields. However, you can also manually edit the contact details yourself, such as multiple phone numbers, email addresses, or webpage URLs. Google even provides sub-categories such as Blog, Home Page, and Profile.
The large text area on the right has the placeholder text "Add a note". None of this information is displayed publicly or shared with your contact. I personally have never felt the need to use this section. However, it is a great place to store extra meta information you don't want to forget about a contact. These could be memorable dates such as anniversaries, yearly get-togethers, or upcoming appointments or meetings.
Merging Duplicates
This is a function that is absent from other mainstream contact books. From any Google Contacts list view, click on the "More" button to display additional options. Then, click on the "Find & Merge Duplicates" link.
If no duplicates are found, you'll receive a small popup message indicating that you have no duplicates. Otherwise, Google will present a concise list of contacts that have repeated entries across multiple group lists.
Most commonly, I discover duplicates between my primary contacts and my Google+ circles. If you prefer to keep these separate, that shouldn't pose a problem. However, to the best of my understanding, merging both listings shouldn't impact anything outside of Contacts.
Importing and Exporting
If you don't have the time to sift through all your groups and delete unnecessary entries, the export feature might be the quickest solution. Click the "More" button menu and select the "Export" link to open a new window.
From this point, you can select the group you wish to target (I've chosen All Contacts) and the desired output format.
vCard listings can be a bit more challenging to sort through. The CSV file for Outlook or other similar Microsoft products should open correctly in Excel. From there, you can browse through all the rows and even delete large blocks of contacts at once. This method makes clearing out your list much easier than trying to work within the 500-page limit in the contacts manager.
Once you've finished organizing, simply save the file and re-import it into Google Contacts. I recommend saving this copy under a different filename so that you don't overwrite the original list, just as a precaution.
Google Chat in Gmail
The new in-browser chat app is featured in Gmail. The functionality is much more refined within Gmail, making it easier to interact with your chat contacts.
If you are already logged out, simply click the sign-in link located at the top of the widget. If you can't locate a chat, click on the speech bubble icon situated at the bottom of your left column. When you hover over this chat widget area, you'll notice a new dropdown menu link appearing in the top right. One of the settings is labeled "Show in chat list". By default, it only displays "Most Popular" contacts, which can be inconvenient as you can't see who else is online.
I always change this to All contacts so I can access my whole chat list. It's worth noting that this All Contact is NOT the same as your "All Contacts" group. Instead, it just displays all contacts authorized to chat with you.
Working Small
When you hover over your contacts in the chat list, a small pop-up window appears, displaying their profile picture, name, and email.
The most efficient way to organize your contacts is to use the search box located above your chat status. As you begin typing, Google will suggest potential matches. You can then choose to add these individuals to your chat list, send them an email, or even block them.
If a person is already in your chat list, a small notification icon will appear to the left of their name. A green bubble indicates that they're currently online, red signifies that they're busy, amber shows that they're idle, and grey means they're offline. Given this interface, I rarely browse through my chat list. I can access all my contacts and virtually any functionality I need directly from the search box.
Conclusion
With just a few resources to get you started, adapting to the Google Contacts system should not take long. There is extensive support for importing contacts from third-party applications, along with a significant amount of interconnectivity.
If you have been looking to organize your Google Contacts, it will require a bit of patience and perseverance. Getting organized feels great, and Google provides the tools to make it happen. Users of Google Chat will also appreciate the straightforward access to organizing their contacts. If you have ideas or suggestions for managing contacts in Google, please share them with us in the discussion area below.