Enable Slide To Shutdown UI For Windows 8.1 [Quicktip]
Windows 8 users may find it difficult to look for the shut down button. For reasons unknown, Windows 8 users need to go through 3 steps to locate the option to shut down. In the Windows 8.1 update, you can right click on the start menu and choose Shut Down.
However if you are working on touchscreen devices, you might prefer enabling a (cooler) slide to shut down UI on your Windows 8.1. It also works on desktop and we'll show you how to set it up in this quick tip.
Recommended Reading: 20 Useful Microsoft Windows 8.1 Tips & Tricks
The Slide to Shutdown UI
The Slide To Shutdown UI is an executable file found in the Windows > System 32 folder. If you double click on the SlideToShutDown.exe file you will see your lock screen rolled down half way through the screen from the top. From here, if you want to shut down your Windows, just slide downwards (but let's not do that just yet).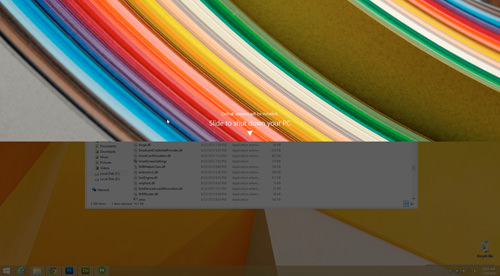 There are a few ways we can access this Slide to Shut down option quickly: Quick Search, Pin to Start or Taskbar and if you are on desktop, by setting a keyboard shortcut.
1. Quick Search For SlideToShutdown
Because of a more powerful Search function on Windows 8, you can press your Windows key to bring out the Metro UI then type slidetoshutdown.exe and press Enter to run it.
2. Pin To Start or Taskbar
You can also pin the SlideToShutDown.exe file to the Start or Taskbar. Right-click on the file and choose pin to Start or Taskbar, and the file will show up in your Metro Launcher or at the bottom of your desktop screen where the taskbar is. To shut down just run the file, the slide to shut down.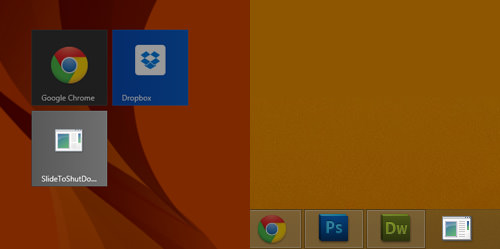 3. Create Shortcut On Desktop
Alternatively you can also create a shortcut to the file and place the shortcut on the desktop.
Right-click on the SlideToShutDown.exe file then choose Send to > Desktop (create shortcut). On the desktop, right-click on the SlideToShutDown shortcut and choose properties.
In the properties window, look under the Shortcut tab for the "Shortcut key:" field. Give this shut down shortcut a keyboard shortcut combination, for example Ctrl + Alt + Shift + S, and you're done. To next time you want to slide to shutdown just press this key combo.