20 Smashing Examples Of Customized Printed Wedding Invitations
The wedding day is definitely one of the most important days in our lives. Everything has to be perfect — the dress, the reception, the cake, the wedding video, wedding portraits, etc. When it comes to wedding invitations though, it's almost always "outsourced" when in fact, it can be one of the most personal and heartfelt part of the upcoming wedding.
In this post, we would like to share with you 20 amazingly designed printed wedding invitations. In the invitations below, you can see how the designers (possibly the bride and/or groom) play around with the colors, typography, wordings, and placements to add their personal touch. Be it classy, sassy, formal, or fun, you will find great examples for each here.
Recommended Reading: 28 Ways To Shoot Fun And Creative Wedding Portraits
K+M Wedding Invitations by Keith Evans
Wedding Stationery "Image with Bogart" / Red Orange by Pan Lis
Barber Wedding Invitations by Sergey Grigoryan
Wedding Invitation by Creative Caffeine IN
Typographic Wedding Invitations by Denis Forzi
Wedding Invitation by Uğur Altun
Wedding Invite Final 2 by Zach Graham
"I Do!" Printed. by Allison Grayce
Wedding Invite by Jose Canales
Wedding Invitation by Serena Vittoria Nitti
Wedding Invitation Adriana & Carlos by Hesor
Festive Wedding Suite by Elizabeth Baddeley Design
Final Invite and Save the Date Printed Pieces by Karli Ingersoll
Trenna & Kyle's Wedding Invitations! by Cambrin Loepker
Sweet Kiss: Wedding Invitation by Ramona Rizk
Letterpress Invitations by Cheryln Read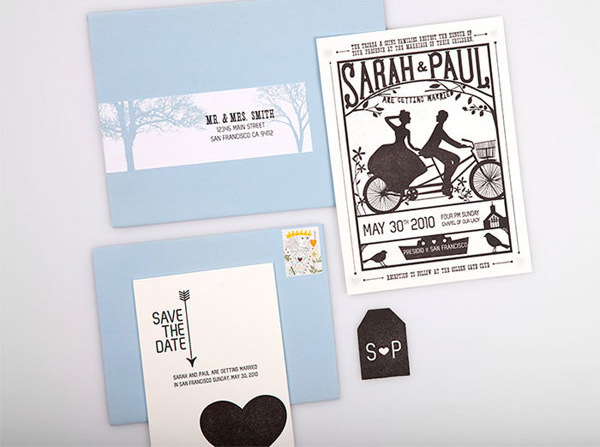 Matt & Emy's Wedding Invitation by Anders Hanson
Southwestern Wedding Set by Nikki Clark (Hampson)
Wallace Wedding Invitations by Amy Reynolds