Showcase of Creative Facebook Timeline Cover – Part II
Our last post on 40 (Really) Creative examples of Facebook Timeline Covers gathered a lot of feedback and comments from our readers. In between producing the next post for your reading pleasure, we checked out some of the links that were shared and suggested by you, and we really really liked what we saw.
For this second part feature, here is a showcase of some 33 designs that really caught our attention. And if you are still hungry for more, we have no qualms about you checking out the prequel to this post as well as the comments section for more links to awesome Facebook Timeline Covers. Oh, and if you are new to what you can do with the FB Timeline Cover, perhaps this Facebook Timeline psd template will help you get things moving. Now onto the list!
Recommended Reading: Creative Facebook Timeline Cover – Part I
513art. It took me a while to figure this out but yes, you are looking at a photo-taking session behind the lense of a classical camera.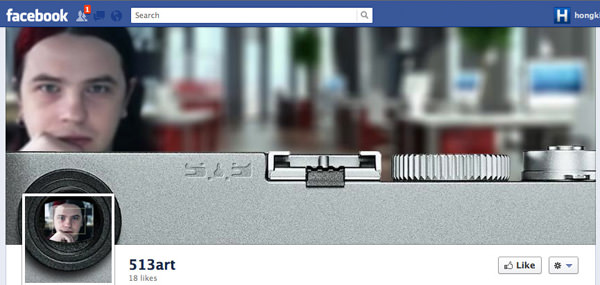 Afdhal Ys. First there was the 404 error; and here we have the 'Server not found' version. I wonder what's next.
Amber Saenz. This is pretty much the best result one can get from a vanity search. Awesome!
Arek Wroblewski. Watch Calvin and his imaginary pet tiger Hobbes come to life in this astonishing piece of work.
Gabriel Masliah. Is he on Facebook or underwater? No matter, he can be both on his Timeline Cover.
Bernard Fisher. We have come far from the negative-developing, monochromatic photos of the pre-camera phone era. Doesn't mean we can't use the idea still.
Brian A. Frette. The next time this guy gets pulled over and asked for his license and registration, maybe he can refer the officer to his facebook.
Chris Pereira. Here's a new twist to the "Where's Wally?" game. Instead of finding 'Chribby', can you find which of the pictures is not of him?
Cody Cosmo Kelderman. Betcha this 1932 lunch atop a skyscraper was an interesting one for Cody.
Craig Graham. Is it trying to turn her into an Oscar statuette?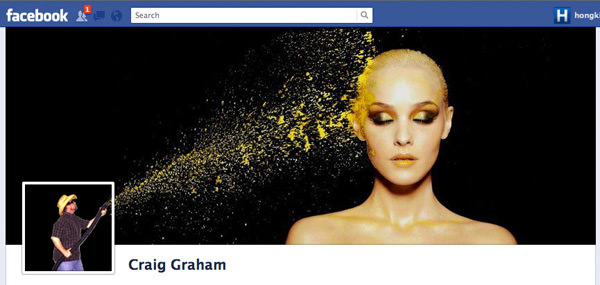 Daniel Reeve. I hate this game but I love what candy-fed Dan did with it on this Cover.
Đức Lê. So much luvvvv..
Ekkapong Techawongthaworn. It's the clothes, accessories and gadgets that make the man nowadays.
Gabriel Fort. Omigosh, do you see that? There's still space for apps here!
Giorgio Voulioti. It's no c-cret that advertising space is available here.
Graziono Vincini. He literally lost his head over this idea!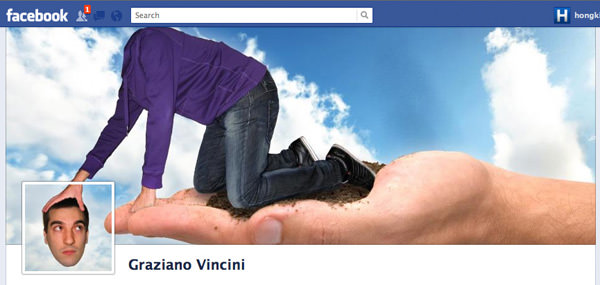 Konrad Dobson. Let your imagination run wild and your Timeline Cover would run out of space in no time.
Krister Nielsen. Fee, Fi, Fo, Fer. I smell the blood of a web designer!
Lambros Hitiris. Almost there, bro. Just a little bit more.
Marouane Nouira. I've finally found an excuse to put that Samsung Galaxy S2 tutorial to good use!
Matthew Inman. Inside, Oatmeal minions are the same like us, at least under the X-ray machine.
Mujtaba Jaffari. A friendly reminder that the best processor around is still the human mind.
Myriam Heneine. Le Happy Tree Friends still give me nightmares til today.
Rafa Ferro. Ouch, that must have hurt!
Ryan Riccitelli. You lookin' at me, kid? Now I know how the toys in Toy Story feel.
Saint Clair Family Estate. Nothing like a bottle of wine to put things in perspective.
Sebi Covaci. An artistic take on 'Face'book.
Vikram Dhiman. I know which of the X-men he wants to be.
Wesley Nazeazeno. Between my finger and my thumb, the head rests.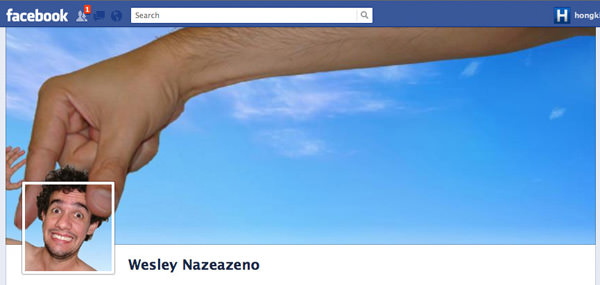 Zuhair Ahmed. A sketch that delivers the message: Everything we have under social media today came from human thought.
Facebook Timeline Cover Template (PSD)
Like what you saw? Got any idea for your own Timeline Cover but can't imagine going through all that trial-and-error to get it in the precise position? Again, you can download our Facebook Timeline psd template to help the process along. So, what are you waiting for? Time to unleash your creativity!