Easily Find HEX Code For Color Shades With 0to255
As you may know, three basic things make a website "great": typography, layout, and color. We talked about how important color is to a website's design and we covered some color tools that can help designers pick out the right color combinations they need. You can even pick colors inside Sublime Text or generate color schemes with Adobe Kuler for iOS.
In this post I will introduce you to 0to255, a simple tool that helps you find the right HEX code for color shades you want to use. It's very useful when you need to work with hover, borders or gradient color.
Shaun Chapman developed this tool by implementing the HSL (hue, saturation and lightness) model to divide the lightness parameter (ranging from 0 to 100%) into 31 parts. With the tool, you can hover over a color and see the lightness percentage appear to your right and the HEX code of that color.
Picking A Color Shade With 0To255
This web tool is very simple and easy to use and is also free. You can use it without registering first. 0to255 offers you several ways to compare color combinations.
First, you can insert your desired color in the default color picker. Visit the 0to255 site, click the "PICK A COLOR" button and a field will pop up. Type/paste the HEX code there without the pound sign. For example when picking the #d86b93 HEX color, just type in d86b93, then click the "Pick color" button.
The tool will then give you a list of other shades you may choose. The chosen color appears as the default box.
You will be provided with 30 other different colors (31 with the chosen color) from the lightest to the darkest. If you have chosen which other color shade you want to use just click on it and the HEX code will automatically be copied into your clipboard.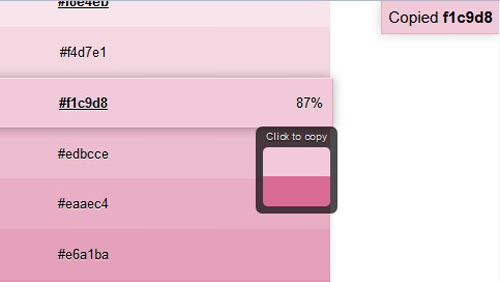 Alternatively you can just paste the color code to your URL like so: 0to255.com/d86b93. This will take you straight to the color comparison page for #d86b93.
Picking Other Colors
To the left of the page, you can pick another color straight using another HEX code (on the left), or you can pick a random color (on the right).
Or you can choose your another color from the random color list provided by 0to255 at its homepage.
Final Thought
0to255 is a great time saver for designers who just want to get the right code for the right shade to use for their design. Rather than guessing or scrambling to find the right HEX codes online, 0to255 makes it as simple as a click. Try it and tell us if it helped you with your color picking work.