60 Creative Flash Websites You Should Not Miss
Flash has been around for ages; from the days of Macromedia Flash to Adobe's acquisition. It is a platform that opens up a whole new room of opportunities and possibilities how website can be presented.
Despite the fact that Flash has limitations like SEO-unfriendly, plug-in required, slow loading (sometimes), etc, it is still one of the best approaches to create interactive websites that will impress your visitors. In today's post we've collected 60 really creative Flash websites created by expert Flash developers all over the world. Take a look, your inspiration could start from here.
More Flash websites related articles we've previously published:
Flash Photo Galleries and Tutorials
Enjoy!
The 3rd Generation Prius
Tag Galaxy is a very good flash application that uses Papervision3D with beautiful transition effects to explore Flickr photos via virtual planetary systems. You enter a tag and related tags appear with beautiful planetary systems.
Flash 3D game. Beautifully made.
If Your Milk Carton MoOOos, You Win!
Case-Mate: I Make My Case
You can design your custom iPhone case in this cool Flash application.
Creative idea with fantastic effects.
Wedding planner site from Italy. Elegant design with romantic background music.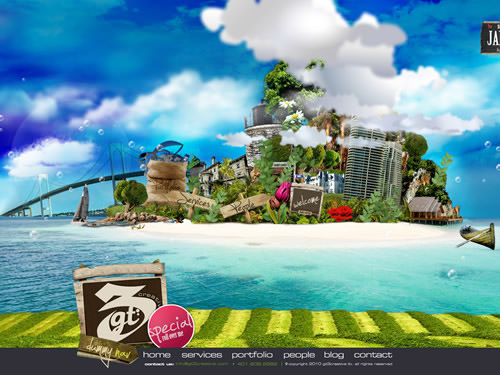 Skoda Yeti – Catch and Win!
Lois Jeans | SPRING SUMMER '09
Christmas Tweets
Pearl Jam Ten Game
Stefan Kovac – Portfolio
Flash presentation of Stefan Kovac's selected web & interactive work.
The Scruffs game – unofficial site
Beautiful graphic design, and nice animations. The website also has game.
This is the site of Ukrainian freelance designer Oleg Kostyuk.
Daniel Kusaka
Interactive Design Portfolio of Daniel Kusaka from Brazil. Interesting design.
Volkswagen Efficiency : Volkswagen UK
Portfolio of Ricardo Dias featuring web and print contents. Gorgeous design, and inspiring idea.
LECH beer in 3D
GOOD | How do we achieve harmony?
Verbatim Championship
Cool robots with cute animation.
McCafé / Make Your Own Cappuccino Art
You can make your own cappuccino art and save to gallery. McCafe from McDonalds.
HBO Imagine
Bernard Testemale's professional photography portfolio site.
Use The Profiler to visualize what's behind your profile picture, and discover what goes on in your friends' heads. You can connect with your facebook.
Red Bull Soapbox Racer is a 3D racing game in Flash.
Featuring Toyota cars: Yaris, Auris, Corolla, Avensis, Camry, RAV4, Prado.
hiroshi seo / photographs TIME:LINE
hiroshi seo is a photographer from Japan.
Samsung Jet | Smarter than Smartphone
Bloody Rage 2
Bloody Rage 2 is a 3D Fighting game created in flash using Away3D engine.
Polo
2Advanced v5 – Attractor
2Advanced Studios
Virtual Sean | The Official Sean Kingston Site
Sean Kingston Sing Along with Lil Sean Karaoke
Twigital is an interactive 3D twitter visualisation in Flash.
thetoke™ interactive / broadcast
interactive, broadcast, art, motion, sound design, and flash development.
EnergyLab
Coke Live Music Festival
The RailAway Express is an Away3D experiment looks like a roller coaster.
Aerial Virtual tour of New York City, USA
Amazing view of New York City 2009 virtual tour.
Eminem's new album website.
DJ Hero
DJ Hero website for DJ lovers.
Morgan Stanley Matrix. Ideas into action
Honda Accord 2008
SAIZEN MEDIA STUDIOS
NIGHTWISH – Saizen Media Studios portfolio of selected works. Extremely beautiful graphic design and stunning animations.
Editor's note: This post is written by Min Thu for Hongkiat.com. Founder of flashmo.com and koflash.com.