10 Brain Teaser (Sudoku Alternatives) Apps For iPhones
Playing games is one of the ways to relax, to hone reaction time, critical thinking, improve our creativity and of course, to have fun. Brain teasers test us with a series of questions and puzzles to check where our problem-solving skills lie. Sometimes you need to think out of the box to find the right answers.
We have here 10 free brain teasers you can play on your iPhone. Swap texting, social networking or mindless repeatable games for these mind-sharpening puzzles instead. It will make that wait or queue a lot bearable and now, you get one (or maybe ten) more options to better spend your time with.
20 Retro Video Games You Can Play on iPhone
20 Retro Video Games You Can Play on iPhone
Quick, what's your most favorite from your schooling days? Tetris, Pac-Man, Space Invaders? We just love these old-school... Read more
In Clockwork Brain, players will be tested through a mini series of games with time limits. It's a great app to have for those Sudoku lovers who want to play with more than just numbers.
You'll need some memory work, logical reasoning, a good eye and a love for puzzles. There is a good range of games in this free version but if you want more, go premium for $2.99.
Move The Box is a puzzle game where you need to move the boxes into groups of three, either horizontally or vertically. The catch is, there is a limited number of moves. Gameplay allows for swapping, moving and dropping of the box and if you have made a wrong move, just click the undo button.
There are over 600 levels for you to beat and hints are actually available for purchase.
What's My IQ is a game that will ask a series of questions which may seem straightforward or silly at first but most actually have pretty creative answers. The graphics are family-friendly and parents and kids will probably have a blast trying to outsmart each other (we adults do have a tendency to overthink things).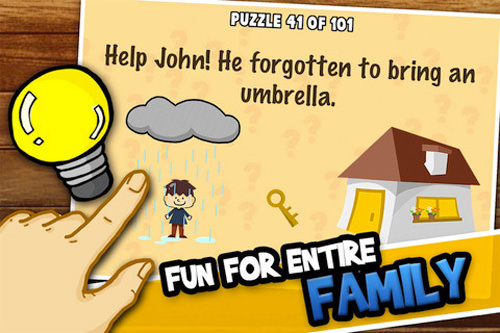 Stupidness 2 is a puzzle game that will make you think out of the box. Some of the solutions or answers to the puzzles are funny and unique, like this one you see below. The progress bar near the top will deplete the longer you take to get the question right. The bar reflects your IQ level as seen on the left. And if things get too hard, just use a hint (points will be deducted).
The Room Pocket is a first-person POV quiz/puzzle adventure game where you're presented with series of boxes you need to crack open to move on to the next level. It is a mystery puzzle game and you will be swiping around, tapping, zooming in and out and clicking on items to solve the puzzle.
If you're stuck on certain levels, there is this tool called 'eyeglass' that you can use to help you reveal the way to the next level.
77 logic games deals with boxes and putting the right things in the right box. Play by the rules and trump the puzzle to get to the next stage. There are hints in the game if you get stuck or you can just restart the game. With 77 different types of puzzles you have more than 2000 levels to keep you occupied.
You'll either love it or hate it. That's 100 Doors for you. This one is the 2013 version and the idea of the game is to figure out how to open the door based on clues you see around the door. In some levels, you have to even tilt or turn your smartphone upside down. Open a door, and advance to the next level. Living up to its name, there are 100 doors for you to unlock, so start guessing!
Knowledge trainer is like your personal Jeopardy show. It challenges you on various topics such as history, sports, science, film, arts and much more. When you answered correctly and your performance is good, the questions will get tougher. Players can view their statistics to see the category they are weaker in. Fun for the know-it-all in class.
7 Little Words is a puzzle word game where you're given 7 different clues. Based on the clues you need to find the right word to describe them. If you get stuck you can use hints to help you reveal the first letter or tile of the correct answer, but the hints are limited, so you need to use it wisely.
4 Pics 1 Word is a game where you are given 4 different pictures with one common theme, guess that theme in a word and you win! If you're stuck you can always ask for help from your friends over in Facebook or you could use the hint given at 60 points a pop.