20+ Essential and Free Blogging Tools
Blogging can be quite a process. First, you may have to do some research, then put your thoughts together, and of course, add any necessary screenshots and images.
Let's not forget the optimization part (SEO, keywords, etc) and sharing your content on the Web so that others will read it and hopefully share it.
With all of these steps involved, blogging can be quite time-consuming and many bloggers get burnt out rather quickly doing these things on a daily basis.
Lucky for us, the process doesn't have to be so difficult anymore. Thanks to the web and technology, there are hundreds of tools out there to assist your blogging process and make it less of a headache.
This list will take a look at some of the top tools for and applications for making blogging easier.
Either you're native or non-native English-speaker, chances are that you may often fall into spelling and grammar pitfalls while writing your blogs. So for such people who are doubtful about the strength of their writing, Grammarly is nothing short of a boon.
Grammarly, with the help of its AI-powered writing assistant, allows you to compose bold, clear, mistake-free writing. Moreover, you can organize your writing feedback according to your readers and even get suggestions on finding the perfect words to express yourself.
No matter how strong your textual content is, you always need graphical content to make your posts more enticing for the reader. But not everyone is a graphic designer and this is where Canva comes in handy.
With Canva you can design stunning graphics (flyers, posts, invitations, presentations, business cards, etc.) via pre-made templates or simply drag-n-drop elements like fonts, filters, icons, and stock images. Once done, you can save and use these graphics freely on your website.
A blogger never gets enough of stock photos. My Stock Photos offers 1259+ high-quality and creative stock photos that you can use in your blog posts and other projects. The images are added by a community of brilliant photographers and are regularly updated.
There are different categories to choose from and the interface is so simple that you won't find any difficulty navigating the site. Also, all photos are licensed under CC0 license – meaning you can do whatever you want with our photos, including their usage in commercial projects.
An amazing service by the tech giant, Google Trends shows you the most searched phrases or terms on Google over a given period of time. For a blogger, it can be a useful source for comparative keyword research and to find out about event-triggered spikes in keyword search volume.
The tool shows you trending keywords from top to down. You can even enter a specific search term that you're curious about and it'll show you how search volume has varied for that term over time and in different locations.
Creating new ideas, writing the blog posts, tinkering with the SEO, coordinating with writers, checking the analytics… there is a whole gamut of tasks that a blogger has to take care of. So to organize their personal and professional life better, Todolist can be a helpful tool.
You can use the app's intuitive dashboard to create a list of things that you want to work on along with their priority and schedule. Within these tasks, you can create subtasks, designate the person responsible, see the task's progress, and keep a record of the tasks completed.
Sumo offers a set of different useful tools that help optimize your site's growth and make your visitor's experience easier on your website. From analytics and ecommerce to audience development widgets and viral components, there are a variety of tools that you can use right out of the box.
There are different ways you can use Sumo to grow your blog like, boost social shares on your website, give a hike to your site traffic, get more email subscriptions, and a lot more.
In order to optimize your blog for search engine rankings, the best practice is to do a good keyword research. And so, the Keywordtool.io allows you to find out what your potential customers or readers are searching for on Google and create content around these topics.
The tool offers you to generate up to 750+ long-tail keyword suggestions for every search term and all the results are reliable. The best part is, you can use this tool for free and without even having to create an account on their website.
Yoast SEO is perhaps one of the most famous WordPress SEO plugins on the internet. And there is a good reason for that. It provides users with an array of useful features to optimize their website for higher SEO ranking.
Yoast allows you to optimize your site for keywords and keyphrases, provide readability check, making it easy for bots to crawl your site, ability to work in every WordPress editor, and a whole lot more. Moreover, the plugin is regularly updated for efficiency.
A boon for blog writers who have to write professionally and frequently, the Hemmingway app points out grammatical mistakes, lengthy, complex sentences, and common errors in your writing.
When you enter a text in the Hemmingway app, it highlights different errors in different colors so you can easily make changes in your writing. Moreover, you can format your text right in the app and use it wherever you want.
Bloggers cannot get enough SEO tools so here is one more in the list. Ahref is a set of comprehensive SEO tools that help you in optimizing your site for better search engine ranking.
With Ahref, you can research keywords or keyphrases that your readers are searching for, analyze your competitors, track your ranking progress, and a lot more. What's more, is that there are free learning resources and great support available for the users.
To keep abreast of your website's performance and analytics on social media, you need a tool like Buffer. It is a simple tool that helps you publish your brand's story on social media and measure its engagement rate among the audience.
Buffer allows you to schedule your social media postings for maximum effects. You can also use it to measure your performance on different social media platforms, create reports, and get insights on your campaign's reach, engagement rate, and sales.
Every blog can do with a good meme. And why not. It's a fun way to put your message across. So, if you want to put up a meme in your post, instead of looking all over the internet for the perfect one, you can take help from the Meme Generator.
It is a simple app with an easy interface that allows you to search or generate any meme. There are different categories of the most viral memes that you can use as visual and add your own text to it.
With this tool, you can save Web pages to your read-it-later list to be read at a later time. Items can be saved from your computer or mobile devices via numerous applications and integrations. You can access your list just about anywhere for online or offline reading.
A similar tool is Instapaper, which works in the same way, but doesn't have as many applications. One of the best things about Instapaper is that you can forward full emails to save for later (Read-it-Later only allows you to save links via email).
You can capture anything from Web pages to images, text, and voice notes with Evernote. Just like Pocket, there are numerous applications and integrations that let you save items to your account.
Your notes can be accessed from just about anywhere via a computer or mobile device. Plus, with the ability to search through all of your notes (even text within images), you'll be able to find things super fast.
With Diigo you can annotate the Web by highlighting, adding sticky notes, bookmarking, taking screenshots, saving images and more. You can then manage it all and reference your findings from your Diigo account for later use.
Best of all, whenever you return to a page that you've annotated, your notes will still be there. You can even see annotations that others have added to pages as well. You can use Diigo to annotate specific parts of Web pages that you want to use for a blog post or to save items that you want to read at a later time.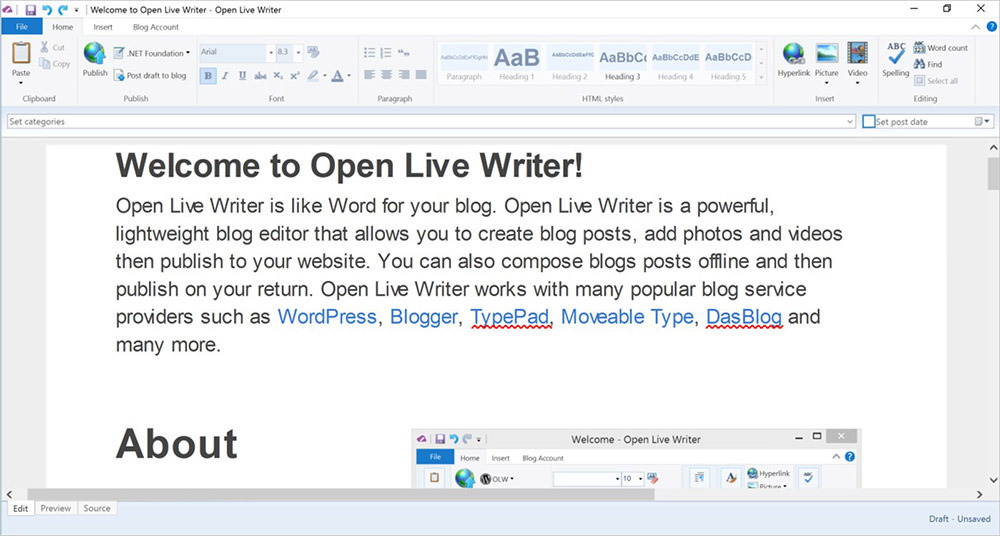 Open Live Writer is one of the most popular blog editors for the Windows platform. You can create new and edit previous blog posts, see what they'll look like on your blog before publishing and set up multiple blogs.
You can add things like images, videos, Bing maps. There are also 100+ plugins that you can use with Open Live Writer in order to add more features and increase its functionality. Best of all, Open Live Writer is complete free.
BlogJet considers itself to be the "most advanced Windows blog editor and manager." With it's WYSIWYG editor, you don't have to have any HTML knowledge. It's very speedy and lets you add Flickr images, YouTube videos and file attachments.
There are numerous other amazing features and it works with numerous blogging formats. Unlike Windows Live Writer, BlogJet isn't, but there is a free demo version.
ScribeFire is an extension that you can get for Firefox, Chrome, Opera and Safari. It's a full featured blog editor that lets you create and publish blog posts right from your browser.
You can drop and drop text and images, schedule blog posts for later, tag and categorize, edit pages, post to multiple blogs and more. While some find the endless features in ScribeFire overwhelming, others just can't live without them.
Dropbox is the ultimate tool for syncing files between your computer and mobile devices. There is a Dropbox app for just about every device and system and there even more integrations with other apps.
So not only are your files always secure, but they're always with you wherever you go. If you need to save files for use later, just add them to Dropbox or sync them using a supported app.
If you're looking for a way to access your blog posts from anywhere, one of your best options is to create and save them in Google Docs. Since Google Docs is a web-based word processor, you can access your account no matter what device you're on – computer or mobile device.
This allows you to work on the go, from anywhere. You can also collaborate in real-time with others, which makes Google Docs great for collaborative posts and projects.
Awesome Screenshot is a capture, annotation, and sharing tool by Diigo for Chrome, Firefox, and Safari. You can capture the visible part of a page, selected area or entire page. Annotation tools include adding shapes (rectangles, circles), arrows, lines, and text.
There is also a blur tool that is great for protecting your privacy and personal information that you may capture. There are 3 options for saving your screenshots; you can save to the Awesome Screenshot website for a month, save to Diigo forever, or save on your computer.
FireShot is an extension for Firefox, Chrome, Thunderbird, SeaMonkey, and Internet Explorer. It lets you capture, edit, annotate, organize, export, upload, and print screenshots from the Web.
There are quite a few capture options: entire page, visible part of page, selection or browser window. One of the unique things about FireShot is the full set of editing and annotation tools that it provides. Plus, it can even allow you to capture flash content.
More:
With SEO Blogger, you can "find the most sought-after keywords for your subject without ever leaving your blog editing screen." It currently works only in the Firefox sidebar via an extension.
It allows you to research keywords, see how popular they are, and compare them instantly with other keywords.
You'll also be able to see how many times you've used specific keywords in your content. This is great for keeping track of the keyword density in your posts which is a big part of SEO.
Desk
Desk is a wonderful little tool for writers and desktop publishing clients to work on writing, blogging, and note-taking. It is a simple yet intuitive app that helps you organize your thoughts and ready the content for publishing on your website or blog.
Desk supports different publishing platforms including WordPress, Blogger, Medium, and Tumblr etc. The app offers an array of writing modes, visual styles, and shortcuts. There's also a preview mode for real-time editing and meta information section.