Desktop File & Image Sharing Tools – Best of
When you are surfing around the Web, how often do you come across an image, video or text that you want to share quickly with a friend or on your Facebook or Twitter profile? I'm sure it happens quite often. When that happens, I doubt anyone will enjoy having to search for a tool or go through 4-5 steps just to share a simple image or video.
It will be awesome if all these can be a click away! Imagine having these convenient tools all at your fingertips that makes everything faster and easier for you before you lost your interest and also while you are still surfing. Well, this list of image and file sharing tools we have collected will show you some of the best tools for sharing screenshots, images, videos and text on the Internet via desktop tools and browser extension/add-ons. Full list after jump.
Windows
If you're looking for a great desktop tool for sharing screenshots, Jing is an excellent choice. You can clip any part of a webpage or even your desktop. Jing then gives you the option to share it via Screencast.com, Facebook or Twitter. If you prefer, you can save it to your computer than then upload it to your blog or any other site. You can also add annotations like arrows, text, highlighting and shapes to your screenshots.
TechSmith, the makers of Jing, also have a tool called Snagit. With Jing you can even open up your screenshots in Snagit for further editing; they have a ton of options on Snagit and it's one of my favorite desktop tools. Jing is available for Mac as well.
If you are familiar with CloudApp (which is mentioned below under Mac apps) then you already know how FluffyApp works; it's actually the Windows version of CloudApp and a tool that makes sharing almost effortless. With this app you can share images, videos and text anywhere on the Web within seconds.
Just drag the item you want to share to the notification icon and you'll immediately have a short URL for the item saved to your clipboard. You can then share the link on Facebook, Twitter, IM, via email or anywhere else. Plus, you can manage your files via the web interface. Right clicking the notification icon will show you the last few items shared and will give you quick access to the Web interface.
Mac
This tool is basically described above in FluffyApp. I use FluffyApp on my PC and CloudApp on my Mac and they both work pretty much the same. The Mac version does have more customization options and also come with additional extensions known as "Raindrops."
Raindrops let you use CloudApp via a keyboard shortcut setup by you. These extensions work in other applications like your browser, iTunes, iPhotos and more. Other than that, sharing is the same; just drag the item you want to share to the menubar and paste the automatically copied link to the place where you want to share it.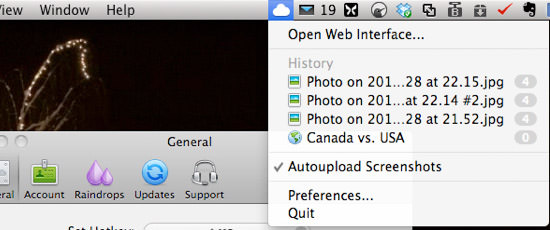 To me, this tool is like a cross between Jing and Snagit (both mentioned above under Windows apps). When I first got my Macbook Pro it was one of the first tools I had been dying to try, and did. It really does have tons of features. You can capture screenshots and then edit, crop, annotate, share and have conversations around those screenshots.
You can share your screenshots on Flickr, MobileMe, Twitter, Facebook, blogs and more.
This tool is a lot like CloudApp (mentioned above). You can drag and drop content to the menubar icon, after which a short URL will be automatically copied to your clipboard. It goes a step further by letting you share the item on Twitter with the click of a tiny button. You can also capture screenshots and compose new notes right from the menubar. Also like CloudApp, there is a Web interface for managing your shared content.
Every account comes with 1GB of free storage, but if you agree to let them send out a tweet about the service (from your account) they will add an extra 1GB to your account!
Firefox Addons
This add-on will add a button to the Firefox Navigation toolbar. When you click the Ibrii toolbar button, it will open up a sidebar that allows you to drag videos, text and images from any webpage to be shared on the Web. In order to save your posts, you'll need to create an account (which takes all of 5 seconds to do).
Once you have everything in your sidebar that you'd like to share, clicking on the "Share" button will give you the option to share on Facebook, Twitter, Posterous, Google Buzz, email or via permalink.
This tool is specifically for sharing images on Twitter. It adds an option the right click menu to "share photo on Twitter using TwitrPix." Clicking that option will bring up the TwitrPix Express for Firefox dialog window. You'll have to enter your username and password for Twitter and you can also add an optional status message and tags.
This add-on hasn't been reviewed yet by Mozilla, so when adding it you will receive a warning message. I have tried the addon and it seems to work fine. Once added you'll have two new options on the right click context menu: share this image and upload and resize. The first option (share) uploads the image to PicIsGreat and then gives you a permalink as well as options to share on Delicious, Facebook, Tumblr, Twitter, Google and Vi.sualize.us. The second option (resize) lets you choose the desired width that you'd like to change the image to; after uploading the image it will take you to the new page and gives you sharing options.
Dropico
With this add-on you can share photos from the Web and share them numerous sites like Facebook, Twitter, Flickr, Photobucket, Dropbox and more. You will need a Dropico account in order to use this tool. Once you setup the services that you'd like to share too, you will be able to share pictures with Dropico on any website. This is done by right clicking on any image, going to the Dropico menu and then selecting the service that you'd like to share it on.
Chrome Apps & Extensions
This "web app" is basically just a link to the Ge.tt website, but it's still a really great tool for sharing files extremely quick. As the site says, "With Ge.tt you can share any number of files, no matter how large, within seconds." Select your image and within seconds it's uploaded. You'll then get a short URL for sharing or you can use the one click sharing buttons for Facebook, Twitter and email. Unless you create an account, your shared files will expire in 30 days.
Troovi
Again we have another "web app" that is just a shortcut to the official website – Troovi.com. This tool allows you to share photos from your computer with friends and family. There are quite a few restrictions with a free account, so you may consider upgrading to a premium account. Once your photos are finally uploaded, they are instantly available for sharing via a permalink or email. You can optionally add a title, description and special guest permissions to your photos.
For more sharing options, you can go to the actual image page and use the "Share" menu.
Here is an app made specifically for sharing webcam pictures. This seems to be a real Web app that, when clicked, displays a popup window that allows you to take and upload pictures with your webcam. Once your picture is saved in the PicMeQuick sidebar, you can edit (via PicMeQuick), share (via permalink and embed code) or delete it. When you share your image, you can also choose to have it appear in the public gallery on the PicMeQuick website; you can also give other users the ability to comment on and rate your picture.
This is a tool for taking webpage screenshots while surfing on Chrome. There are two options: visible screenshot (only snaps the visible portion of the screen) and all page screenshot (snaps the full page). You can add annotations like lines, text, shapes and arrows to the screenshot. Screenshots can also be cropped, saved, shared and printed. Sharing is done by clicking on the share button and then choosing a place to share.
The current options for sharing are: Facebook, Gmail, Hotmail, MySpace and Twitter – or you can use the direct link to share anywhere else.
This tool is quite similar to Webpage Screenshot (mentioned above). You can take screenshots of only the visible part of the page, a defined area or the entire webpage. It then gives you the option to edit (via Pixlr.com), share (via Imm.io) or save (to your desktop) in a couple of clicks. If you choose to save it, you'll be taken to the direct image on Imm.io where you will get a link for sharing.
Other sharing options include: Digg, Delicious, Reddit, Twitter and StumbleUpon; you can also "like" it on Facebook. Imm.io also lets you see how many views you have on an item.
This extension works exactly like the Ibrii sidebar mentioned above under Firefox addons. Though an account is not needed, if you want to be able to save your posts then it's best to register for an Ibrii account. When you click the browser button, it will open the Ibrii sidebar; this is where you can drag selected image, videos and text on a webpage. After dragging it there, you can then share it on: Facebook, Twitter, Posterous, Google Buzz, email or get a permalink. You can also click on the sidebar and add your own text to save or share. Plus, if you close the sidebar and then open it on another page, the content from the last page is still there in the sidebar (until you manually delete it).
If you love sharing images from Web, this extension is for you. When you click on the browser icon, a little window appears with all of the images from the current webpage. You can then click on the picture(s) that you like and choose to edit (via Picture2Life) or share them as well as create a collage or animation with them. An account is needed in order to create a collage or animation.
The downside to sharing with this extension is that the only way to share right now is via email.
Of course, this is not a complete list of tools of this nature, but it does offer you quite a selection for whichever system or browser you prefer to use while browsing. Which sharing tool is your favorite?