Simple And Gorgeous Android Wear Watch Faces
With the release of the first Android Wear watches, many developers have started releasing apps that work with the wearable. Along with apps that provide different sets of functionality to the device, developers have released watch faces that allows users to customize the look of their wearable.
In this list, we pick our favorite and best looking 25 Android Wear watch faces you can get from the Play Store. Some of them just tell time while looking good doing it. Others do so in a unique fashion while some have extra functions that add to their value. Without further ado, here are 25 beautiful Android Wear watch faces.
Recommended Reading: 10 Latest Smartwatches You Can Buy In 2014
Binary Watch Face
Android Wear users with the ability to read binary in an instant should try out this watch face. The hours, seconds and minutes are translated into binary, which on the watch is shown as colored dots. You can change the colors of the dots, with premium features letting you display the time in decimals, for those who need a little help. [Download]
Convergence Watch Face
The new UI language for Android, Material Design, will soon be on phones with the release of Android L. For fans of the design, you can add in a watch face inspired by it with Convergence. From the paper stack feel, colorful circles and drop shadows, it's one of the nicer looking faces you can get right now. [Download]
Chrono Watch Face For Wear
Combining the look of both an analogue and digital watch face, Chrono offers up a lot of useful information at a glance while looking slick at the same time. It even lets you get ahold of battery information of both your wearable and phone, along with the day and date in the middle. [Download]
Matrix Face For Android Wear
This watch face emulates the famous Matrix digital rain on your Android Wear device, letting you peer into the Matrix while knowing the time of day. [Download]
Timeless – Wear Watchface
A minimalists watch face that includes beautiful background photos and will transition between them over time. If you prefer it without the background, you can disable it in the settings. [Download]
Human Time Watch Face
If you want a more human readable watch that doesn't involve numbers, download the Human Time Watch Face. Instead of numbers, the display will show the time the same way people say it, like "Nine o'clock" or half pass ten. You can customize the look of the face, from the background to the font. [Download]
Aviation Watch Face For Wear
This watch face was a contest submission for the Moto 360 watch face competition. It is based on an aircraft speed measurement instrument. [Download]
Orbital – Wear Watchface
A very simple, black and white watch face that tells time using 3 dots that represents the hands on a clock. [Download]
TextFace For Android Wear
Another human readable watch face, this time with a minimalist bent and the date of the day. [Download]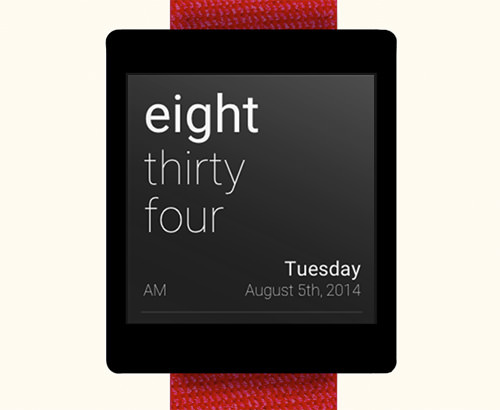 Woto Watch Face
Fans of the Moto 360 default watch face currently owning other Android Wear watches should give this a try. It will help you fantasize about owning one. And on its own, it's a good looking watch face. [Download]
Terminal Watch Face
Tech geeks and CLI purist should consider the Terminal Watch Face, which will tell the time in a command line environment. It's not an actual terminal so you can't actually give commands to your Wear but it will make you look like a retro hacker. [Download]
Minimalist Wear Watch Face
True to its name, this watch face is a minimalist, analogue style clock. You can change the color of any of the elements on the clock and that's pretty much it as far as customization goes. [Download]
Ingress Wear Watchface
Ingress players should download this watch face, as it shows the time to the next checkpoint as well as the time to the end of the current septicycle. And it looks good to boot. [Download]
DigiWatch For Android Wear
A no-fluff digital watch face for Android Wear. You can change the font, size and background color of the watch face to your taste. [Download]
9elements One Watch Face
A human readable watch face that looks like a word search puzzle. The time will highlight itself among the words. [Download]
Planets Watchface Android Wear
A watch face for the astronomy junkie, Planets will display the position and rotation of the planets in the Solar System behind an analogue clock. The data is taken from NASA so you can be pretty sure of the accuracy of the planets. [Download]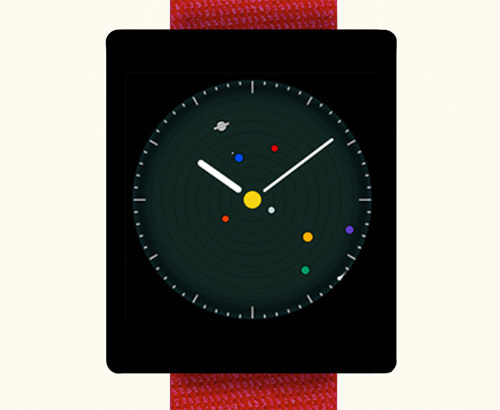 Wear LCD Watchface BETA
How about a little bit of nostalgia? 90's kids will appreciate the Wear LCD Watchface as it is mimics the Baby-G of their era. [Download]
Weather Wear Watch Face
Not only will this beautiful watch face tell you the time, it can also keep you up-to-date with the weather conditions in your area. [Download]
Chron Watchface
A great, futuristic looking watch face that looks like something out of Tron. If the colors aren't your style, you can change them to something that's less neon. [Download]
12Hours Wear
An Android Wear version of the phone widget, 12Hours will sync up with your calender and represent them on your Wear as time blocks. [Download]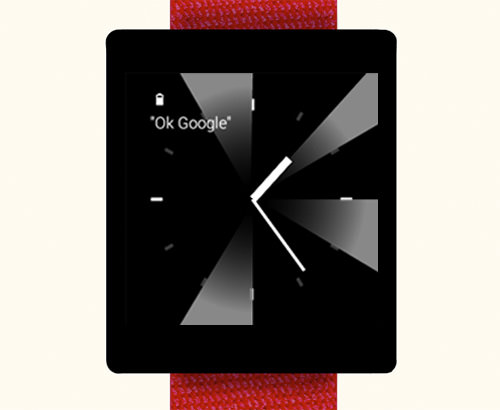 Speeds Watch Face
Emulating the aesthetics of a sports watch, this watch face even includes a speedometer for use when running and cycling. [Download]
Watch Face For Wear – Square
A simple watch face that is mean to to give your Wear a more sleek and classical look. [Download]
Just A Minute: Wear Watch Face
This watch face shows you how many minutes are left within an hour. Perfect for those who like to keep track of time right down to the minute. [Download]
Wear Watch Faces
A collection of great looking watch faces in one app, this one having 4 to choose from. My favorite has to be "Back to the Watch", which gives you a watch face inspired by Back to the Future. Download it to see what other faces it has to offer. [Download]
Android Wear Beautiful Watches
Another collection of great looking watch faces, this time 10 of them in the package. They range from analogue, digital to human readable but all of them look well made and gorgeous. [Download]