Five Gadgets That Gives You Renewable Energy
There are just too many battery chargers and power generators out there that you can get to power up your electronic devices. But have you ever thought of looking for one that can brings you green energy? There are some out there that harvest solar power, wind, kinetic energy among others via solar panels, wind turbines and even hand-cranking devices to provide clean energy on the go.
These devices and gadgets get the power going even when you are not indoors or away from your regular electrical supply. More importantly, they bring electrical energy to places that are too inaccessible to get their own power grid.
With that in mind, we have collected 5 cool and interesting gadgets that bring you green energy, be it for your mobile device emergency power supply or for those wholive in far off-grid places.
1. Trinity
The Trinity is one quirky looking gadget which generates clean energy using turbine power. Folded, it is only 12 inches long, small enough to carry around, like you would an umbrella. Below the gadget are extendable legs which can be setup in a tripod configuration, or laid down on a flat surface. It uses 3 blades that can be opened and closed, to capture available wind which can spin the blades to generate clean energy.
On the bottom of the device, you can find a USB plug that can be used to charge your devices at a 5V/1A output rate and a mini USB plug to charge the Trinity. It is perfect to bring camping as it comes with a 15W generator and built in battery capable of holding a charge of 15,000 mAh.
2. Windpax
Windpax is another gadget that generates clean energy via wind turbine technologies. Despite made from lightweight material, it is highly durable. Windpax comes in 3 different models: the Wisp, the Breeze and the Cyclone. Each one of them caters to different usage and for different locations.
The Wisp is used for when you need a backup power supply for emergency situations, to charge small electronic devices because it is small and portable, while The Breeze cater more towards small villages and campsites due to its larger size. Meanwhile, The Cyclone, the largest product, can carry 400 W and it is primarily used as a power station or power source for the use of a village, or multiple heavyduty applications.
3. ReadySet
ReadySet converts energy from the Sun into electricity and was designed specifically to improve the lives of people living in rural off-grid areas where sunlight is more readily available as a tappable powe source. With a simple plugging in to the solar panel, the ReadySet battery can provide around 16-19V voltage power via the included AC-DC brick.
There are two versions of their product, one is ReadySet and the other is ReadyPay. The latter is only available in Uganda and requires payments (in installments) for use. It is an alternative system for those who cannot afford ReadySet.
4. SunStash
If you would like a more portable solution to power your laptop and smartphone on the go, SunStash is the best alternative you can find. It is powerful enough to charge your device even while charging up from solar power. Moreover, SunStash can simultaneously charge devices with different voltages, via USB and its high powered port.
A fully charged SunStash power pack is 60 W and you can either charge it via solar or the AC power adapter. This solar-powered charger is a great gadget to bring with you in case you need an emergency backup power for your electrical devices, especially when you're not around any electrical outlet or are in off-grid places.
5. BioLite BaseCamp Stove
BioLite has just finished their Kickstarter launch of their second product, BaseCamp Stove, a better and bigger alternative to its predecessor CampStove. BioLite CampStove and BaseCamp convert heat into electricity using a thermo-electric generator to power up their internal fan and improve airflow for better combustion. The electricity is stored in their uniquely designed fuel chamber and you can use it to charge your smartphone, tablet, GPS and other electronic devices via its 5W output USB.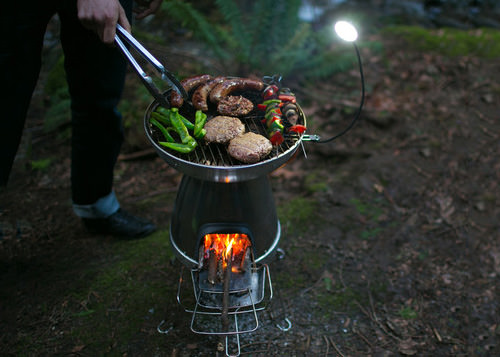 This time, their new incoming product BaseCamp has a larger cooking space for a group of people who wants to cook together during a camping trip. Additionally, BaseCamp also come with a flexible USB light that may prove useful during your trip.