Auto-Cropping Images To Any Sizes Online With Cropp.me
Need to crop plenty of images? There are plenty of photo-editing tools available for free on the Web, your desktop and on your smartphone but what if you're not on your computer or no Photoshop installed? It's going to be a carpal-tunnel-inducing nightmare to go at it one at a time, especially when each image have different cropping requirements.
No worries. Listen up, here's how you do it with Cropp.me, a free web app that will let you crop any image of any preferred sizes, automatically.
Auto Crop images with Cropp.me
To start cropping multiple images easily, go to the Cropp.me official site and click on the Upload Your Images button.
Clicking on the upload button will prompt a file explorer to pop up. Select the photo or the multiple photos you want to crop and click upload. On the web screen, select the cropping size. You can select multiple sizes, or include your own size too.
The cropping process may take a while, but once cropping is complete, the thumb will be displayed at the right screen. Hover your mouse over the thumbnails to see options to edit or preview. 'Uncheck' the box to avoid a download of any particular image if you don't like the cropped image.
Clicking on the Edit button will give you options to resize the cropped image, and change the cropped area. When satisfied, click Confirm.
If you had uploaded more than one photo for auto cropping, use the navigation button to change the thumbnails set for editing purpose;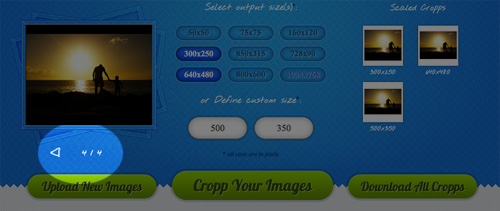 Now when you have reviewed all results, click on Download All Cropps button to proceed with download.
Your download will start immediately in a compressed folder.
Unzip the downloaded file, and open the folder to find your images all cropped according to your preferred sizes.
Conclusion
With Cropp.me, you can now forget the hassle of cropping images one by one from your computer. Built specifically to crop images Cropp.me 'knows' the best areas to crop, so users like you and me can use the services without worrying of getting terrible results.