Messaging Apps Face-off: Google Allo vs. Messenger vs. Skype
Internet of Things is changing our lives with billions of smart devices connected to the Internet. Products and apps are converting into smarter, always-connected, self-learning intelligent bots powered by artificial intelligence platforms.
Messaging and communication apps are no different – these are now using artificial intelligence technology to understand their users better and provide smarter services. If all messaging apps are integrating AI, then which is the best?
In this post, we're going to help you understand the differences among the popular ones – Google Allo, Messenger and Skype – and choose the best messaging app. All these communication apps are powered by AI, so the competition is tough; but we'll list all their features in detail and let you yourself pick the best per your needs.
Read Also:  10 WhatsApp Alternatives to Try (Updated)
Shortcuts to:
1. Supported Platforms & OS
Let's start with the platforms and operating systems supported by each of the messaging apps. We'll also check and discuss on the minimum requirements for running each of these apps.
Google Allo
Allo from Google, launched in 2016, works on Android and iOS with no support for desktop platforms yet:
On Android, the app runs on version 4.1 Jelly Bean and above
On iOS, it works on version 9.1 and later, and is compatible with iPhone, iPad and iPod touch.
Though its both editions work almost similar, yet its iOS version does not have the photo-enhancing feature sported in its Android version.
The bad news is that there is no support on tablets for Android. Although you can sideload it, it can't work as expected as it lacks the landscape mode support. Even on iPads, it looks pretty lame because of no support for standard iPad layout.
Supported platforms: Android | iOS
Messenger
Messenger from Facebook, released back in 2011, is available for numerous operating systems:
On Android, the app runs on version 2.3 Gingerbread and above (though there's no official confirmation).
On iOS, the app works on version 8.0 and later with compatibility for iPhone, iPad and iPod touch.
On Windows platforms, the app supports Windows 8 Mobile and above, and Windows 10 and above on desktops.
It's also available officially as a web app for use on desktops and laptops. There's also an unofficial port named Messenger for Desktop that supports all three popular desktop platforms: Windows, macOS and Linux.
Supported platforms: Web | Android | iOS | Windows Phone | Windows | Symbian (search in its store) | Tizen (search in its store) | MacOS and Linux (unofficial)
Skype
Skype from Microsoft, initially launched in 2003, is available for wide number of platforms;
On Android, it works on version 2.3 Gingerbread and above (though there's no official confirmation for the same).
On iOS, it requires a minimum of version 8.0 and works on iPhone, iPad and iPod touch.
On Windows Phone, it runs on versions starting from Windows Phone 8.
The app, like Messenger and unlike Allo, also works on all popular desktop systems with official clients for Windows, macOS and Linux. There's also an online web app version for running Skype from almost any platform that supports and offers a web browser. On Windows, it even supports back to the old Windows XP. On Mac, it works on versions 7 and above, and for Linux, it runs on version 4.3 or later.
The list includes Android, iOS, Windows Phone, Nokia X, Amazon Fire, Xbox One and some Blu-ray devices as well.
Supported platforms: Web | iOS | Android | Windows Phone | Nokia X | Amazon Fire | Xbox One | Windows | macOS | Linux
Conclusion
Owing to the above facts, it's very clear that Skype and Messenger is supported on many more platforms than that supported by Allo.
Messenger is very close to Skype in terms of supported platforms (though they both support different sets of platforms), but Allo supports just two mobile platforms with no support for desktops or the web. Moreover, Skype is a truly cross-platform offering whereas Messenger supports more mobile platforms than that supported by Skype.
In the platforms war, Allo is the loser as it supports just two platforms (owing to the fact that it's relatively new) and even for those, it doesn't support their old versions unlike Skype and Messenger.
2. Messaging & AI Features
These apps are primarily messaging apps and people choosing one of these must clearly understand what these have to offer in the most important category – messaging and user experience features. Moreover, these all apps are integrated with artificial intelligent platforms, allowing the app to behave much more than a mere messaging app.
Google Allo
Allo does significantly more than simply allowing you to send and receive messages and media to and from other individuals. It's a brilliant application with a user-friendly interface and a self-learning bot – Google Assistant.
The app allows sending and receiving texts, emojis and HUGE emojis, stickers and doodles, camera shots & videos, photos & videos, audio recordings and location (if your phone is connected to the Internet).
This messaging app also supports creating and joining group chats, however, doesn't support sending videos, voice or video calling, sending documents or other files, etc.
Allo lets you customize the size of text or emojis by swiping up/down at the send button. It also has the two-tick delivery system: one tick means sent, two means delivered and blue/green ticks means messages have been read.
This app also brings the power of artificially-intelligent Google Assistant to daily messaging. The app offers smart replies (text and emojis) based on your profile and typing habits, allowing you to reply without typing anything.
Moreover, you can chat directly with the assistant and ask almost anything related to the world or to your Google account, such as facts and answers, news & updates, sports, travel guides, actions and subscriptions and many more things.
Messenger
Messenger, like Allo, is also much more than a simple instant messaging app – it's a powerhouse of features in itself. An interface to the world's largest social network, the app offers a user-friendly interface for getting things done quickly.
The app, making use of the device's Internet connection, allows sending and receiving text messages, emojis, stickers, cam shots & videos, photos & videos, GIFs, voice recordings and location.
Messenger does support voice and video calling with your contacts and also allows creating and joining group chats, but doesn't support sending documents or other file types. You can also use search in conversation feature to retrieve chat history.
Messenger, like Allo, shows the status of messages using ticks wherein a single tick means sent, a single tick with color means delivered and a receiver's thumbnail means that the message has been read by the receiver. The app even allows sending/receiving money to/from contacts easily (only in the US).
Messenger also brings the power of artificial intelligence to messaging, but unlike Allo's Google Assistant, there's no official personal assistant bot from Facebook for this app.
But there's a platform for developers to build bots for Messenger, i.e., third-parties are building bots having different personalities and use cases.
Skype
Skype provides its users with all the basic communication necessities and lot more features like Allo and Messenger. This app also hosts an intuitive and user-friendly user interface that's pretty simple and straight-forward to use.
The app allows sending and receiving text messages, emojis, stickers, contact cards, cam snaps and videos, photos and videos, and location. Skype also allows making voice and video calls, creating and joining group chats and even having group calls with multiple people at a time, and sending and receiving documents and other files, unlike the other two apps.
On top of these, Skype, though paid, also allows calling mobiles and landlines and lets you acquire a worldwide available Skype Number that people can use to reach to you. It also allows you to share your screen (on desktops) with a person or group.
The app shows the status of the messages using ticks but unlike the other two apps, it only shows sent status using a single tick next to the message.
Like the other two apps, Skype also brings in artificial intelligence feature to its messaging app in the form of bots.
Unlike Allo, the app doesn't offer any official personal assistant like Google Assistant, but yes, it provides a platform for developers to create bots. To connect with a bot, please find a suitable bot for you from the Skype directory and then simply add the bot as contact and message it to get started.
Conclusion
Skype is the winner here with close competition from Messenger. Skype offers more connectivity and sharing features than that offered by Messenger, making it a good fit for professionals and companies.
Messenger, on the other hand, has got a more adorable user interface and lot more user base than Skype.
Allo, as in other categories, stands in the last position because of a lack of features. That said, it seems that Allo is not built as a full-fledged messaging app but just as a text messaging app as Google also launched Duo along with Allo for video calling others and video conferencing with people.
3. Privacy and Security
All these messaging apps use your device's contacts list to know about your friends and help you contact them easily. Moreover, these artificial intelligent apps collects and knows much more about you than mere contacts or chats.
That's why, it's crucial that such apps pack in features to keep your data secure and allows you to safely interact with your friends and colleagues without worrying about data theft.
Google Allo
Allo requires a valid and active mobile number to register an account for you. The app allows only one logged-in device per user. This means whenever you try to login to a second device, then Allo would auto-logoff from the first device.
Once you have registered, it uses your contacts list to check and list the Allo users you already know and can connect with.
Other users can also connect and start having conversations with you. You can, however, block contacts if you don't wish to receive messages from them by tapping on their conversation and selecting Block from the shown options, then confirming.
Allo also brings privacy features for getting better hold on your security yourself. Its Incognito Chat mode allows you to have self-expiring conversations with end-to-end encryption. You can set the expiration time yourself for each such conversation by tapping the timer button from the action bar. This mode, unlike Google Chrome's Incognito, does save these chats on the device for an unknown time.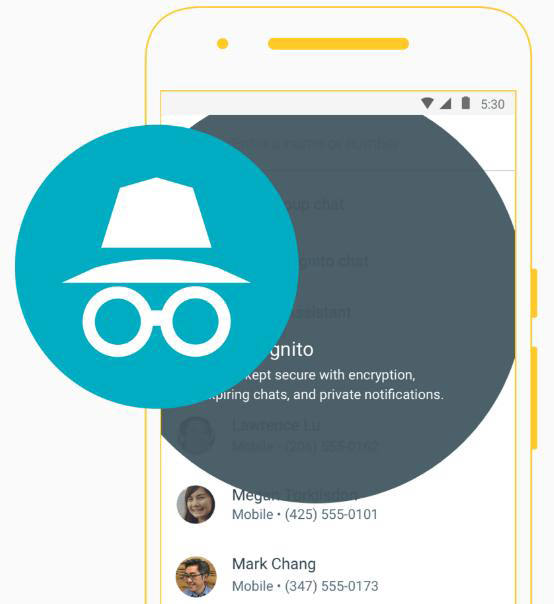 Messenger
Messenger requires a Facebook account to work on any device. Unlike Allo, this app allows logging-in on multiple devices using a single account. This app also allows opting for an account using your phone number. And it searches your contacts list to find your friends who are already using Facebook or its Messenger.
This app, optionally, can also work as a messaging app for sending and receiving text messages. Messenger allows blocking contacts from messaging or calling you if you happen to find them notorious enough. To block any contact, open his/her conversation, click on the info button, select Block and then choose your blocking option.
Similar to the Allo's Incognito mode, Messenger features Secret Conversations. This feature allows having end-to-end encrypted conversations with your friends, but unlike Allo's one, it doesn't features self-deleting messages (after an interval). Just open any conversation, click on the info button and choose Secret Conversation to use it.
Skype
Skype allows creating an account and accessing the messaging features using a Skype or a Microsoft account or a phone number. Unlike Allo, Skype does allow signing in on different devices from a single account. Like the other two apps, this app also scans your contacts list for people already available on and using Skype.
The app, same as other two, allows blocking people if you don't like them calling or messaging you. For blocking any contact, open his/her conversation, tap the options button and choose Block contact. It also features global privacy options (available in app's settings) that allows configuring who all can find, call or message you.
Skype also uses encryption like the other two apps, but its scheme is not end-to-end unlike the other two. Due to the same, you never need to do anything to get encryption working. Moreover, it also doesn't feature self-deleting messages unlike Allo.
Conclusion
Allo is for sure the winner in this category owing to its feature of having self-deleting conversations. Messenger and Skype almost have similar security features and both have 1 option that's absent in the other, making it hard to choose either one. Messenger has got end-to-end encryption whereas Skype offers global privacy options.
4. Backup Options
In view of the fact that everyone changes phone sometime and may get some issue or a malicious attack on the mobile device, it's essential that the app you choose for primary communication comes with backup options. This ensures you won't lose your precious chats at the time of any urgency, accident or attack.
Google Allo
Google Allo, surprisingly, doesn't keep data in the cloud (unlike Messenger and Skype) and feature neither local nor cloud backup options yet at the time of writing. This means that Allo won't backup anything (including chats and user data) and you'd be helpless if your device faces any accidental issue and lose the data.
We can, optimistically, expect Google to implement this feature in the near future (seeing it's a request from many), but nothing can be guaranteed, of course.
Messenger
Messenger, fortunately, loads and saves everything from and to the (Facebook's) cloud unlike Allo. This means you have your chats available in your Facebook account even if you delete the app on your phone, lose your phone or exchange it for a brand new one.
Do note that this backup (or cloud sync, to be precise) feature doesn't apply to the conversations you deleted on your phone because if you delete chats on Messenger, then those are deleted from your Facebook account as well.
Skype
Skype, like Messenger, syncs your conversations and contacts list with the cloud. This means you will have your data even if your phone meet any accident or you're ready to upgrade to a more powerful mobile device. Its cloud, however, saves the chat history for just 1 month, unlike Messenger that saves chats in the cloud for lifetime.
Also, Skype's data (including conversations) can be backed up but it's not possible for every device, and even the procedure to make backups varies from device to device. For instance, here's how to backup on Windows and on Android (need root access).
Conclusion
Facebook Messenger, clearly, wins this round. It syncs all your conversations with the cloud and its cloud hold up that data forever, unlike Skype. Skype also syncs the data to the cloud but it saves only for a month there.
Allo, however, doesn't even come close to the other two because it lacks complete support for making backups anyhow.
5. Popularity Counts
Facebook claimed in July 2016 that its Messenger is actively used by 1 billion users per month. Skype, per Statistic Brain Research Institute unofficially, says to have a total number of 74 million users. Google Allo is relatively very new in the market at the time of writing, hence there are no statistics available yet.
Messenger is the most popular app followed by Skype, and Allo comes in last. If we talk just about Android, the download count for Messenger is 1-5 billion, making it the winner compared to 0.5-1 billion installs of Skype and just 5-10 million downloads of Allo.
This also proves that Allo is much newer in the competition than the other two, which means Allo should be your last choice if you wish to connect with your friends.
Which is right for you?
Well, it depends on your requirements. In one perspective, you should choose the one having maximum user base or most of your friends. In other perspective, go for a messaging app with best messaging and sharing features because most will join such instant messaging offerings and will give you more chance of making new friends.
Having said that, Messenger is the best choice if you wish to connect to friends and make new friends because of its user base and attractive interface and features.
However, if connecting to professionals is your priority, then go for Skype because of its higher usage among professionals and more solid features in terms of connectivity and sharing options.
Lastly, if you just want to connect to the Google Assistant or want to enjoy automated reply suggestions, then only opt for Google Allo.