14 WordPress Themes to Getting 2017 off to a Good Start
Trying to sift among hundreds of paid and free WordPress themes to find the best possible web design solutions can be overwhelming, especially for a beginner. Eventually, all the themes begin to look the same, and not knowing exactly what to look for in a theme only compounds the problem.
If this sounds familiar, read on. We've spelled out some key things to look for, and provided a list of 14 great WordPress themes to get the New Year off to a great start.
Things to look for in a good WordPress theme
To avoid the necessity of another search effort, you want to select a theme featuring an aesthetically pleasing and modern design. Such a theme can be expected to have some staying power, and should contain features like,
SEO capabilities, especially if you want your deliverables to draw traffic. Your clients will expect nothing less.
Easy customization, as such a theme gives you more flexibility, and can save you a lot of time; especially when a client requests changes.
A good level of support. One way to determine the level of support is to submit a question. You should also check out a review or two to find out what people are saying about the theme.
Read Also:  How to Toughen Up WordPress Login Security
14 WordPress themes for 2017
Now that we know what are the things that one can look for in a good WordPress theme, let us take a look at the following list of some of the best themes available on the Internet, along with their amazing features.
This popular multipurpose theme is one of the biggest WordPress themes ever, in terms of features, options, and pre-built websites. With a strong user community of 30,000, Be theme boasts of a 4.79 star ThemeForest rating.
With Be theme, you can produce any type of website, blog, or portfolio you want. Its selection of 230+ pre-built websites practically guarantees success. If you or your client can envision an awesome website, Be theme has the tools to make it a reality.
The professionally-designed pre-built websites are modern, aesthetically pleasing, completely customizable, and feature functionality that enables you to create one engaging UX after another.
Muffin Builder 3 and Visual Composer are your page-building and editing options, a large selection of shortcodes eliminates any need for coding, and if you want to start a page from scratch, it's as easy as can be. Be theme is Responsive, Retina Ready, loaded with design options and elements, and the support that is second-to-none.
The Core was built with the professional designers in mind, but don't let that worry you if you're still somewhat of a newbie. This WordPress theme's 154,000+ users represent all skill levels. Using The Core theme is so intuitive, that you don't need any special technical skills, or do any coding, to create absolutely delightful websites; and do so quickly.
The Core theme's thematic demos are easy to install and customize. They will help you get any project off to a fast start, after which, the Visual Builder will make it easy for you to maintain your momentum. This frontend page builder lets you see what you're doing in real time. In doing so, it speeds up the entire design process.
Documentation includes more than 100 informative articles, and a selection of video tutorials come with the package.
Easy in customizing, plenty of available options, and highly flexible, Enfold is a great multi-purpose WordPress theme. It is also a ThemeForest best seller, designed to be used by any skill level. You can either start your design activity with a demo or start from scratch.
Whatever approach you take, be prepared to pleasantly surprise your clients with quality websites that are always delivered on time, or ahead of time. Your clients will also appreciate your ability to offer prototypes of proposed designs.
The demos are easy to customize, and you can even select elements from several demos if doing so will help you build a page. You'll find a wide selection of menu and header options, plus, Enfold makes creating an attention-getting portfolio a piece of cake, thanks to its attractive selection of customizable portfolio templates.
Divi has always been a popular WordPress theme, and its popularity seems to increase with each major new version release. This is certainly the case with Divi 3.0, with one of the fastest and efficient page builders you'll find anywhere, the Divi Builder.
This front end page builder and editor are worth a close look, as are the other features of this premium multipurpose WordPress theme.
Hestia Pro is a slick, one-page Material Design theme that's especially suited for startups and other businesses.
It is a responsive design theme that ensures your site will always be mobile-friendly and provides perfect results on all devices, no matter how you choose to configure it. Hestia Pro features a top-of-the-line page builder, it's WooCommerce compatible, as well as SiteOrigin Page Builder.
Houzez is another specialty WordPress theme. In this case, the target website audience is the real estate sector.
With Houzez, you can give real estate agents or agencies all the functions and features they would expect in a website designed to attract customers, showcase properties, and help them make sales.
Kleo can easily serve as a multipurpose WordPress theme, but its main strength lies in its community-oriented features and functions. Kleo is well worth considering if you are planning a site that highlights community activities and events.
Features include a profile search, a Facebook login capability, and the tools to establish a forum. These features are generally not to be found in most WP themes.
It always helps to get a web design project off to a good start if you have a design concept in mind, and this is where Uncode shines. It is a pixel-perfect WordPress theme that offers a variety of conceptual designs that are nicely arranged in several categories.
Once you get started, Uncode's Adaptive Images system, its Advanced Grid System, and enhanced Visual Composer, offer a smooth sailing from start to finish.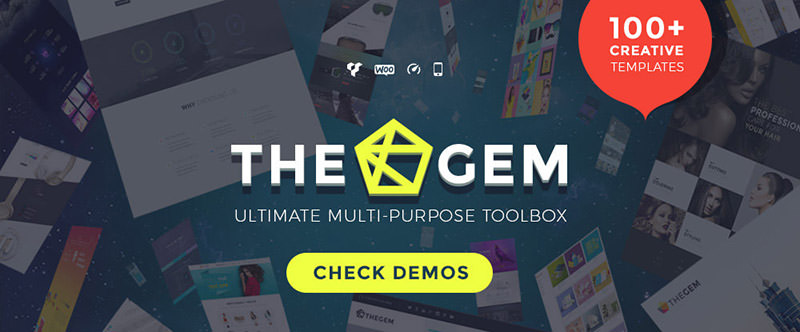 TheGem's numerous demos are easy to import, and they are highly customizable. With this creative, multipurpose toolbox, you can freely combine elements from a large array of layouts and styles, and build an attractive, high-performance website in minutes.
You don't have to waste time on coding since none is needed. TheGem is designed to let you make the most of your creativity.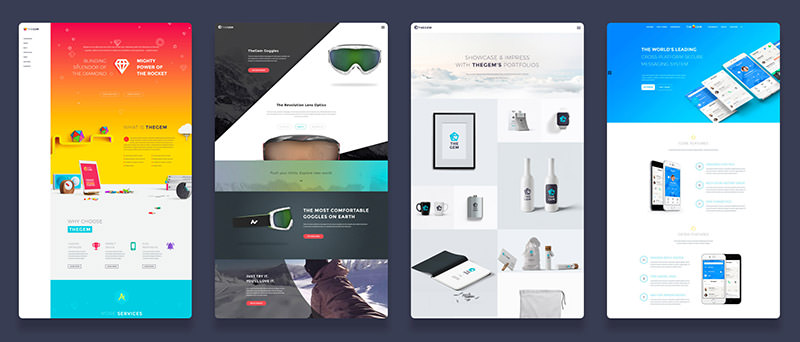 Ultra is not simply another fine WordPress theme worthy of your consideration. Several features set it apart, including the Themify Builder, a selection of skins to give your websites some very unique looks, WooCommerce integration, image filters, Section Scrolling – the ability to scroll down pages, one row at a time, and a host of smart layout options.
Last, but not least are the 60+ fully customizable and responsive pre-designed layouts.
If user ratings mean anything, Impreza's 4.88 stars out of 5 speak volumes. An ingenious selection of unique demos is one reason behind the theme's popularity.
Check out the Minimal Shop Demo, the Mobile App Demo, or the One Page Demo, to see for yourself. The best way to find out if Impreza is the solution you're looking for is to give it a test drive. You can do so for free.
If you've been procrastinating about building an online store because of the challenges involved, there's really no need to continue to do so.
XStore makes everything easy. This elegant, carefully-developed theme has just the right tools, pages, and settings you need to build a professional-looking store that offers a UX guaranteed to generate trust. Experience e-commerce as it should be – fun and easy.
If working with a theme that's both clean and minimal appeals to you, give Kalium a good, close look. This superbly organized, minimalist theme is a great choice for beginners, even though it was built for professionals.
Visual Composer is its page builder, it's WooCommerce ready, and its highly useful selection of popular plugins offer plenty of versatility. The Kalium package also contains a nice selection of valuable bonus elements.
This multipurpose theme is perfect for almost every site-building need. TheFox is smart, responsive, and flexible. It requires no coding, and it comes with 30 intricately-detailed, easy to customize pre-built home page designs.
Visual Composer and 4 premium plugins help make up the package. TheFox is well documented and the tech support is world class. Check out the demos and the video tutorial to see for yourself.
Summing up
Whether it's a multipurpose theme, or one that is more specialized, there's something here for almost anyone. Some of these themes have been around for a few years, while others are somewhat new. Each of these premium WordPress themes is popular, highly rated, and a good choice for beginners and professionals alike.
Whichever you choose, you'll be in good shape to get your 2017 web design activities off to a great start.
Read Also:  10 WordPress Template Tags You May Not Know