7 Tech Innovations That May Become Mainstream
(This article is published at 2013)
2013 has been a year that saw gadgets breaking new grounds yet again – take the iPad Air for example, it's thinner, lighter, and faster than any of its predecessors.
2014 promises to be another exciting year as we'll see even more powerful gadgets that will stretch the boundaries of portability, power consumption efficiency, and functionality even further. For starters, we have the integration of e-ink display on smartphones, giving us smartphones that also double as e-readers.
In this post, we'll be taking a look at 7 tech innovations that may become mainstream in 2014. While some of these have already been introduced into the market, they have yet to be fully implemented on the consumer level.
Either way, we're excited to be able to use and even own one of these technologies in the very near future.
1. Smart Wearable Gadgets
Pebble Technology was one of the first to kick off the smart watch race. The Pebble smart watch can connect itself with a smartphone via Bluetooth, and allows you to read messages and notifications without reaching for your phone.
Big companies like Samsung soon followed suit by creating their own rendition, Galaxy Gear that is able to not only show notifications, but also make calls and even take pictures. Since many companies have already filed smart watch patents, 2014 should unfold even more smart watches to consumers, especially in early January at CES 2014.
Other than smart watches, Google Glass was another hit in the wearable tech category. The launch of Glass also started the high-tech eyewear race where many other companies began launching their own version of Glass. We've mentioned before that augmented reality would be an upcoming trend and technologies like Glass will be one of the things that would take us there.
Other than that, 2013 also saw the release of wearable health and fitness trackers such as the Jawbone Up, Fitbit Force and Nike Fuelband. A few exciting fitness trackers that are coming to the market in 2014 are Amiigo, PUSH, and AIRO. There are even reports of Samsung's very own fitness tracker.
2. Unique Smartphone Designs
Most smartphones on the market today have similar hardware specifications. The only thing that makes a smartphone stand out is its design and feel (inclusive of screen size), special features (waterproof Xperia Z1 or customizable Moto X) and an affordable price (Nexus 5).
They all look pretty much the same; some have rounder edges, some feel more plastic with slight differences in button layouts and so on.
Towards the end of 2013, a few unique smartphone designs were unveiled. Samsung introduced a prototype flexible OLED with a "side" display for notifications, whereas LG unveiled G Flex, a smartphone that curves inwards on the long edge of the smartphone. And more recently, we have also seen the release of YotaPhone, a smartphone with an e-ink display on its back.
We will most likely see even more creative and unique smartphone designs in 2014; even Apple might succumb to breaking their design standards and join the race in fear of being left out.
3. Programmable Smart Robots
Quadcopters are quickly gaining popularity with viral videos of Amazon's Prime Air service. Although the service won't be available for a few more years (due to the amount of planning and regulation needed), consumers can look forward to smart quadcopters like Spiri.
Spiri is a programmable flying robot that has an onboard camera and range finder to help you achieve whatever you program it to do.
Then there's this video by MIT and you'll be more than amazed at these robot cubes that can move about on their own and assemble themselves into anything they are programmed to do. Magnets are used to attach the blocks to one another while flywheels inside the body of each cube generate enough momentum for them to move and even jump in the air.
There's no real application to what these modular robots can actually do right now as it's still in the very early stages of research, but this modular idea means that a machine isn't limited to a single task but can assemble itself into another machine to achieve another task.
4. Internet Advancements
As far as Internet connection speeds are concerned, there hadn't been a major jump since fiber optics were introduced. But then came Google Fibre with its 1Gbps Internet connection that is about 100 times faster than what most users have today.
With a service like Google Fibre, you can get a download speed of over 100MegaBytes per second, which means you can download a 1GB file in about 10 seconds. As of now, there are services covering certain areas in the US; for the rest of the world, it's a waiting game.
Other than super high-speed gigabit Internet, another upcoming trend is inflight Wi-Fi that airline companies like JetBlue have recently implemented. As of now, they are offering basic Internet surfing for free and the option of streaming of media for $9/hour. This will definitely come in very handy for business people who travel by air all the time.
5. Home Entertainment Systems
1080p high definition (HD) content has become a norm; coupled with high-speed Internet, users can stream all sorts of content to their large-screen televisions without any hassle. The new video standard that is fast rising in popularity is 4K.
4K refers to the number of pixels there are on the display. In this case, the resolution is 3840 x 2160 pixels; imagine four 1080p displays stacked in a 2-by-2 layout.
However, since only a handful of manufacturers are producing 4K televisions and computer monitors, the prices are quite high at the moment. 4K content is also minimal due to the lack of 4K recording devices. But once more content starts trinkling in, there should be more consumers that would opt for 4K televisions.
Just like everything else, once demand is there, more manufacturers would start producing, consequently making it more affordable for all consumers.
Besides these expensive Samsung 4K displays, Smart TV's have also become a trend in home entertainment with features like streaming of online content, home screen personalization for multiple users, and apps.
Cloud gaming could also make be making its way to your living room soon with the likes of the latest gaming consoles such as PlayStation 4, Xbox One and upcoming Steam Machine.
6. Home Automation
The next trend for 2014 is automation. Our homes are slowly turning into "smart" homes of the future with innovative inventions like the Smart Power Strip, a device that allows you to do things like switching any of your plugged electrical appliances on and off anytime, anywhere using your smartphone.
A company called SmartThings has also come up with a system that can automate almost all the electrical appliances of your home. The SmartThings system offers features like motion detection, time scheduling, and automatic locking.
All the information is fed to your smartphone and notifications will appear on your phone to let you know if appliances are accidentally left on or if someone returns home.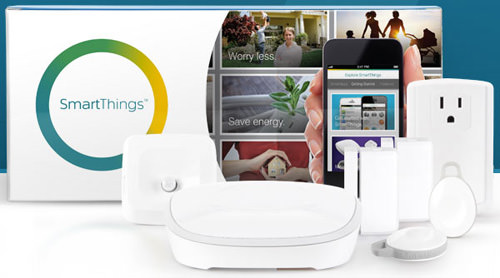 With SmartThings, your coffee machine can begin making coffee the moment you step out of bed and be ready by the time you're done dressing up. Cooling or heating can also be turned on while you're making your way home. All these features may sound like something you would see only in movies, but it's going to be something all homes will have soon.
7. Smart In-Car Systems
We've recently written a geek's wishlist about 9 smart car technologies we want to see in the near future, and that "near future" may actually turn out to be 2014.
According to recent reports and photos, the beta version of iOS 7.1 has included a built-in setting for the iOS in the Car feature. So, if iOS 7.1 gets updated to include the feature, iPhone users will be able to seamlessly integrate Apple iOS features into the dash displays of their cars.
iOS In The Car should set the standard for true integration with smartphones in a car. Recent reports also show that Google's Android is thinking about entering the automotive scene by collaborating with Audi for an in-car entertainment and information system in time for CES 2014 in January.