10 Useful Image Tools Every Social Marketer Needs
If you work with social media a lot, you must know that every platform requires different dimensions for the photos you upload. These dimensions ensure that you can create the best-looking photo for that position or location, be it a Facebook cover photo or a cover photo for Google Plus, a Twitter header or more.
To do this manually is a pointless venture because now there are plenty of tools that can help you manipulate your images into the dimensions and sizes suitable for most, if not all, social networking sites out there. Here are ten tools that have help you better manage your images for higher social engagement online.
Social media is fickle-minded. There are so many image size rules for social networking sites that it will be a surprise if you can keep track of them all, e.g., Facebook requires 315px by 851px for its cover photo, while Twitter requires 1500px by 500px.
With Social Image Resizer Tool you don't have to worry about all these figures and dimensions; just click the item you want to generate your image in, and the tool resizes your photo for you. You can then export the image to Facebook, Twitter, Google+, Linkedin, Pinterest, Instagram, and YouTube.
This tool pretty much covers all major social networking sites out there and more. It is the perfect tool to find the perfect size and dimensions for use on any of the 16 social networks and services listed. Make profile pictures, headers, cover photos, and backgrounds, then post them directly to the services from the tool.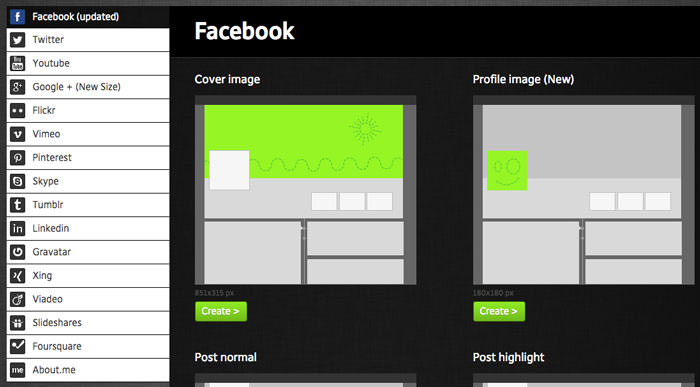 Just pick the image you want to change, then click Create > to go to the editing page. Drag and drop your image in, or upload it from the Add your file button at the bottom of the page. Besides cropping your image to the right size, this tool also allows you to add filter effects and image adjustments such as sharpen, blur, desaturate, and more.
Pressed for time? Use Pablo to create the image you need in under 30 seconds. Insert your quote, add a secondary text or a logo, fix your headline text size and color, then choose your background. You can choose any of the ready images or you upload your own. You can also tweak the images to carry a blurry effect or to change them into a black and white photo.
Once you are done, you can share this on Facebook or tweet it. Alternatively, it can be placed in Buffer to be scheduled for later sharing or downloaded to your desktop.
Pinwords helps you add a quote or caption to one of six typographic layouts. Your text can be easily shifted about, enlarged or shrunk to the right size. Upload an image you want to work on or pick an image from the web to get started, pick the font or typography style that you want, change the size of your text, then click "Pin it" to save all your changes.
Once you are done, you can share your results via Facebook, Tumblr, Pinterest, Twitter, or email. Pinwords also has a bookmarklet that you can just drag and release on your bookmark bar to start using.
Befunky is a mash of three tools: a photo editor, a collage maker, and a tool to give you awesome photo effects. Apart from the regular tools (sharpen, blur, crop, etc.), Befunky's photo editor tool gives you color effects like color pinhole, chromatic, and charcoal, among others, and the ability to add not only text but also graphic elements.
Another cool feature is Overlay, which allows you to mask your image with a predefined shape. The fun thing about Befunky is that you can upload photos from a variety of sources, including your desktop or webcam, Facebook, or cloud storage like Google Drive and Dropbox.
Canva is a great tool for non-designers who just want to create a typography image without learning anything new. The tool has predefined templates with the right sizes for each of the social media sites, e.g., Facebook cover photos, Instagram, Twitter headers, Pinterest graphics, etc. It also accommodates custom dimensions if there is a need.
For quick use, you can choose one of the hundreds of templates with fancy images and typography from the Layout panel; just edit and publish. Furthermore, you can also add text from the Text template, choose the best photo or pattern background from the gallery, or upload your own photo, to create great images.
7. Recitethis
Quotes are hot content on social media and one of the most shareable. The catch is that it is the kind that comes with a background image. ReciteThis is a tool you can use to create quote images very easily. Simply enter your quote in the form provided, and a live preview will show you. Pick the template you find more suitable, then click the 'create' button.
You can also post directly to 5 different social media sites or download the image. Alternatively, you can send the permalink of the image or email the image to a friend.
8. Pagemodo
Note: Pagemodo is no longer available.
Cover photos on a social media account are one of the first images seen due to their upfront location. Hence, it would be smart to use cover photos to describe you or your brand in the most eye-catching way possible. You can do this with Pagemodo.
It has dozens of themes that are very interesting and customizable, letting you create a collage of your photo collection or photos with beautiful typography. You can add your photos, text, logos, shapes, and backgrounds, as well as edit the location and size of each component.
With Share As Image, you can easily add text and filters to your image. Once you have added text to the form, drag and drop the text to position it where you want it. The text field is unlimited; just add it according to your needs. There are also options to save images to use on Twitter, Pinterest, and Instagram.
The pro version of this tool lets you change the logo to your own and provides you with more photos and filters. Also, you can unlock the tens of templates to use and save design time. The pro version costs $8 per month.
If you need to display an infographic, infogram is a simple yet great tool to create infographics quickly. It's easy to use, and it comes with infographic templates. If you have more time, you can create it manually by taking a chart from the cart list and replacing the data values with your own data set. Besides that you are also add country maps.
You can unlock additional features for $15 per month, such as replacing the infogram logo with your own logo, downloading infographics, and other cool features.