20 Minimalistic Clock and Calendar Widgets for Android
Android widgets are one of the most iconic and useful features of the operating system. They provide a quick and easy way to personalize your device and make it truly yours. With so many options available, choosing the right widget for your home screen can be a daunting task. That's where we come in.
To simplify the process, we have curated a list of 20 minimalistic clock and calendar widgets that combine beauty and practicality. These widgets are perfect for anyone looking to customize their device and enhance their user experience. So whether you're a seasoned Android user or just getting started, take a look at our top picks and start your modding journey today.
The Circle Clock app provides a stylish and functional clock widget for the home screen. The app features a customizable circular clock widget with a unique and eye-catching design. Users can choose from a range of color themes and customize the clock's appearance to their liking.
The widget displays the current time, date, and battery level, making it a useful tool for monitoring your device's performance.
This app is a versatile and customizable digital clock and weather widget that boasts a simple yet stylish design. The widget offers several useful features, such as location-based current weather information, weather forecasts, severe weather alerts, and air quality information.
Users can select from four different widget styles, including small, big, wide, and tall, with 18 possible font options to choose from.
D-Clock Widget is a minimalistic clock widget that comes with a simple reflection underneath it.
A fan of minimalism? The Minimalistic Text widget will allow you to create your world of minimalism through the widget. Perfect for those with a tinkering soul.
Here's one you won't mind replacing your bedside clock with.
The widget displays the current time in a customizable format, along with options to change the color and size of the widget.
The Transparent clock & weather app is a customizable weather widget that displays the current weather conditions, temperature, humidity, and wind speed, as well as a 5-day weather forecast.
The app offers a range of widget sizes and transparency options, and users can choose from a variety of themes to match their style. It also provides information on sunrise and sunset times, moon phases, and UV index.
The Beautiful Widgets provides a collection of customizable widgets for users to personalize their device's home screen. With various clock, weather, battery, and toggle widgets available, users can select the widget that best suits their needs and preferences.
The widgets feature detailed weather information, such as current temperature and hourly forecasts, as well as customizable themes and sizes.
KWGT Kustom Widget Maker s a highly customizable widget creator that allows users to create and customize their own widgets for their Android device's home screen.
With this app, users can design and customize their widgets with various elements such as clocks, weather information, battery indicators, and more. The app also features a WYSIWYG editor that allows users to see their widget design in real-time as they make changes. Additionally, the app supports third-party plug-ins, allowing for even more customization options.
We're not kidding when we say minimalistic. This clock widget gives you a clean sylish look at the hours and minutes of the day.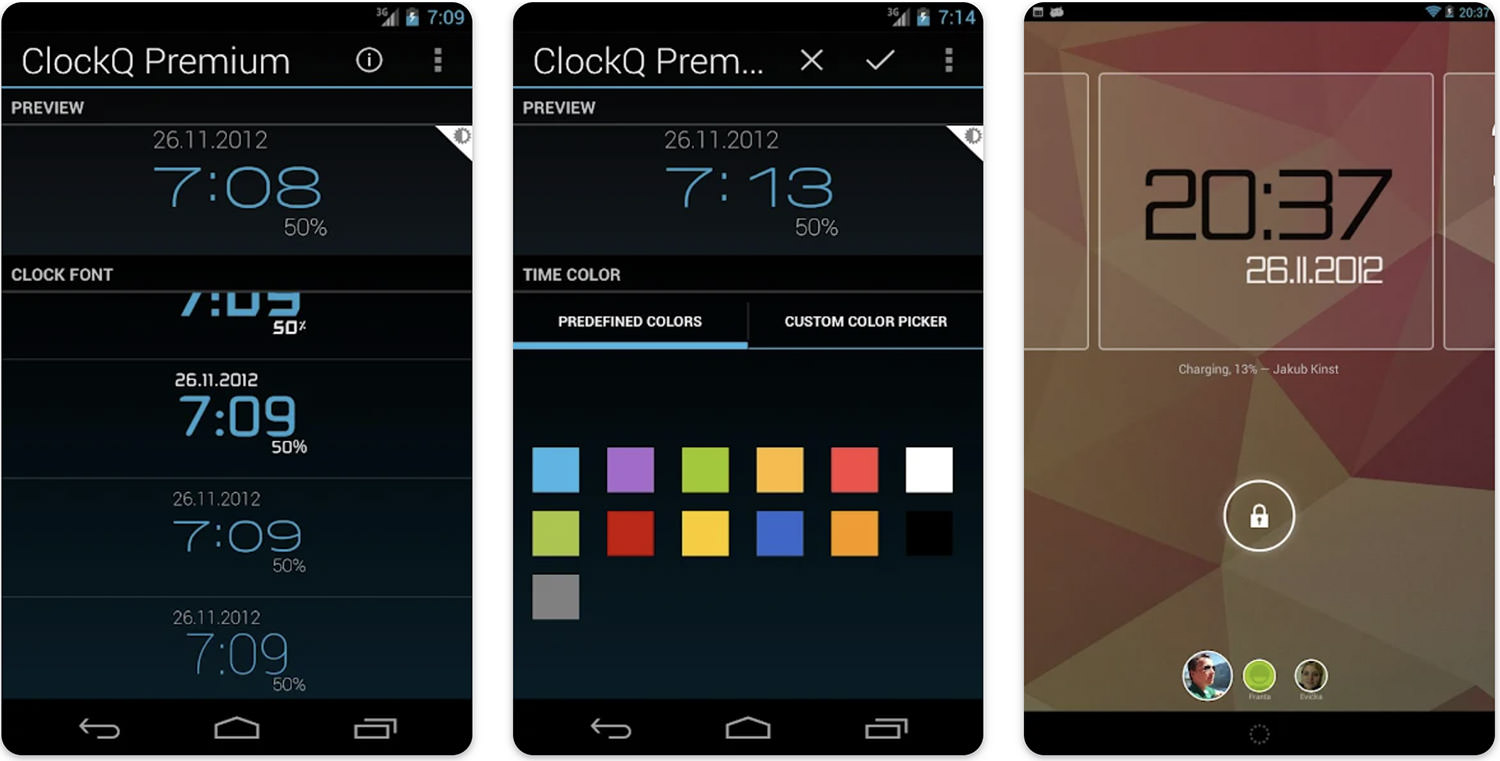 The ClockQ widget gives you a large list of options to enable and edit, options like the stroke mode, to display shadows, widget opacity, colors, which app to open upon tap, and plenty more.
The Weather & Radar Pro app provides reliable and accurate weather information for locations worldwide. With hourly and 14-day forecasts, real-time weather radar maps, severe weather alerts, and informative weather widgets, the app is designed to keep users informed of the latest weather conditions.
Additionally, the app offers an ad-free experience and customizable features to suit individual preferences.
The Clock app, by Google, offers a simple and intuitive interface for managing alarms, timers, and a world clock. With customizable alarm tones, repeat settings, and snooze durations, users can easily set and manage multiple alarms for their daily routine.
The app also includes a timer feature, which can be set for specific durations, with the option to add multiple timers for different tasks.
This is a nice replacement for your home screen clock widget with great customization options and easy to use interface.
Sectograph offers a unique way to organize your day by presenting a 12-hour pie chart resembling a watch dial, that displays all your tasks and events for the day in a visual format.
This innovative time planner is designed to enhance your time management skills and provide you with a clear picture of your day at a glance.
Like its name, this is a minimal and clean, yet rich with features such as calendar options, tasks, skin. appearance and backup. Just the way it should be.
The AccuWeather app provides users with accurate and reliable weather forecasts and alerts for locations worldwide. With up-to-date weather information, including current conditions, hourly forecasts, and 15-day forecasts, users can stay informed about the latest weather events.
The app also offers customizable alerts for severe weather conditions, such as hurricanes and tornadoes, to help users stay safe during extreme weather events.
The Chronus app offers a customizable and feature-rich clock, weather, and calendar widget for the home screen. With various widgets available, users can personalize the widget's appearance and functionality to their liking.
The widgets display accurate weather information, including current temperature, humidity, and wind speed, as well as customizable clock formats and calendar events.
Neon Clock Widget is a clock widget that displays the date, the day and battery levels with 7 different color themes to choose from.
mClock provides a simple and elegant way to view the time. The app features a minimalist design with a large digital clock display, as well as options to customize the background color and font style.