5 Best Auto-Clicking Apps for Mac
Uncover the best auto-clicking apps for Mac. Save time, improve efficiency, and enhance your gaming experience.
As a Mac user, you might frequently encounter repetitive tasks that consume valuable time and energy. Auto clickers, which are apps designed to automate mouse clicks, can be game-changers in such situations. These tools can significantly save time when it comes to repetitive clicking tasks.
With a wide range of auto clickers available for Mac (some functioning well, while others are buggy), it can be challenging to identify the best one that suits your needs. That's why we have compiled a list of the top auto clickers for Mac to help you make an informed decision.
Whether you are a gamer looking to automate in-game actions, a software tester needing to perform repetitive tasks, or a professional seeking to improve productivity, a reliable auto clicker can be quite useful. This article will guide you through the best (and free) auto clickers available for Mac.
Created by Murgaa.com, this Auto Clicker offers various methods to start and stop the automatic clicking of the mouse cursor. Based on your preferences and requirements, you can choose from the available options to start and stop this Mac Auto Clicker's clicking functionality.
Murgaa also offers an alternative auto clicker that enables you to save the mouse location within the script, which we will discuss in the next item.
Developer: Murgaa.com
Platform: Mac
Price: Free trial of 6 months, USD 6.54/6 months/Mac after that.
Similar to the previous app, the Mac Auto Mouse Click app is also developed by Murgaa.com. However, it allows users to pre-program specific locations for the mouse cursor, enabling it to move to those locations later and perform more complex auto-clicking tasks.
The app provides two ways to run the mouse-clicking script. You can either press the "start button" within the app itself or set up a keyboard shortcut for automating mouse clicks.
To use the app effectively, follow these simple steps: First, move your cursor to the desired location on the screen. Next, press the assigned hotkey to record the cursor's position. After that, configure the click behavior for the recorded location. Continue this process for each additional location you'd like to set up.
You can try this software for free, but to continue using it for up to 6 months on a single Mac, you'll need to pay USD 9.87 after the trial period ends.
Developer: Murgaa.com
Platform: Mac
Price: Free trial of 6 months, USD 9.87/6 months/Mac after that.
If you find the first two options too complex, you'll be pleased to learn that Mugaa.com offers a more straightforward version of its Mac auto-clicking app.
The Fast Clicker app features a user-friendly and compact graphical user interface (GUI) that can be effortlessly repositioned during the recording process. To utilize this application, follow the steps below:
Create a shortcut key to initiate the auto-clicking process.
Set a delay time range for the clicking.
Move your mouse cursor to the desired location for clicking.
Initiate the auto-clicking by pressing the shortcut key you created.
By default, the app will automatically click the selected area 100 times; however, you can modify this setting if necessary. Similar to the previous app, you can try this software for free. To continue using it for up to 6 months on a single Mac, you will need to pay USD 6.54 when the trial ends.
Developer: Murgaa.com
Platform: Mac
Price: Free trial of 6 months, USD 6.54/6 months/Mac after that.
Autoclick is a free and user-friendly auto-clicker app for Mac, developed by Mahdi Bchatina. It functions similarly to the Fast Clicker app we discussed earlier.
To use Autoclick, simply assign a hotkey, navigate to the desired location for the auto-clicking to take place, and activate the auto-clicker by pressing the assigned hotkey again.
Developer: Mahdi Bchatina
Platform: Mac
Price: Free
Next up, we have Auto Clicker by 1Clicker. It is a free auto-clicking app designed to automate your mouse-clicking tasks with increased accuracy. This versatile tool can simulate left and right clicks, single, double, or even triple clicks, allowing you to focus on more important tasks instead of repetitive and monotonous clicking.
The app features a Recording Script Control List that enables you to record a series of clicks using the application. It presents a list of recorded clicks in chronological order, and you can utilize the coordinate calculator to identify multiple key points. Once the points are set, simply click "Start" to execute the clicks in sequence. You can save this list as a FAC file and reload it later to perform the same actions.
Additionally, you can customize the time duration between clicks, and set intervals between clicks and configure the program to stop after a specified number of clicks or time period. This user-friendly tool simplifies your clicking tasks while ensuring optimal efficiency.
Developer: 1Clicker
Platform: Windows, Mac
Price: Free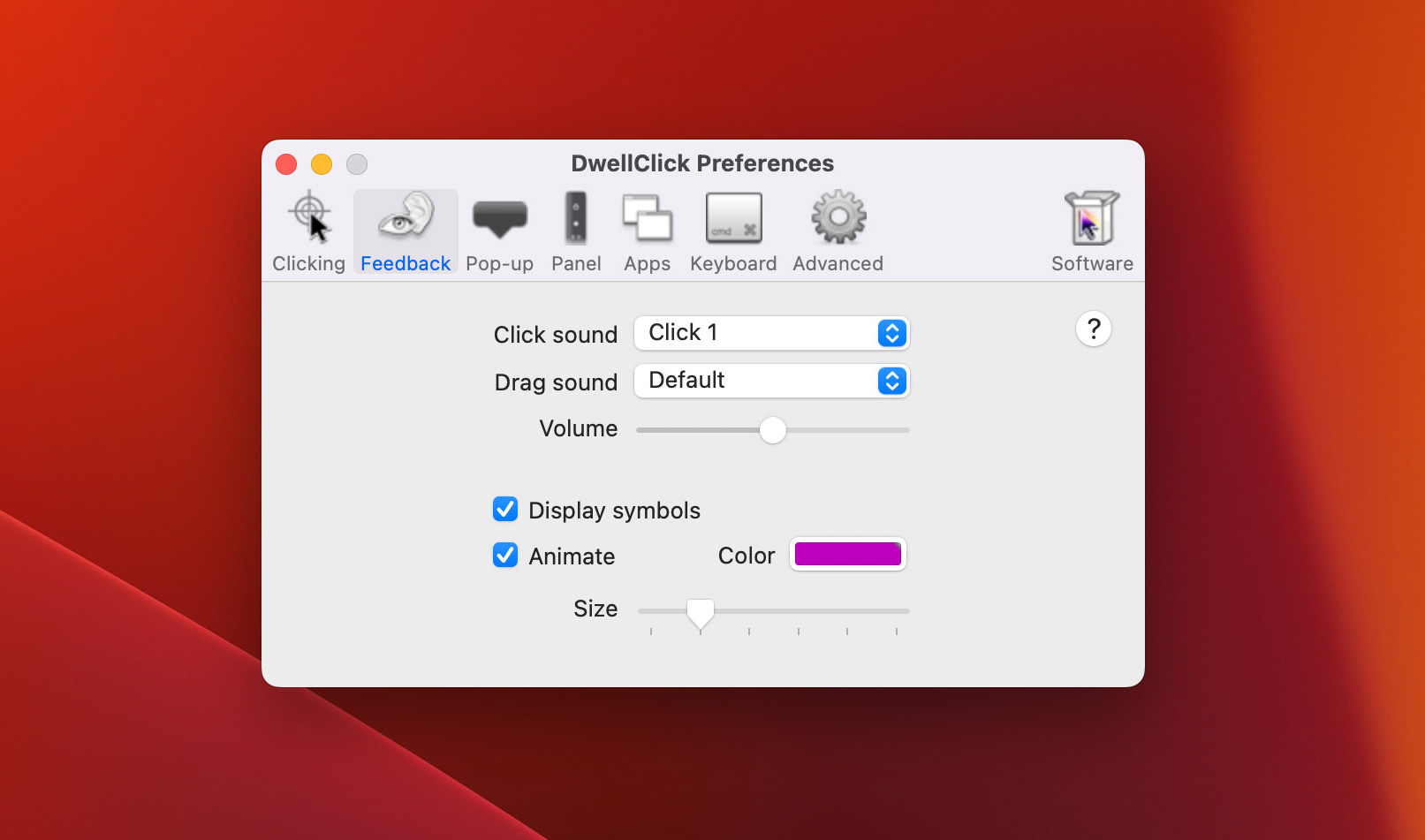 Here is another one just in case none of the above meets your need. Developed by Pilotmoon Software, DwellClick was initially launched in 2010 and subsequently became a free application in 2016.
To utilize this app at no cost, you need to visit the official website and obtain a license key, which will grant you free access indefinitely.
Developer: Pilotmoon Software
Platform: Mac
Price: Free